The debate over seat belts in school buses
Updated: Oct. 30, 2018 at 6:57 PM EDT
SAVANNAH, GA (WTOC) - The National Transportation Safety Board called for sweeping changes when it comes to seat belts on school buses earlier this year. Deadly crashes in Tennessee and Maryland - killing 12 students and injuring 37 others - prompted the change.
The NTSB said the outcome of the deadly accidents would have been different if there were seat belts. However, school districts in our area don't seem to be following the recommendation.
Only one district we checked with has any type of seat belt, and they are lap belts only in a couple seats on each bus. Outside of buses for special needs students, no other districts we reached out to have any kind of seat belts.
The belts they're recommending are called lap/shoulder belts. The push back to get them comes down to money and the debate over whether they are even beneficial in larger school buses. Despite this NTSB report, not everyone is on the same page when it comes to their effectiveness.
Nachelle Jackson watches her kids get on and off a Chatham County school bus every day. Safety is something she thinks about every time they ride their bus. "[Seat belts] would be a start at least, because what's going to happen? They're all going to go flying," Jackson said.
The board recommended buses nationwide add them. A spokesman for the NTSB said the benefit to seat belts is undeniable. However, the recommendation is just that - a recommendation. The safety board has no authority to mandate seat belts. School district officials in the Coastal Empire and Lowcountry are not so quick to heed the advice.
Darryl Owens is the chief of operations in Jasper County.
"Most of the concerns and the safety concerns transpire once that child exits the school bus," Owens said.
Owens said the design of the school bus makes them safe without seat belts. From the frame of the bus, to the distance between seats, children are supposed to be safe for all kinds of crashes.
In the event of a rollover, perhaps seat belts would be more effective because it would actually restrain that child to the seat," Owens said. "Lap belts have been proven not to be effective and not even safe because it could lead to internal injuries."
In South Carolina, the buses are state-owned. Of the 5,600 buses in the state's fleet, none have seat belts. In fact, only a little more than 1,900 are even capable of having seat belts added to them.
It's a similar case in Georgia, buses in Chatham, Liberty, and Bryan counties have no seat vbelts.
In Effingham County, buses have lap belts in the first few rows. Like Darryl Owens, Effingham County's superintendent, said - the jury is still out on the need for lap/shoulder belts. Being able to evacuate a bus in case of an emergency is a big concern.
"The problem with seat belts is if something does happen, unfortunate accident or a fire on a bus, is can the kids get their seat belts off and can they evacuate the bus in a timely manner," Dr. Randy Shearhouse said.
Another issue facing local districts and the state education departments is cost. According to the Georgia Department of Education, it costs between $9,000 and $12,000 to put seat belts on a bus.
"When you're already spending $80-90,000 per bus, that's a big additional expense," Shearhouse said.
The superintendent said the district would do whatever it took to add them to buses if the state mandated the safety belts.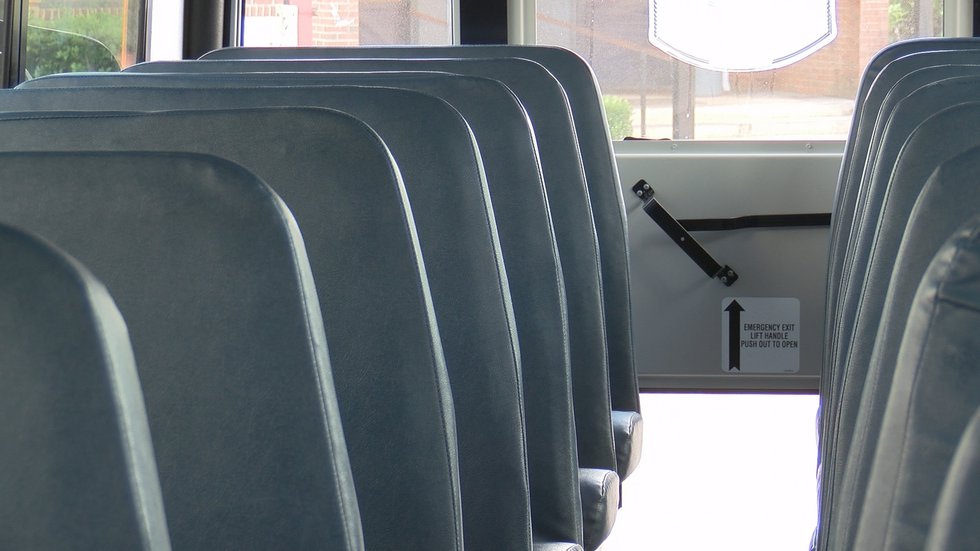 State help is not out of the question. A spokesperson for the Georgia Department of Ed said the state superintendent is in favor of the state legislature allocating money for local districts.
In South Carolina, the cost to the state would be as much as $22 million. It becomes just another concept fighting for limited education funding.
"If the legislators and the state provide the funding or local districts have the ability to provide funding to outfit the buses they do not own, that are owned by the state of South Carolina, I'm in support of it," Owens said.
Industry experts think the dangers for students are far greater when they're getting on and off the bus. Many of them are calling for stricter laws punishing drivers who drive past stop arms and buses unloading students.
Jackson said she tells her kids to look both ways when they get off. For her, the safety on the bus is a bigger concern.
"More about car crashes. There's a lot of accidents every time I go somewhere. I saw a car accident with a bus just the other day," Jackson said.
As of the time of the report, only California, Nevada, Texas, and Arkansas require the three-point seatbelts. The NTSB said they are pleased, so far, with how this new recommendation is being received.
Next year, South Carolina and Georgia hold their first full legislative sessions since the NTSB report came out in May. School leaders in both states said lawmakers will discuss the issue next year - including ways to fund a possible mandate.
The National Highway Transportation Safety Administration is also doing research. A spokesman said: "NHTSA is currently planning research on the use and implications of seat belts on school buses, which will help inform future Agency actions and activities."
Copyright 2018 WTOC. All rights reserved.