Tattnall County woman becomes surrogate for the second time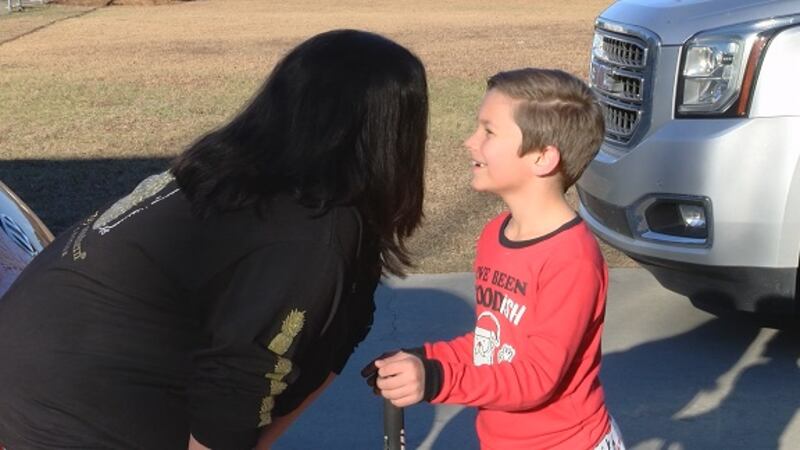 Updated: Dec. 25, 2018 at 9:59 PM EST
TATTNALL COUNTY, GA (WTOC) - This is the season of giving, and one Tattnall County woman is giving a couple a gift they will cherish forever.
Jessi Winkler decided to be a surrogate mother for a couple back in 2015. After having a baby girl for the couple, she decided to do it for them again - but this time - there's a big surprise involved.
Jessi and her husband Sean have lived in Reidsville with their children for most of their lives. A few years ago, Jessi and her husband talked about her carrying a child for her cousin who was having complications getting pregnant.
"Once we found out she was able to conceive, I didn't really think of it anymore," Winkler said. "Then, when my youngest son was about six months old, I kind of started missing being pregnant, but I didn't want any more kids, and the idea kind of came back up, so I started researching it more."
In her research, she learned you could go about being a surrogate in two different ways. You could do it independently or through an agency.
"I signed up under an agency because first time I didn't want to mess anything up because it's such a serious undertaking, and they actually match us like an online dating profile is kind of what it felt like," she said.
When Jessi decided to go through an agency, she had to go through a lot of steps.
"Well, I first applied in June of 2014, and the first thing you have to do is get cleared by your OB to make sure you know they sign off on you having any other pregnancies. Then, you have to go through a psychological workup, you know, where there are no underlying issues where you might want to keep the baby. You're not having any resentments or issues that way. Once you are approved there, your profile can go live," she said.
A month after her profile went live, Jessi matched with a couple in Kentucky. The couple had a clinic and everything already set up for Jessi. She flew to Denver for a medical workup, was cleared, worked out the legal issues with the couple, and had the embryo transfer.
When the little girl was ready to make her arrival in 2016, the parents came down and were with Jessi when she delivered.
"The way I felt about carrying her was completely different than the way I felt about my boys. With my boys, I was picking names, I was decorating, I was buying things. With this, all my excitement is for the parents. Like when I found out she was a girl, it was, 'I can't wait to tell them. Watching her be born, I didn't even watch her come out. I was watching their face. So all of your excitement is given to another couple."
Now, two years later, Jessi is carrying for the couple again, but this time, there is a big surprise.
"When the ultrasound tech was doing the ultrasound, it was very clear there were two sacks and two babies, so they are having fraternal twins this time. We were all pretty shocked, I think. They didn't speak for 30 seconds. We were facetiming, and they just froze. They couldn't talk. They just stared, so it was a big surprise for all of us," Jessi said.
Jessi says she is excited for the couple, but there is one person who may be a little more excited. That would be Jackson, Jessi's own son.
"My mom is having twins for the other people because their uterus broke and her carry it for her. When it's ready, her give it back," Jackson said.
Jessi says she explained the process to her boys by using a book about a kangaroo whose pouch didn't work. She has used this experience to teach her boys how important it is to help people any time you can.
"There are not really any words to describe it. I guess watching…I always say having my two boys was the best experience of my life, but having her was right behind it. Watching their faces was indescribable. It really was. It was very humbling. It was very moving. To know that they wanted the family for so long and they weren't sure it was ever going to happen for them. It's just beyond words. There's just no way to describe it."
Jessi says hopefully next week, they will be able to find out if the babies are boys or girls. She is set to deliver in June.
Copyright 2018 WTOC. All rights reserved.