Vigil held for Savannah teenager who was shot, killed after New Year concert
Published: Jan. 2, 2019 at 11:38 PM EST
SAVANNAH, GA (WTOC) - The Savannah Police Department is investigating a deadly shooting that happened near Bull and West 41st streets early Wednesday morning.
An officer at the scene told us that a young black male was shot and killed. The family of the victim has confirmed to WTOC that the victim is 17-year-old Tyrese Carter. Family says that Carter went by Huncho Reese as his rap moniker. He was also a student at New Hampstead High School.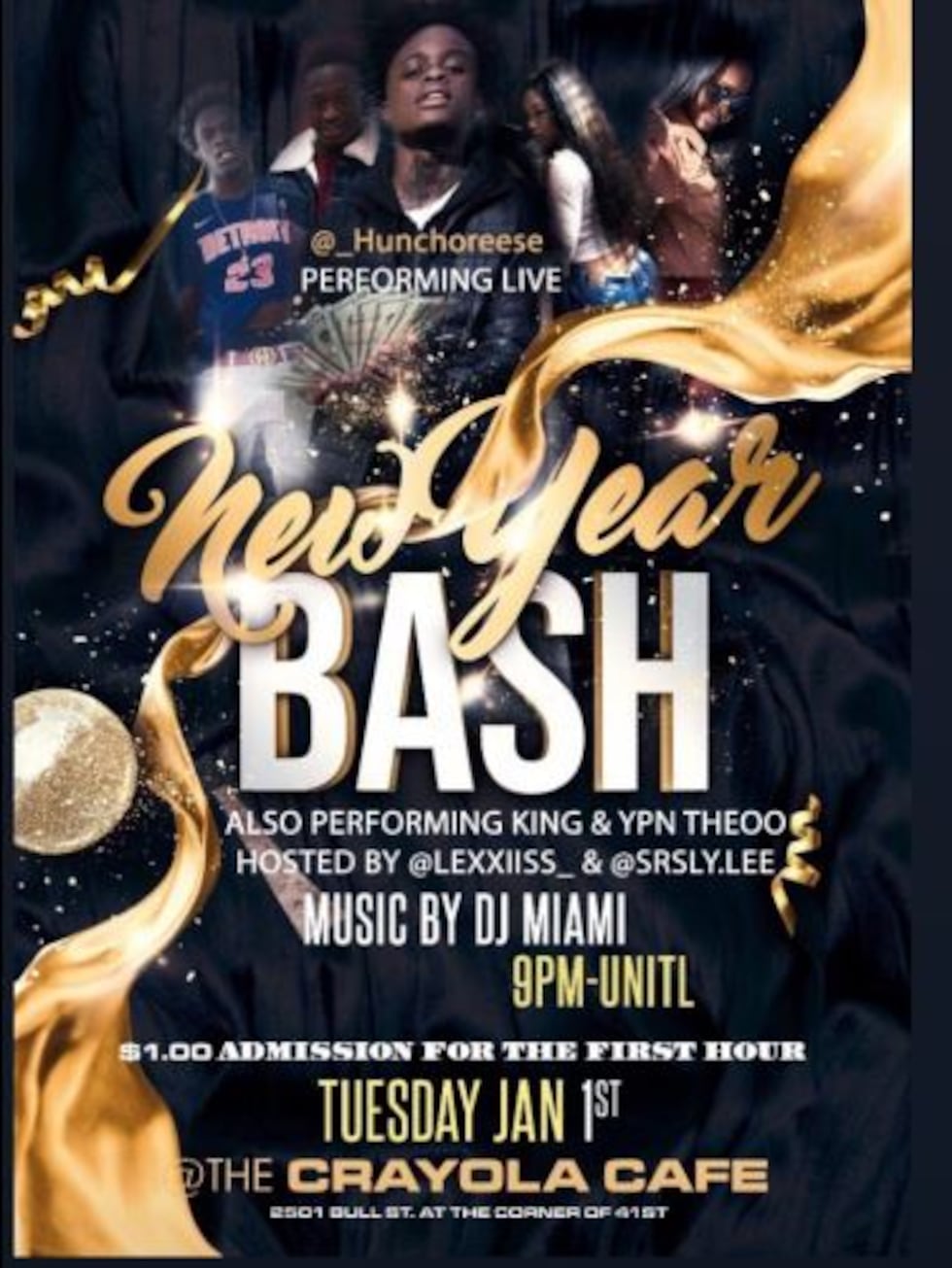 Carter was a scheduled performer at a New Years bash for teens at the Crayola Cafe. The event for teens had been promoted heavily on social media. Carter is pictured on at least one of the flyers.
Crayola Cafe is located at West 41st Street and Bull Street.
Witnesses say the scene was quite chaotic at the time of the event. Several teens were still in the area while police were investigating the scene.
We spoke to Carter's family on Wednesday. They are still in shock over what happened.
Tammy Evans says she remembers her son for his music and jokes he always liked to pull on her. When she heard he had been shot, she couldn't believe it.
"Well, I was sleeping, and his baby brother Tywon came in, 'Mama, Mama, get up. Tyrese has been shot.' I said 'what? Tyrese?' Because I was out of it. I was thinking I was dreaming. I was like 'he got shot? What?' I was like, 'he is supposed to be on this couch asleep."
She jumped out of bed and rushed to the hospital with her daughter by her side.
"Some of his friends called me and told me he was at the hospital. Fortunately, we got there before he did, and that's when we found out. So sad. That broke my heart. They didn't have to kill my boy like that."
Carter's sister says she thought he had changed his mind about the performance and wasn't going to go at all.
"I heard him talking about the party, but when I heard him talk about it, he said he wasn't going to go, but then I guess he ended up going," said his sister, Jesmine Frazier.
Police are interviewing people who may have knowledge of the shooting, and detectives are trying to figure out what led up to it.
"Please stop the violence. Stop the violence. It don't make no sense. Every day it's something. It's always something. People die every day. Our kids out here dying for no reason. Please stop the violence."
For now, Tammy says she will remember her son through his music and the memories she has of him.
"He loved his music," she said. "I thought he was going to make it, because he was very good. I ain't going to see his kids. He would always mess with me. 'Mama, I'm growing a mustache.' I would say, 'boy get out my face. You don't have no mustache.' He would say, 'yeah, I'm about to be a man.' I'm just going to miss him aggravating me and joking around."
"He was my baby since the day he was born," Jesmine said. "He had a big heart. He never had a problem with anybody. We would just talk and play all day long."
A candlelight vigil was held Wednesday night. Throughout the group, many were calling for people to put down their guns.
According to one friend, "That was my little brother, y'all. Can y'all please just put the guns down? It ain't that serious."
At the vigil, loved ones remembered him as they listened to his songs. As the vigil ended, Carter's father pleaded for people to take a Savannah CrimeStoppers card for his 17-year-old son.
"Y'all kids better see this. Pay attention. No matter what happens. One of y'all could be next," Carter's father said. "If you loved him the way I did, step up here and get one of these. If you see anything, if you hear anything, anything, the streets are going to talk."
Shawtray Grant, also known as "Puff" and the leader of the Bullhorn Crew, was shot and killed over six months ago. The Grant family attended the vigil, speaking out against gun violence and encouraging people to come forward in either case.
Anyone with additional information on this case should contact our tip line at (912) 525-3124 or CrimeStoppers at (912) 234-2020. Tipsters are anonymous and may qualify for a cash reward.
Stay with WTOC for updates to this story.
Copyright 2019 WTOC. All rights reserved.