Savannah Police Department rolls out new Family Violence Unit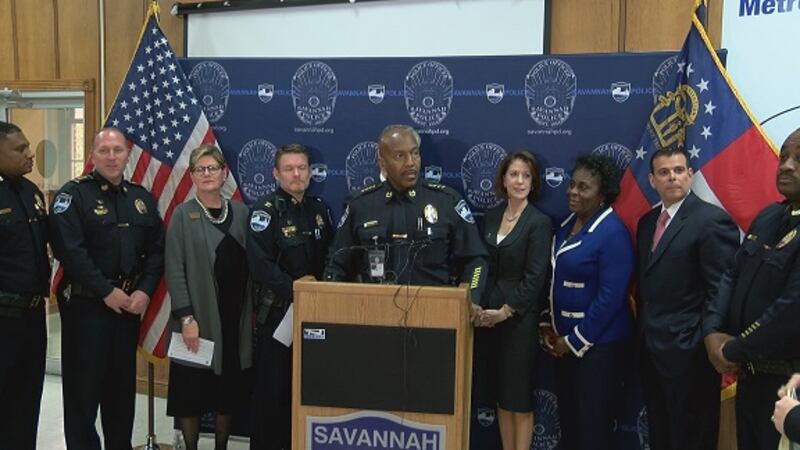 Published: Feb. 19, 2019 at 6:56 PM EST
SAVANNAH, GA (WTOC) - Savannah police officers, attorneys, and advocacy organizations are partnering to better serve domestic violence survivors in our area.
There have already been two domestic violence-related situations turn deadly this year in Savannah.
Tuesday, Savannah Police announced the creation of a new Family Violence Unit to get everyone involved in investigating, prosecuting, and helping those involved in these cases on the same page.
Officers say nearly 45 percent of all aggravated assault cases they investigate are related to family violence. They hope this new unit keeps those victims safer and eventually keeps it from happening.
"Some of the most dangerous calls that our officers respond to, some of the most stressful and traumatic situations for families also," said Chief Roy Minter, Savannah Police Department.
That's how Savannah Police Chief Roy Minter describes family violence calls like this one from January. A woman shot and killed a man at a Savannah hotel during a domestic-related argument.
SPD's new Family Violence Unit will investigate cases like that while working hand-in-hand with the district attorney's office and Safe Shelter.
"One-stop shop where you bring the victim here, and law enforcement comes. Safe Shelter comes, the DA's Office, and we assess. They're investigating their case. We're looking for stronger evidence, and then Safe Shelter, other resources are available for the family," said Chatham County District Attorney, Meg Heap.
Investigators, prosecutors, and advocates will meet weekly to make sure each case gets proper attention. The DA's office and Safe Shelter will help train the officers in the unit, and the police department plans update policies to ensure officers are properly documenting those scenes.
"That helps with the district attorney's office determination 'do we have a case,' and, if so, 'what's the appropriate charges?' Under Georgia law, some misdemeanor cases, based on the criminal history of the defendant, might actually be raised to a felony as well, and if it's properly documented during that initial call, that will help with that process as well," said Captain David Gay, Savannah PD.
After years of working toward this with the police department, Safe Shelter's executive director says she's thrilled the new unit is finally a reality.
The new Family Violence Unit will have five dedicated investigators and a sergeant all working on these kinds of crimes.
Copyright 2019 WTOC. All rights reserved.