Five suspects charged in Crocker case plead not guilty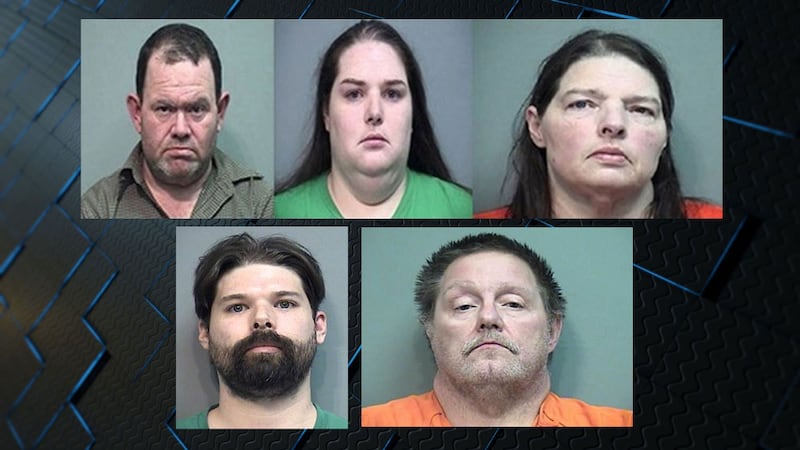 Updated: Apr. 17, 2019 at 6:56 PM EDT
EFFINGHAM CO., GA (WTOC) - Five men and women charged in the deaths of two Effingham County teenagers pleaded not guilty in court Wednesday morning.
Arraignment hearings were scheduled for all five suspects charged in connection to the deaths of Mary and Elwyn Crocker, Junior.
A grand jury indicted Kimberly Renee Wright, Elwyn John Crocker Sr., Candice Heather Crocker, Mark Anthony Wright, and Roy Anthony Prater in Effingham County Superior Court on March 18.
The two teens were found buried in the backyard of their family's homes in December of 2018. Investigators say Mary likely died in October and Elwyn likely died at least a year before that. They are all charged with the murder and abuse of Mary. Three of them are charged with the murder of Elwyn.
On Wednesday, each of the five were in court to submit a plea to the courts. They stepped in front of a judge and a packed courtroom to formally hear the charges they face, including beating and striking Mary Frances Crocker with multiple objects unknown to the grand jury, but known to the accused, withholding food from said child, burning her with hot water, shocking her with a stun gun, and confining her naked within a dog crate.
All five pleaded not guilty.
Grand jurors said in an indictment the abuse happened for nearly a year in 2018 - from January to October. Only Kimberly Wright, Elwyn Crocker, Sr., and Candic Crocker are indicted in the death of Elwyn Crocker, Jr.
"Did maliciously cause Elwyn John Crocker, Jr., a child under the age of 18 years, cruel physical and mental pain by beating and striking said child, withholding food from said child, and confining him in a dog crate."
Grand jurors say it happened from October to November 2016.
Before being found dead last December, the children were pulled out of public school and homeschooled, according to the Effingham County School District.
Representative Bill Hitchens is one of several from our area who hopes a new bill stops court hearings like this one. He is one of three who sponsored a bill creating more oversight when students transfer into homeschooling programs. Parents are supposed to notify the State Department of Education of the change within 30 days.
Under the new law, the department must tell the school it's received the paperwork.
If a school hasn't heard from the agency and the child hasn't come back to school within 45 days, DFCS is notified to check on the child. Hitchens says that extra check could have changed the outcome of this case.
"I don't know that you could have enough checks and balances in situations like this," Rep. Hitchens said. "I tell everybody when they talk about this, if the people in your world that you believe are most productive of you are torturing you or abusing you, who's going to look out for you? I don't like government intervention in a lot of things, but the government's the only person I know of that can intervene in this kind of case to save a child."
He says he got a lot of push back on the bill, especially from the homeschooling community, but says lawmakers thought it was important enough to keep rewriting it.
The governor still needs to sign the bill, but Hitchens is confident he will. If and when he does, it will likely go into effect July 1.
The accused are being held in several different jails. We'll continue to follow this case as it moves forward.
Copyright 2019 WTOC. All rights reserved.