Tormenta signs current BC student DeLoach to pro contract
Sophomore is first youth player to sign professionally with club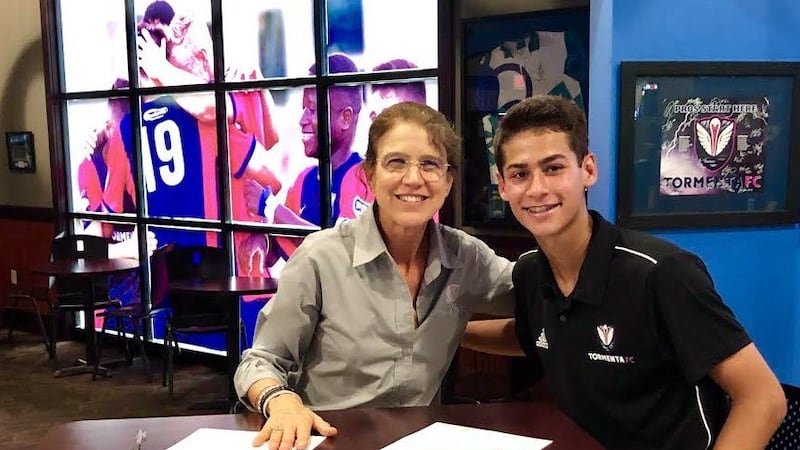 Updated: May. 8, 2019 at 3:12 PM EDT
STATESBORO, GA (WTOC) - A Benedictine sophomore is now a professional soccer player with Statesboro-based club Tormenta FC.
"It's really exciting obviously. It's a little nervewracking too," Tristan DeLoach admits. "The guys have been really welcoming though, and it's been a smooth transition honestly."
DeLoach has spent the last two years with Tormenta FC Academy, and has impressed enough with his ability to sign with the club and join their roster for a U.S. Open Cup match in Greenville, SC.
"This is a fantastic opportunity for one of our youth players, and for future Academy participants to have a true pathway to a higher level of play," says Tormenta FC Academy's Director of Soccer Brad Nein says. "Tristan has an incredibly bright future, and we look forward to seeing him take part in a challenging environment that promotes continued growth and development."
But the offer to sign as a professional even caught DeLoach off guard.
"[Tormenta FC head coach John Miglarese] called my mom and that was that," he says. "I actually had no idea this would be something that happened."
DeLoach hasn't had much time to process everything yet. After signing the contract, DeLoach got on the team bus for Wednesday night's game in Greenville. While he's still letting it sink in, he understands what it all means.
"It's crazy really. For me to be a sophomore in high school, I should be playing high school soccer," DeLoach says. "Instead I'm on the roster for a USL League One team. It's really crazy."
DeLoach's speed and technical skills are what attracted Tormenta's League One coaches, but it was his hard-working mindset that sold them on the high schooler.
Now the Benedictine student says he's going to have to keep that frame of mind as he transitions to being a pro soccer player.
"It's just going to take a lot more hard work. This is a big stepping stone," he says. "I don't know how to expect what to feel, but I'm just going to try and take it second by second and really absorb it."
DeLoach's first night on the Tormenta roster happens Wednesday night when the club faces Greenville Triumph in a first round game of the U.S. Open Cup. That game kicks off at 7:00 p.m. in Greenville.
Copyright 2019 WTOC. All rights reserved.