Crews report new discharge from Golden Ray in St. Simons Sound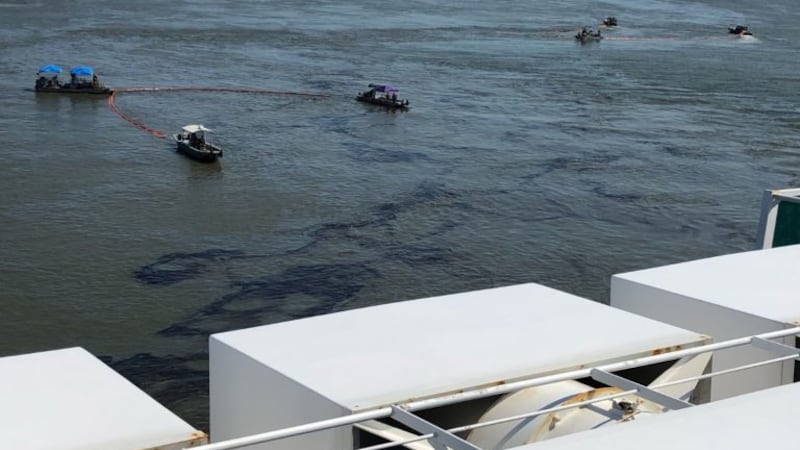 Updated: Oct. 1, 2019 at 11:29 PM EDT
ST. SIMONS ISLAND, Ga. (WTOC) - The St. Simons Sound Incident Unified Command says there has been another discharge of fuel from the Golden Ray.
On Monday, the United States Coast Guard, Georgia Department of Natural Resources, and Gallagher Marine Systems shared images from the ship where streaks of oil can be seen in the Saint Simons Sound. They say divers went under the capsized ship Monday to find the source of the leak while skimming vessels were out to separate the oil from the water.
Crews have also put out more oil boom to limit how far the oil spreads and keep the shore safe.
"We have a lot of new boom that has been placed out in the last 12 to 24 hours," said Jessica Thornton, Deputy Operation Chief, Unified Command. "We have 5,300 feet of boom that is currently deployed and that is all out in areas right now with the effort to protect the environmentally sensitive areas as well as the areas we project to be the most oiled-based on trajectories."
One of the men in charge of the cleanup efforts released a statement regarding the leak.
"The Unified Command has maintained a posture to be able to rapidly respond to any discharges from the vessel, including by skimming, booming, and shoreline cleanup," said Chris Graff of Gallagher Marine Systems. "We're now using these preparations to implement a rapid and thorough cleanup of impacted areas."
The Jekyll Island Authority released an alert on Tuesday afternoon that stated oil was observed on Jekyll Island beaches and nearshore waters. DNR and JIA have approved the distribution of equipment and cleanup crews on Jekyll Island.
Meanwhile, the Coastal Health District has changed the public advisory status for St. Simons Island and Jekyll Island beaches from "green" to "yellow" in response to the new release of pollutants.
"Okay, do we see anything here that is maybe a pollutant from the ship that we think could be dangerous to people, and so far, we have not been seeing that in the water samples," said Ginger Heidel, Coastal Health District.
"There is still a lot of work to be done. We are trying as hard as possible to continue to do that work to mitigate all the environmental threats," Thornton said.
The Environmental Protection Agency is testing the water on St. Simons and Jekyll Island every Monday and Wednesday. The Coastal Health District says check the water before you get in. If you see oil or even sheen in or on the water surface, don't fish or swim.
"Right now, we are saying it's okay to go swimming if you swim with caution and if you are paying attention, but you need to be aware that the danger exists and the situation could change," Heidel said.
Unified Command told WTOC last week more than 300 workers are trying to get this ship safely out of the sound, and that it could be another month or so before they find a solution.
"The tides have an extreme shift out there, especially this time of year, which means the situation on scene is very fluid so all of those lightering operations, those game plans change on a daily basis."
The Coastal Health District is conducting water testing with the EPD and water quality test results could come back later this week with more answers.
Members of the public are reminded to not touch oil or attempt to rescue oiled birds or wildlife. They should instead report any sightings of oil to (800) 424-8802 and report any oiled wildlife to (800) 261-0980.
Previous stories on the Golden Ray:
Copyright 2019 WTOC. All rights reserved.