Saving the Cockspur Lighthouse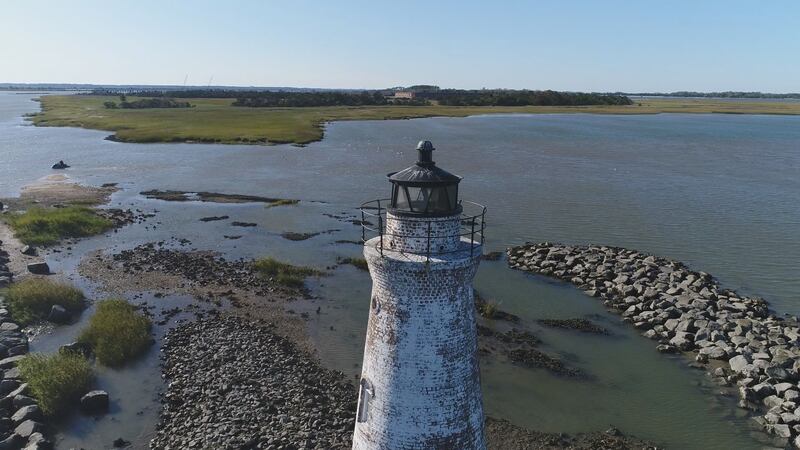 Updated: Nov. 1, 2019 at 3:57 PM EDT
CHATHAM COUNTY, Ga. (WTOC) - The Cockspur Island Lighthouse is one of the gems along the Southeast coast, with the brick tower going back as far as the 1830′s.
"It's an historic icon, no question. She's got so much to say," President of the Friends of Cockspur Island Lighthouse Harvey Ferrelle said.
Ferrelle is with the Friends of the Cockspur Island Lighthouse, a group that began in 2004. The group is constantly fighting for money, and other ways to keep the lighthouse in good shape.
It's had to be rebuilt before due to a massive hurricane in 1854, so he's hopeful about the progress they've made, and what's ahead.
"Indeed, right now it doesn't look like much, but knowing where we've been, we've done a lot with a lot of people's help, and that's what it takes, our little group is a non-profit group, the purpose is to save it for those future generations, so we're really optimistic," Ferrelle said.
They put granite boulders around the small island to stop the erosion, and that's worked. It's also kept a nice home for the birds they call oyster pickers.
It's also kept the other improvements include brickwork, and now they need to work on the doors, windows, and iron railing at the top, calling it a long process.
How tough is it to fight Mother Nature?
"Oh goodness, we just have to depend on her being kind to us every now and then, and when you see that light house and thing since 1837 she's weathered some category five hurricanes, and she's still here, she's not going anywhere, so we intend to make that a promise," Ferrelle said.
A fundraiser on Dec. 14 at Fort Pulaski from 2:30 to 5:30 that afternoon. $50 dollars will get you in to the oyster roast fundraiser. Proceeds go towards lighthouse restoration. Tickets bought for the original fundraiser in October will be honored.
Right now, the Parks Service wants you to please stay away from the lighthouse as it's boarded up.
It's worth noting while the Waving Girl was in Savannah for a time, she spent more time on Cockspur Island where her brother was a lightkeeper in the late 1800s.
In 1862, cannonballs basically flew over the lighthouse as Northern Troops bombed Fort Pulaski. Fortunately, unharmed.
Copyright 2019 WTOC. All rights reserved.