South Carolina dealing with lack of properly trained nurses for sexual assault victims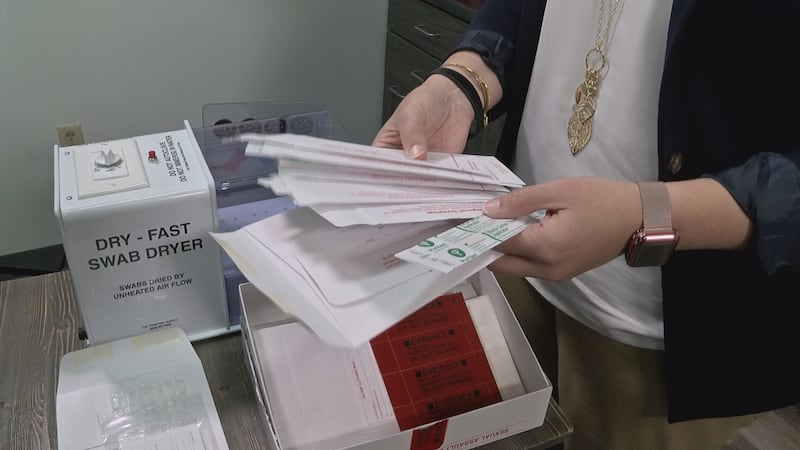 Published: Nov. 25, 2019 at 4:06 PM EST
BEAUFORT, S.C. (WTOC) - Many sexual assault victims in South Carolina don't have access to a properly trained nurse after a rape. The state is trying to address a shortage of sexual assault nurse examiners, or SANEs.
A previous WTOC investigation highlighted how many charges of criminal sexual conduct with a minor are dismissed in the Palmetto State. A big reason is because law enforcers can't collect any physical evidence.
Heather Dollar is the SANE coordinator for the 14th Circuit Solicitor's Office. She is also one of the only certified nurses in Beaufort County trained to properly collect evidence from a sexual assault victim.
"An exam takes about 3-4 hours. We sit; we talk; they tell me about what happened," Dollar said. "What they tell me tells me where to look on their body."
All the evidence goes back in a box. It's then shipped to the South Carolina Law Enforcement Division crime lab. That evidence is often the make or break thing for cases.
"With sexual assault it's going to be your word against mine. If I find someone's DNA on your body, and you have your word against mine plus your DNA on their body, that just supports you even more in the courtroom," Dollar said.
14th Circuit Solicitor Duffie Stone said most sexual assault charges involving minors are dismissed due to a lack of forensic evidence. Since 2013, 63 percent of charges statewide have been dismissed.
"It bothers me enough that we set 3500 square feet of this building aside when we moved in so that every child in the 14th circuit doesn't have to go to Charleston to get an exam," Stone said. "So that more likely than not, a child who does report in that time-frame gets the exam, gets the forensic interview, and we have the evidence to do something about it."
The family justice center at the solicitor's office allows a victim to get tested and be interviewed all at once. It's the first of its kind in South Carolina. The goal is to be able to collect that valuable physical evidence quickly, within the 72-hour time-frame. That's where Dollar's expertise comes in.
Without it, the victim is tested by a nurse who doesn't know what he or she is doing.
"You get a nurse that comes in and sits by your bedside and you've been through a horrific trauma that's sitting down and reading an instruction booklet, and it's nerve-wracking as a nurse if you don't know what you're doing," Dollar said. "In the back of your head, all you're thinking the whole time is, 'I'm going to be sitting in court on a stand being asked questions about something I really don't know what I'm doing.'
"We have 20 nurses that are certified in adult and adolescent cases, and we have 15 that are certified in pediatric cases," Sabrina Gast, the statewide forensic nurse examiner coordinator, said. "We certainly do not have enough certified nurses in the state."
Gast's job is to get more trained nurses throughout the state. She said there are about 90 nurses with some sort of training across the state in the programs the state is familiar with. Only 35 have the highest level of certification.
Some counties have no sexual assault nurse examiner. The only facilities in the 14th Circuit, which covers Beaufort, Allendale, Jasper, Hampton, and Colleton Counties, with a SANE available 24/7 are in Jasper and Beaufort Counties.
Those facilities are Beaufort Memorial, Coastal Carolina Hospital, Hilton Head Hospital, and Tidewatch Emergency Department. The state is working on a report now to address the glaring shortage.
"It'll help us identify gaps, gaps in funding, training, medical, facilities where do we need to focus our efforts and better attack the problems that we're seeing," Gast said.
A grant pays for Dollar's work in the 14th Circuit. Solicitor Stone said it's so valuable, she'll stay for the future no matter what. The exams Dollar does are called acute exams. They must be done within 72 hours of an assault. The 14th circuit victim's advocate, Hopeful Horizons, has a pediatric nurse practitioner who does non-acute exams as well to look for signs of child abuse and neglect.
Copyright 2019 WTOC. All rights reserved.