Heated Port Wentworth council meeting adjourns before voting
It might be cold outside, but it was definitely heated in Port Wentworth.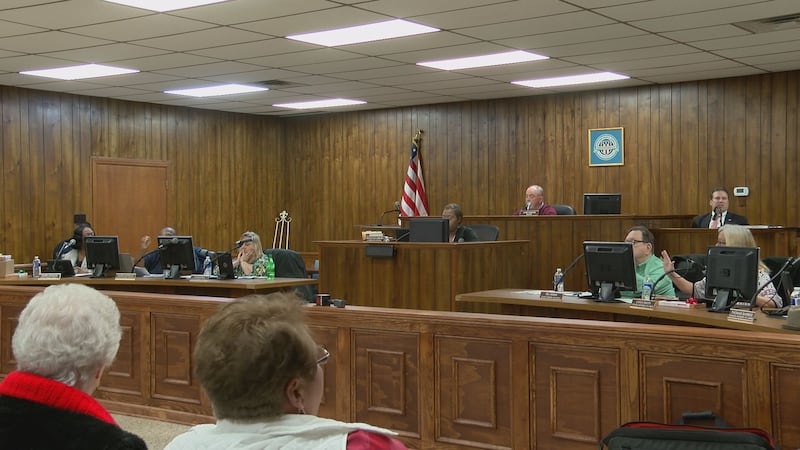 Published: Dec. 19, 2019 at 11:18 PM EST
PORT WENTWORTH, Ga. (WTOC) - It might be cold outside, but it was definitely heated in Port Wentworth.
Thursday night the City of Port Wentworth held its regularly-scheduled city council meeting. It got contentious very fast.
The frustrations between council members, the mayor and residents stems from the interim city administrator firing other public officials, and over the hiring of the new city administrator, Steve Davis, in November.
Heading in to Thursday's meeting, many expected that the council would add to their agenda, a vote to officially hire Davis , but Mayor Gary Norton read a statement he wrote prior to the meeting- derailing those plans.
"I am ruling that further discussion of the firing of [former interim city administrator] Phil Jones or the hiring of Steve Davis be out of order," Norton read from a piece of paper.
Council members disagreed.
Mayor Pro Tem, Debbie Johnson asked, "What's the ordinance number, please?"
"You tell me," Norton fired back.
Councilman Mark Stephens of District 2 chimed in.
"No, you're the one saying this is out of order. What's the ordinance number?"
Someone in the crowd shouted to "Act civilized!" to which Stephens replied, "I am acting civilized!"
The crowd member responded, "No you're not!"
Four council members believe Davis was hired legally, but others, including the mayor, believe he was illegally hired.
This all came to a head in a heated back-and-forth between Stephens and Council-woman Linda Smith.
"So you're saying that I willingly committed a crime? Yes or no," Stephens asked.
The crowd shouted a resounding, "yes!"
"No, I want to hear her say it," Stephens continued. "I want to hear her say it... yes or no, Linda. It's a simple question."
Smith fired back.
"My name is Linda Smith to you!"
So Stephens asked again, "Council woman Smith, yes or no. did I commit a crime?"
Norton and Smith revealed that they, along with some citizens, have retained an attorney.
Eventually, Councilman Thomas Barbee moved to make additions to the agenda, interrupted at times by Norton's gavel.
"I move to approve the agenda with the addition of three items. The first item to be added is the appointment of a permanent city administrator under section six under elections and appointments, accepting the resignation of the city attorney agreement under section six of elections. The third one is to ratify the termination of the director of public safety, also under section six."
That motion revealed that the city attorney, James Coursey Jr., resigned Wednesday amid the allegations of possible illegal practices among the council members.
The gavel bangs.
"Are you failing to act," he asks Norton.
"No, I just acted and this is not going on the agenda," Norton said. "What you said is not going on the agenda."
The meeting was abruptly adjourned with no action taken on any of the agenda items.
"To see someone challenge the mayor- the CEO of the city in how to conduct a meeting was very frustrating," said Brenda Bouleware, who lives in Port Wentworth.
We have a hostile work environment in the city of Port Wentworth right now," Norton said.
When asked how he sees this being resolved, Norton thinks it will take outside intervention.
"I think the state and maybe the superior court is going to step in and tell us what's right and what's wrong. Hey, if they tell me this is right, by God, it's ok, but if they tell me it's wrong, I'm telling you, the city of Port Wentworth is fixing to see some big lawsuits."
For now, there is no resolution.
The next scheduled city council meeting is January 23, 2020.
Previous Stories:
Copyright 2019 WTOC. All rights reserved.