Severe weather threat over, near record rainfall with minimal damage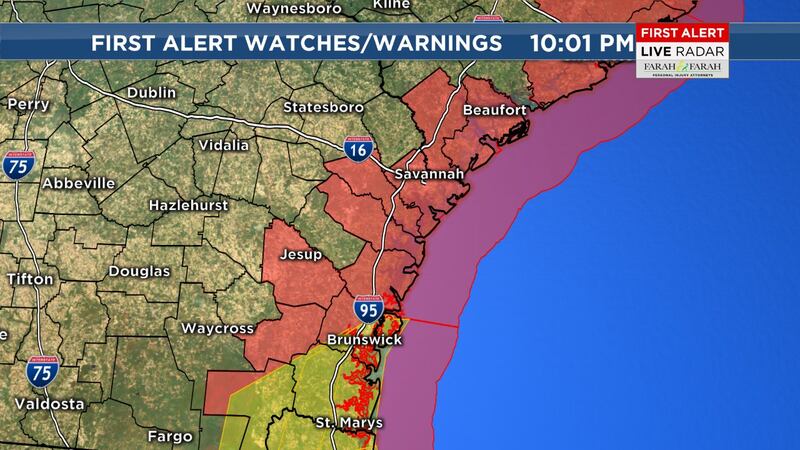 Published: Feb. 6, 2020 at 11:44 PM EST
(WTOC) - The threat for severe weather in our area is over.
A Tornado Watch remains in effect until midnight for the counties pictured below:
Estimated rainfall as of 9:20 p.m.:
Several counties have made the decision to close schools on Friday due to road conditions.
More info here >>> LIST: Area schools closing Friday, Feb. 7
Update at 9:15 p.m. with Meteorologist Jamie Ertle:
Update at 8:30 p.m.: Severe Thunderstorm Warning in effect for Pierce, Brantley, Wayne and Appling counties.
An 8:20 p.m. update with Chief Meteorologist Dave Turley is below:
UPDATE at 8 p.m.: The Tornado Warning for Bacon County expired at 8 p.m.
UPDATE: A Tornado Warning was issued for Bacon County at about 7:35 p.m.
Thursday is a First Alert Weather Day.
A Tornado Watch has been issued until 8 p.m. for the following counties in Georgia:
A Tornado Watch has been issued for coastal counties in Ga. and S.C. until midnight:
Weather Terms
Squall Line - a group of storms arranged in a line, often accompanied by "squalls" of high wind and heavy rain.
Isolated – only a few communities impacted
Scattered – several communities impacted
Numerous – most communities impacted
The approaching storm system will provide a lot of wind energy to our local atmosphere. Sustained winds between 15 and 25 MPH and gusts to 40 MPH are possible, even outside of thunderstorms. Winds may gust to 70 MPH under the strongest storms Thursday afternoon and evening.
Widespread gusty winds, small hail, and brief heavy rain are most likely during the "main event" – the evening line of storms. Numerous power outages are possible Thursday night into Friday morning.
Tree and power-line damage may be widespread after evening storms push offshore. Try to be off the road as storms push through. Use extra caution driving Thursday night and early Friday morning, even after storms have pushed offshore. Tree, power-line damage and power outages may be widespread.
Greatest severe weather threat; damaging straight-line wind gusts to 70 MPH
Lesser severe weather threats; isolated tornadoes, small hail
Make sure your mobile devices are fully charged before storms arrive. Keep alerts turned on in your WTOC Weather App or have a NOAA Weather Radio ready to go before storms arrive.
The forecast gradually clears out early Friday morning as chillier air builds in.
Copyright 2020 WTOC. All rights reserved.