Children's Hospital staff hosts 'Snow Day' for patients
5th Annual "Snow Day" proving laughter may be the best medicine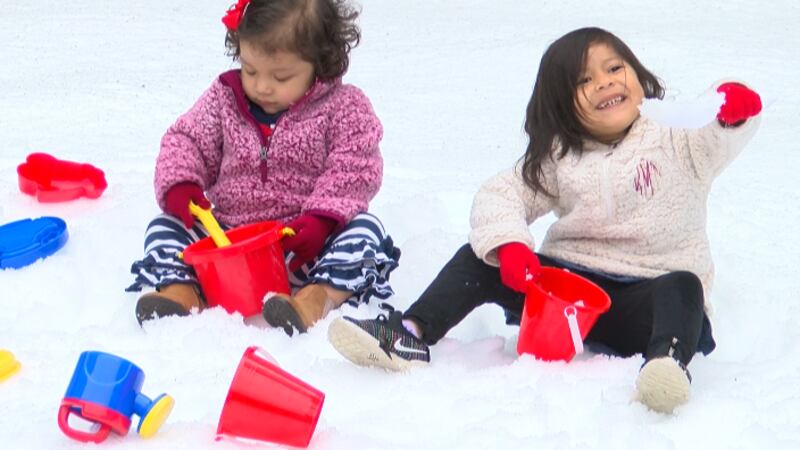 Updated: Feb. 17, 2020 at 2:56 PM EST
SAVANNAH, Ga. (WTOC) - It may have been a dreary weather day for most on Monday.
But for patients at the Dwaine and Cynthia Willett Children's Hospital of Savannah, the weather was perfect for a snow day.
The 5th Annual Snow Day in Savannah got underway at 10 a.m., offering patients plenty of laughter, smiles and good old fashion fun.
The snow itself was made by Reddy Ice, or perhaps they had a little help from a certain Disney princess. Either way for many of these children the scene was pure magic.
"For several of our kids, the families have mentioned, it's their first-time seeing snow," said Memorial Health Pediatric Hematologist/Oncologist Dr. Ashley Eason.
That didn't stop them from diving in headfirst, after putting on the proper winter attire of course.
Taking full advantage of this rare southern snow, even if it wasn't their first time like for Carol Schwartz and her twin granddaughters.
The excitement remains says Schwartz, "the whole way over all I hear is 'Are we there yet? Are we there yet?'"
A positive memory from a period of time where there was a lot of unknown about the future for one of Carol Schwartz twin granddaughters.
"It's difficult because it's such a wonderful place. They are so good with children, especially children who are going through what ours went through which is a cancer."
The Children's Hospital using events like the Snow Day to remind their patients they're in this fight together.
"I think it definitely further enforces the sense of community amongst our patients, our child life specialists, our other providers, just our big team that takes care of the patient," said Dr. Eason.
Care that Carol Schwartz and her family will certainly never forget.
"They were wonderful. They cured her. Which is the most phenomenal thing in the world."
Making days like the Snow Day, and every day after, one that the Schwartz family will not take for granted.
"You never knew if you were going to have that (tomorrow) before. We know now that we do have it. And we know where we will come if anything happens again," said Carol Schwartz.
Reminding us no matter how old we get, everyone loves a snow day.
Along with the snow kids could get their face painted, make ornaments and their own snowflakes to take home thanks to the help of Camp Sunshine.
Copyright 2020 WTOC. All rights reserved.