Four defendants plead not guilty in Crocker death penalty case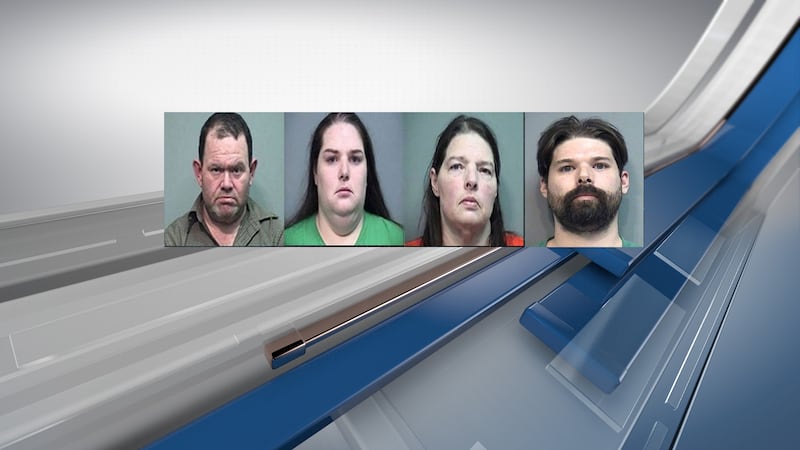 Published: Feb. 19, 2020 at 6:21 PM EST
EFFINGHAM CO., Ga. (WTOC) - Four people facing the death penalty in the deaths of two teens in Effingham County pleaded not guilty in court Wednesday.
The decision to seek the death penalty means they had to come back to do their pleas again.
Elwyn Crocker, Candice Crocker, and Kim Wright face 13 counts each. The state charged them with two counts of malice murder and two counts of felony murder for the deaths of Elwyn Crocker, Jr. and Mary Crocker. They also face an additional count of sexual battery, four counts of cruelty to children, two counts of false imprisonment, and two counts of concealing a death.
Elwyn Crocker Senior sat silently, showing no emotion, as prosecutors read off the 13 charges against him. They say he starved his children and put them in animal crates. Investigators say he and the others also sexually assaulted Mary. He's accused of burying both behind their home on Rose Bud Place.
He only said "yes sir" when the judge asked if his lawyers were accessible and helping out.
His wife, Candice Crocker, also listened to the state outline the charges she faces, followed by Kim Wright, the step-grandmother. All three of them face the same charges related to the deaths of Mary and EJ Crocker.
Candice Crocker's lawyers fought to have our camera kicked out of the courtroom. They say the camera makes it hard to focus and makes her anxious. She only said "yes sir" when answering the same question as her husband.
Kim Wright's lawyers told her not to answer the judge's questions. She also did not show much emotion but walked slowly in and out of the courtroom.
Mark Anthony Wright, the son of Kim Wright, faces eight counts, including malice murder and felony murder in Mary's death, one count of sexual battery, two counts of cruelty to children, two counts of concealing a death, and one count of false imprisonment. Wright is charged with only Mary Crocker's death. He is only charged with concealing Elwyn Crocker's death, who investigators believe died in October or November of 2016.
They believe Mary Crocker died in 2018, by October at the latest. Investigators found both bodies in December of 2018.
Elwyn Crocker is the children's father and Candice is the step-mother. Kim Wright is the step grandmother.
The defendants re-entered their pleas Tuesday because the state decided to pursue the death penalty against these four defendants.
With this being a death penalty case, there will be a lot of hearings before any trials. The state plans to try Elwyn Crocker first.
The next hearing is set for April 8th.
Roy Prater is the fifth person charged. He's Kim Wright's boyfriend. Prosecutors have not said why they're not seeking the death penalty on him.
Here is an interactive map showing how the victims and defendants are connected, as well as the charges the defendants face:
For past articles and videos pertaining to this case, click below:
Copyright 2020 WTOC. All rights reserved.