Tables, tents not allowed in Chippewa and Wright squares during St. Patrick's Day parade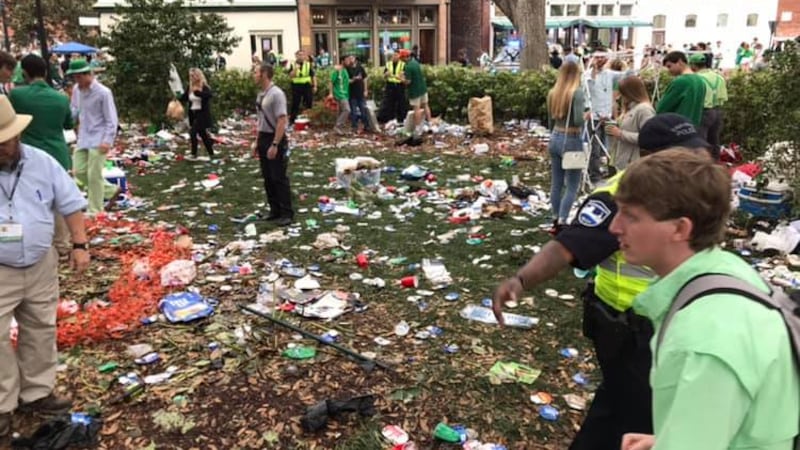 Updated: Mar. 5, 2020 at 12:05 PM EST
SAVANNAH, Ga. (WTOC) - The City of Savannah is still providing tips and updated information as the final days tick away before the St. Patrick's Day Festival begins.
We're only eight days away from the start of this year's festival weekend, and Savannah city leaders are still trying to hammer out guidelines, restrictions, and suggestions for those planning to attend.
During a news conference Thursday, city leaders discussed everything from parade route rules to cracking down on underage drinking.
"I want to reiterate to folks that set up on the public right of way...so people love to come out and put out their chairs...that cannot start until 6 p.m. on Monday," said Susan Broker, City of Savannah. "Wristbands, they will be checking to make sure that if you are drinking within the festival zone that you do have a wristband on, that you're over 21, that you're not carrying too many cups. You can carry a cup, a 16-ounce cup."
Susan Broker, Director of the Office of Special Events, Film and Tourism for Savannah, detailed a number of topics. One recurring topic was protecting the landscaping in the squares and eliminating litter.
"In each square, we will have our police officers, but we will also have code compliance folks making sure that people are cleaning up, paying attention to underage drinking, paying attention to those things that are not allowed in the squares," Broker said.
The city is asking people not to bring styrofoam products, and this year, they aren't allowing tables and tents in Chippewa and Wright squares for the parade.
Watch the entire news conference below:
Copyright 2020 WTOC. All rights reserved.