Mayor: City of Savannah ordered to 'shelter at home' concerning COVID-19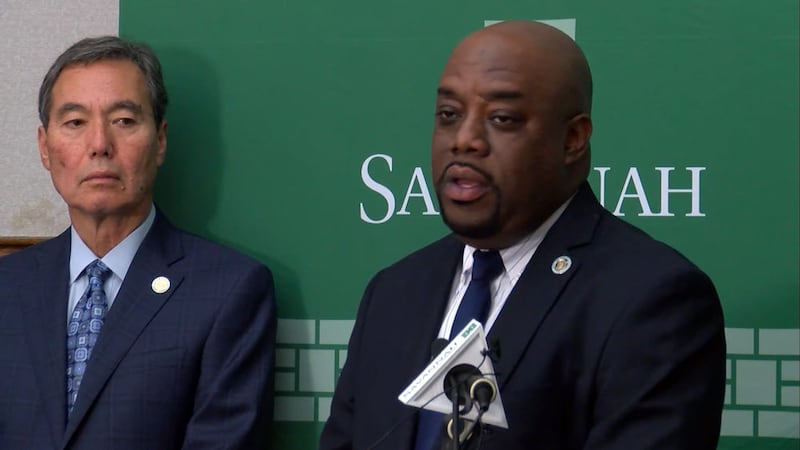 Updated: Mar. 24, 2020 at 1:08 PM EDT
SAVANNAH, Ga. (WTOC) - Savannah Mayor Van Johnson has issued an emergency declaration to try to limit the potential spread of COVID-19 in the city.
Mayor Johnson and the city of Savannah held a news conference Tuesday, March 24 at 10 a.m. to give an update. The mayor announced additional measures being put in place to battle the spread of COVID-19. He said as of Tuesday at 11:59 p.m., an amended Declaration of Local Emergency order will take effect and last through April 8. The order states the following:
All individuals currently living within the City of Savannah are ordered to shelter in their place of residence. To the extent individuals are using shared or outdoor spaces, they must at all times as reasonably possible maintain social distancing of at least six feet from any other person when they are outside their residence. All persons may leave their residence only for essential activities, essential governmental functions, or to operate essential businesses. Individuals experiencing homelessness are exempt but are strongly encouraged to obtain shelter, and entities offering shelter services are urged to make it available as soon as possible and to the maximum extent practicable (and to use COVID-19 risk mitigation practices in their operation).
Watch a replay of Tuesday's news conference here:
On Wednesday Mayor Johnson also announced barbershops, beauty parlors, nail and personal care salons will close on Friday, March 27, at 5 p.m.
He also clarified that pawn shops, title pawn shops, landscaping services and moving services are considered essential businesses and may remain operational.
Vape stores are not permitted to stay open. Automobile dealerships can operate their service departments, but they may not operate their sales departments.
Real estate maintenance and rental services and work to execute contracts currently in existence are allowed, but all other real estate work should be performed remotely.
With the Shelter at Home order, Mayor Johnson said he wanted to be very clear that they're not shutting the city down.
"We're telling people to rediscover their home. And sometimes we really get so busy we forget where home is, and families, and the importance of those things. Crisis breeds a great opportunity for creativity. It creates opportunity for discussion. And for us this is a great opportunity for families to get together, to talk about emergency plans," said Mayor Johnson.
Some restrictions on businesses already went into effect with the local State of Emergency declaration this past Saturday.
The mayor and city manager say they aren't aware of any businesses that violated those previous orders. But now restrictions are expanding and so too will efforts to enforce them.
After announcing the increased restrictions, Mayor Johnson said that anyone who goes against the emergency rules are putting the entire city at risk.
"The City of Savannah, it's officers and agents are fully prepared and authorized to enforce this amended emergency declaration. Please, please, please do not become the example of our resolve to enforce this emergency declaration."
The mayor went on to say he does not take these actions lightly.
One thing we heard at Tuesday's news conference is the financial hit Savannah City Government anticipates if the restrictions at the local and state level continue.
Mayor Van Johnson says early estimates show the City of Savannah will lose $150,000 a day, and projected to be $4.5 million a month in lost revenue as long as this crisis continues.
At the news conference, regarding state and local restrictions, Mayor Johnson said he'll be calling on the state to standardize mandates across Georgia, and explained why.
"Obviously we would love to have some state mandates, because that means everybody is playing by the same rules. It is very difficult, very challenging for us and our local partners to have some activities occurring in the City of Savannah that are not occurring in Pooler. Or for us to forbid activities in the City of Savannah, and them being allowed in the City of Tybee. It causes confusion because people move between these communities."
You can read the full declaration below:
Grocery stores like Red & White on Ogeechee Road will continue to operate and stock shelves under Savannah's "shelter at home" order.
Assistant Manager Calvin Munnally says there have been lines outside the store everyday, but unlike some grocery stores, they have plenty of food items like meat, eggs and produce available.
"It's been hectic but good in a way that we're able to supply the neighborhood with a lot of the things other stores just don't have," said Assistant Manager Calvin Munnally.
One Red & White shopper says he went to several stores before he was able to find the items he wanted.
"This is like one of the only spots that's left as far as meat on the shelves, I went to Wal-Mart it's wiped out, I went to the dollar stores a lot of stuff is wiped out," said shopper Lester Wadley.
And just down Highway 80, Davis Produce says they just started their delivery service so residents on the islands and in Savannah who can't leave their homes can have fresh vegetables and fruits.
"You know and we have a bunch of older, wonderful customers that can't get out and they don't need to you know? So I noticed that a bunch of them are ordering so I'm happy for them, that we can provide that service for them especially," said owner Sherry Davis.
Local food delivery services like SavTakeout will also be open under the "shelter at home" order.
Managing Partner Stephen Xuereb says they'll be delivering food from almost 40 local restaurants.
"It's more working with the small and medium businesses to see how we can keep their operations going. We really treat our operation as an extension of theirs."
Copyright 2020 WTOC. All rights reserved.