Gov. McMaster issues mandatory stay-at-home order to fight coronavirus outbreak in S.C.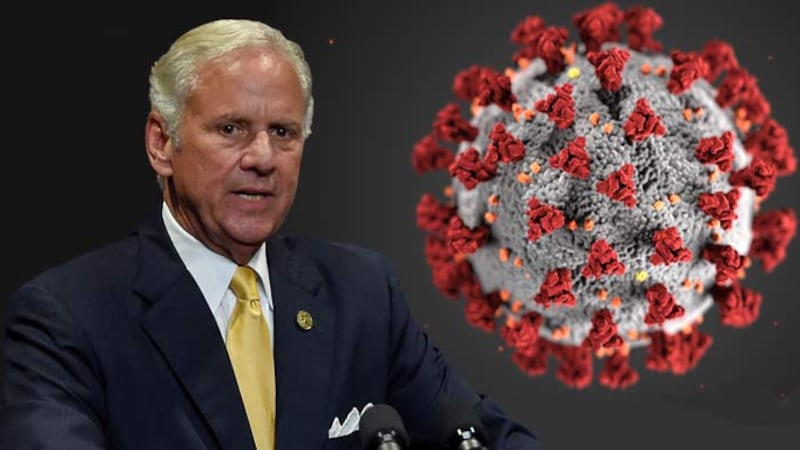 Updated: Apr. 7, 2020 at 12:29 PM EDT
WEST COLUMBIA, S.C. (WIS) - Gov. Henry McMaster has finally issued a statewide mandate for residents to stay home to limit the spread of the coronavirus outbreak in South Carolina.
The executive order, which the governor calls a "home or work order" is a mandate that states: "All South Carolinians must remain at home or work unless visiting family, exercising, or obtaining essential goods or services."
It goes into effect Tuesday at 5 p.m.
Those who disobey the order can face a misdemeanor criminal charge with up to 30 days in jail and/or $100 fine for each day of violation, the governor said.
"It is time according to the data, according to the science," McMaster said.
The governor said too many people are out at stores or on the water and not following recommendations to stay home.
"We hope that this order today will reduce the rising rate of infection and also reduce the rate of non-compliance (of staying home)," McMaster said.
While no additional stores will close as part of this order, the governor is limiting the number of people allowed in stores across the state.
All stores must limit customers to five customers per 1,000 sq. ft., or 20% of the business' capacity -- whichever is less, the governor said. The stores must also enforce social distancing.
This executive order comes amid a large outcry for the governor to get more strict in his response to the coronavirus outbreak.
McMaster has closed non-essential businesses in different stages, and used other orders to close schools and dine-in services at restaurants and bars.
Politicians on both sides of the aisle have called on the governor to issue a statewide stay-at-home order for weeks now. Indeed, South Carolina was one of just nine states without such an order until McMaster announced his "home or work" order Monday.
Keep in mind Monday at 5 p.m., a number of non-essential businesses will close under an executive order the governor made Friday. This is in addition to a first wave of non-essential businesses the governor closed last week.
Also during the news conference Monday, the Department of Health and Environmental Control (DHEC) updated the public on cases of the coronavirus across the state.
As of Monday, April 6, health officials said 2,232 people in South Carolina have contracted the virus. That's an increase of 183 cases in one day.
Four more people have died after getting the coronavirus. So far, 48 people have died across the state.
New testing information from DHEC shows there have been 21,384 people tested in South Carolina between its public lab and several private labs.
See a list of the number of coronavirus cases by zip code in South Carolina by clicking or tapping here.
The Centers for Disease Control and Prevention (CDC) said the novel coronavirus, or COVID-19, is spread mainly from person-to-person by those in close contact, or through coughing and sneezing by someone who's infected.
Symptoms of the coronavirus can show up between two and 14 days of exposure, health officials say. Symptoms include fever, cough and shortness of breath.
For most people, COVID-19 causes only mild or moderate symptoms, such as fever and cough. But some severe cases can lead to death.
Most people can recover from the virus at home using over-the-counter medications to treat their symptoms.
Those who are at the highest risk of developing severe case of COVID-19 are the elderly and those who are already being treated for chronic medical diseases.
Young people who contract the virus are not likely to have a serious case, research shows. However, the CDC said about 40% of people who needed to be hospitalized due to the coronavirus are between the ages of 20 and 54.
Those who are hospitalized with serious cases of COVID-19 have trouble breathing, and many need support from ventilators, which breathe for them. The U.S. is working to produce more of the machines to prepare, but experts fear a shortage of the life-saving devices.
The mortality rate for people with the virus has been widely reported around 2 to 3%, but health experts note the actual percentage is not that high, as not all cases are diagnosed or reported.
The rate is higher than the flu, which kills on average about 0.1% of people who get it, based on a 10-year average of data from the CDC.
Anyone with concerns about their health, or who believes they are showing symptoms such as fever, cough, or shortness of breath, should call their health care provider. Avoid going to the doctor or an emergency room unless the situation is life-threatening.
People without a doctor can take advantage of free online screening from Prisma Health and the Medical University of South Carolina (MUSC).
MUSC has an online platform to aid with coronavirus diagnosis and care. Go to musc.care and access the COVID-19 platform. The service is free with code: COVID19.
Prisma Health also has a free virtual visit, which allows patients to video conference with a doctor instead of coming into a facility. The goal is to keep patients who don't need to be treated at a hospital at home. Go to prismahealth.org/virtual-visit and use promo code COVID19 for a free virtual visit.
For more information on COVID-19, click or tap here to visit the CDC's website.
Copyright 2020 WIS. All rights reserved.