Savannah mayor gives latest COVID-19 update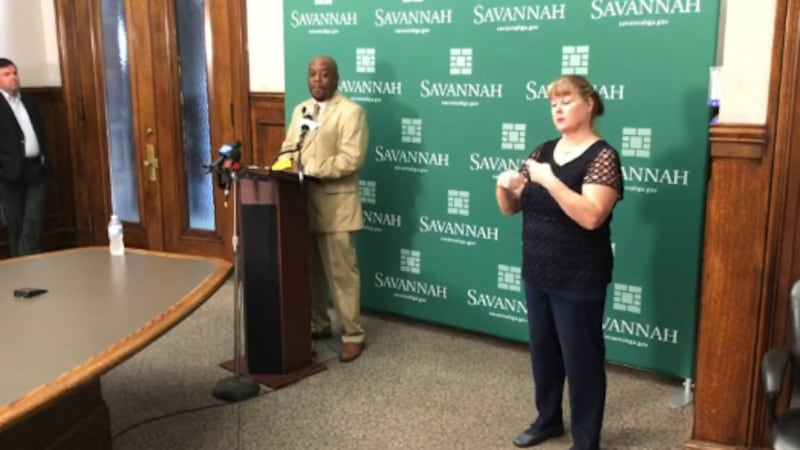 Updated: Apr. 7, 2020 at 3:38 PM EDT
SAVANNAH, Ga. (WTOC) - Savannah Mayor Van Johnson held his weekly COVID-19 update at Savannah City Hall Tuesday morning.
Mayor Johnson called for Savannians to focus on what the city will be on the other side of this crisis, and continue to follow CDC guidelines with regard to social distancing and staying healthy.
Mayor Johnson also says he continues to hope that people understand the severity of this health crisis, but added unfortunately there's still some out there who feel invincible and aren't taking care of themselves as they should be.
A few other points we heard the mayor and city manager talk about were parking citations and enforcement, the impact this crisis has had on city funds, how they're keeping city employees safe and socially distant.
Watch a replay of Tuesday's news conference:
Mayor Johnson says he still sees people not following CDC guidelines.
Mayor Johnson said during his remarks that a lot of the areas where they saw big crowds in recent weeks, weren't as bad this past weekend.
But the Mayor quickly followed that up by saying there are still some people getting together in large groups and businesses that do not seem to be getting the gravity of the health crisis.
He specifically called on, but didn't name, local seafood shops and discount and dollar stores to regulate the numbers of customers coming into their stores.
"I don't know what it will take for people to recognize and understand the gravity of this. We have been a relatively blessed community so far. We have not experienced the devastation that some cities have. But you only have to look at Albany, Georgia," he said.
Mayor Johnson pointed out the coronavirus-related deaths in the Albany area are the second-highest in the state.
"Let's continue to work together to fight this virus by staying apart. So I'm asking all Savannahians to continue to stay at home unless you are going to work or going to pickup essential items. Please ensure that your children, or those within your sphere of influece, please stay home."
In recent weeks, we've learned the City of Savannah will likely lose about $4.5 million a month as the current health crisis continues.
Impacted the most out of all the City's funds are the general, day-to-day spending fund and the sales tax fund.
Savannah City Manager Pat Monahan fielded this question saying, fortunately, the City is in a strong financial position.
From budget to budget, City staff makes sure millions are set aside for the financial side-effects of a situation like the one we're in with the global pandemic.
But to give the City's budget even more of a cushion, City Manager Pat Monahan has set into motion some cost-saving measures.
"I have suspended all travel, that's going to save a $1 million. I have suspended all maintenance contracts, that's going to save about a $1 million. The City's operating at about a 10 to 12 percent vacancy rate, so that's probably going to save $5 million to $6 million. So if you add all that stuff up, the City's in a pretty good position," Monahan said.
The City Manager says he's desperately trying to avoid furloughs of city workers.
Monahan says as long as there are no unforeseen, extraordinary expenses or this health crisis doesn't go beyond May, they shouldn't have to take any additional cost-saving measures.
On the phone line front, assisting Savannians with any questions or concerns they might have in a time of COVID-19 concern, the City's 311 staff stands ready.
Mayor Van Johnson reminded residents that any questions they have can be directed to those operators.
311 operators pull from a number of different resources and City departments to get residents the best possible information whenever a question comes in.
"311 is still the number to call for issues related to the City of Savannah's COVID-19 response," Mayor Johnson said.
On the front line of Savannah's information highway for anyone living inside the City limits is the 311 call center.
Since the COVID-19 health crisis began, the call center has been busy answering a variety of questions.
"What are we allowed to do, where are we allowed to go, is there a curfew, will I be able to keep most of my appointments? Are certain businesses supposed to be open? Which is probably one of our top requests," said Stacy Ferguson with Savannah 311 Action Center Manager.
Knowing those types of questions were only going to become more frequent, the City diverted city staff from other departments to man the phones at this site, and another at City Hall.
And 311 Action Center Manager Stacy Ferguson knows in addition to needing information, sometimes the caller on the other end of the line needs a comforting, reassuring voice to guide them through these uncertain times.
"This has increased that role, and expanded it quite a bit…trying to ease and appease as much as we can. Because we're citizens just like the ones that call in. So we try our best to be that comforting voice, to offer the correct information to those that are seeking assistance," Ferguson said.
The 311 call center staff doubled from five to 10 in recent weeks, pulling additional operators from human resources, IT, even the fire department to man the phone lines.
The mayor also clarified the status on downtown parking in Savannah.
Any tickets written Monday and Tuesday for on street parking will be forgiven.
The mayor says the city messed up the roll out of on-street parking. The first hour will still be free.
You do need to use the meter or the Park Savannah app to get that free hour though.
The mayor says he and the city manager will have more details on the parking plan in the coming days.
Copyright 2020 WTOC. All rights reserved.