GSW students assemble over 100K face shields in 10 days
by Chelsea Collins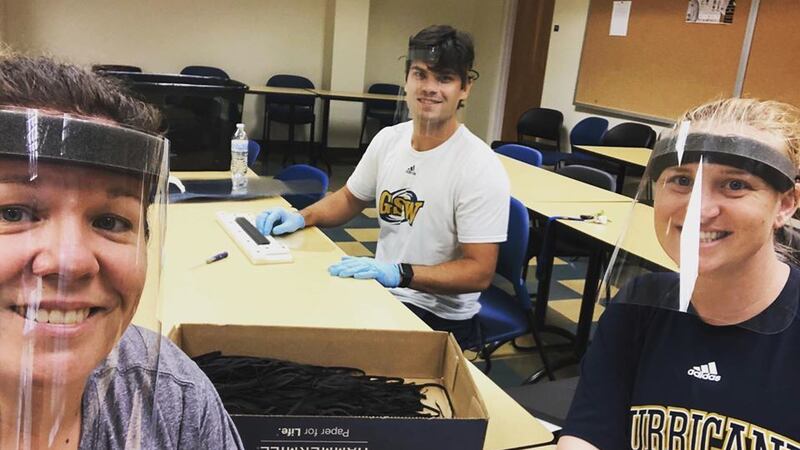 Updated: Apr. 22, 2020 at 7:50 AM EDT
AMERICUS, Ga. (WALB) - With the number of coronavirus cases in the United States topping 750,000, Georgia Southwestern State University's (GSW) Department of Athletics is doing their part to address the nationwide shortage of protective masks and shields. As of Monday, April 20, GSW Athletics has assembled over 112,500 face shields in just 10 days helping to provide personal protective equipment (PPE) to those working on the front lines.
In partnership with Americus-based equipment manufacturer TSG Resolute, GSW Athletics has spent the last 10 days assembling face shields. GSW's work is in addition to that already being done at TSG Resolute's facility, effectively increasing the amount of PPE being assembled and delivered to healthcare providers across the country. While the local business does not typically manufacture PPE, they have shifted their time and resources to meet the need.
Mike Leeder, GSW Director of Athletics, explained the project's simple beginning that one day Governor Kemp tweeted about TSG Resolute making these shields and the orders started to roll in. Reagan Barksdale, owner of TSG Resolute, in conversation with GSW President Neal Weaver, thought it would be a great opportunity to have the coaches pitch in after the Peach Belt Conference canceled the remainder of the spring season in mid-March.
"Usually, our role is to educate and to prepare people for the workforce, but during this crazy time, we are still a state agency, and the state needs our assistance," said Dr. Weaver. "GSW remains committed to our community and we have a local business that can help solve a problem so the partnership fits."
Each morning, TSG Resolute drops off thousands of plastic sheets, foam strips, and elastic bands on campus. The supplies are then taken to GSW's Storm Dome floor, where coaches, athletics staff, and student-athletes work in rotating four-hour shifts in an effort to maintain social distancing guidelines. After hours of work in makeshift assembly lines each day (and some nights), the team is turning out shields in batches of roughly 10,000 per day.
Georgia Southwestern State University, located in Americus, Ga., is a public, four-year unit of the University System of Georgia with approximately 3,000 students. Georgia Southwestern offers outstanding professional programs of study as well as degrees in the arts, humanities, sciences and graduate programs in business, computer science, education, English, and nursing. Founded in 1906, Georgia Southwestern is recognized as one of the best value colleges in the nation. Visit www.gsw.edu for more information.
Copyright 2020 WALB. All rights reserved.