Volunteers clean litter off Tybee beaches first weekend after restrictions eased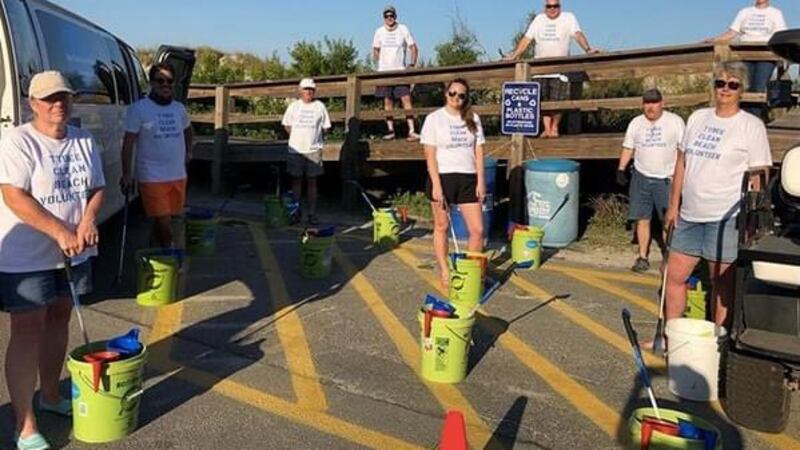 Published: May. 4, 2020 at 5:04 PM EDT
TYBEE ISLAND, Ga. (WTOC) - Plenty of visitors headed to Tybee Island over the weekend. Not all of them left the beach as clean as they found it.
Volunteers with Fight Dirty Tybee filled 12 buckets with litter. Due to the number of people choosing the takeout option, it accounted for one of the most prevalent items picked up this time around.
Fight Dirty Tybee volunteer, Tim Arnold said over the last month the beach was much more respected.
"What we found is that the trash is back. The carefulness that people were exhibiting when they were exercising, not sitting and camping out all day, is gone," Arnold said.
Restrictions for the beach have changed several times because of the pandemic, but one restriction has never changed: litter.
"We had hoped that with the return to normalcy on the beach, that people would be a little more sensitive about what we just went through. Not the case," Arnold said.
One of the biggest differences Arnold said about the collection of litter they picked up this weekend was the amount of Styrofoam.
"A lot of Styrofoam. Unfortunately, now with the restaurants just doing takeout, some of our restaurants are using Styrofoam still," he said.
They also picked up nearly 400 cigarette butts in the now, smoke-free area of the beach.
"It's hard to tell how many of those were left before the May 1 prohibition, but clearly people are still smoking in the non-smoking area. Maybe that's awareness, maybe that's they don't care," Arnold said.
Arnold reminds people who are taking advantage of the beach days to be mindful.
"Bring something for containing your trash. Put it in the bin on your way out. It's really that simple and especially cigarette butts, just do not put them in the sand," he said.
The Georgia Department of Natural Resources' extended order to not allow chairs, umbrellas, tents, and coolers on the hard sand is still in effect until Wednesday, May 6.
Copyright 2020 WTOC. All rights reserved.