'Wine Fairies' bring gifts, joy to your doorstep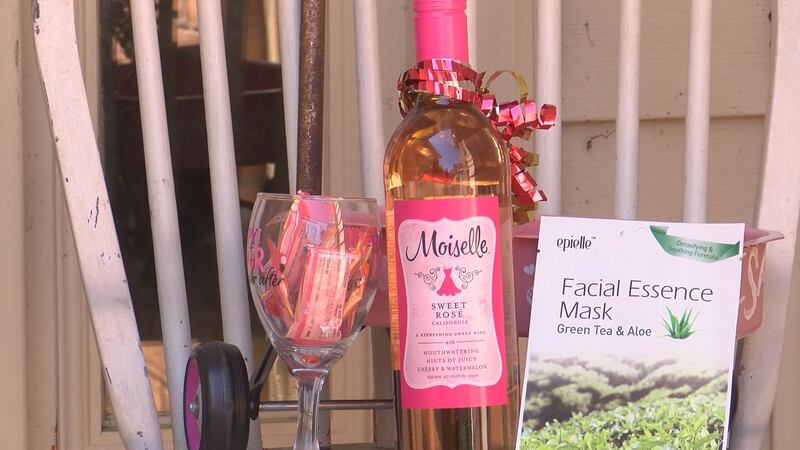 Published: May. 11, 2020 at 4:23 PM EDT
SAVANNAH, Ga. (WTOC) - Who doesn't love a gift on their doorstep?
"Being in this whole COVID-19 situation, I just wanted a pick-me-up, a good morale booster. Something that could bring everyone together," organizer Angelina McDonald said.
Over 2,000 women to be exact, have come together in a Facebook group geared towards being "wined."
"When you get wined you take a picture of it and share it to the Facebook page and everyone gets to see the gift that everyone got," organizer Shannon Moudy said.
Gifts like wine baskets, face masks, chocolates and more left on your doorstep to enjoy. How it works is by first being invited to the private "Wine Fairies of Georgia" Facebook group. From there, you include your address and some of your favorite goodies. Then an anonymous fairy will arrive!
"We really try to screen people as they come in. You must be over 21, obviously, if you want to be wined. We try to keep it away from men to just to make it a safety thing for women."
Every day hundreds are asking to join in on the fun. Women from different counties including Chatham, Effingham, Liberty and Long.
"Every 30 minutes there's 75 to 100 requests."
"Being stuck in the house for about two months and having something to do with other moms, other women is pretty exciting," participant Joan Thompson said.
Thompson got wined and even caught it on her Ring doorbell. Now, like all who have been gifted, it's her turn to return the favor.
"I made these the other night and I have this for the gift. I have a random person that's going to get it."
If you don't drink wine, that's fine, there are other gifts in store for you.
"We've seen shirts, bread, cheese, grapes everything!"
"My fairy wings are ready!"
The "Wine Fairies" group has a long future ahead. The organizers say they're looking forward to maybe starting some fundraisers, raffles and making t-shirts.
Copyright 2020 WTOC. All rights reserved.