Artist painting mural of Ahmaud Arbery in Brunswick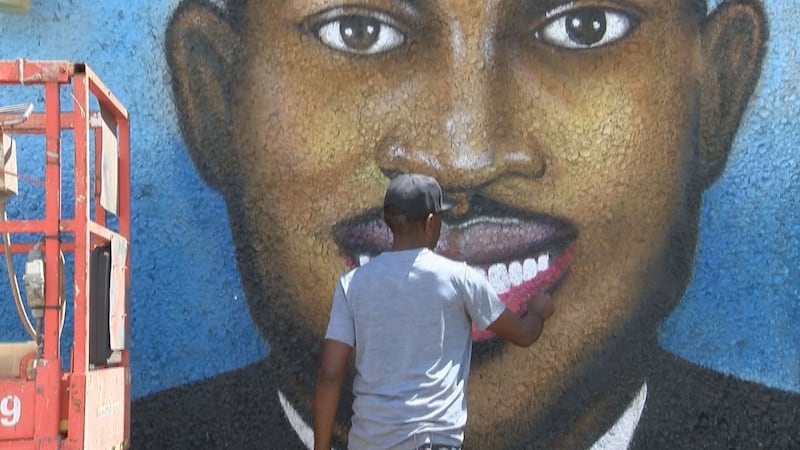 Updated: May. 14, 2020 at 5:01 PM EDT
BRUNSWICK, Ga. (WTOC) - The Ahmaud Arbery case has impacted so many in the Brunswick community. One artist is taking action in hopes of remembering Arbery and keeping the conversation about this case moving forward.
"You kind of relate to it. You relate to some things that happened to you personally."
The death of Arbery not only weighs heavy on the Brunswick community, but also on a local artist.
"We can't deny these circumstances. We can take it and connect it to a future," artist Marvin Weeks said.
Brunswick native Weeks currently lives in Miami, Fla., with pieces of art in several neighborhoods. He's now come back to his home hoping to spark change with a mural of Ahmaud Arbery.
"This is just a moment in the history of Brunswick and it's a continuing process of a long story. It was timely to put him there," Weeks said.
The mural will serve as a memorial for Arbery, but it's also part of a larger project at the soon to be Brunswick African American Culture Center at the corner of Albany and G Street.
"This is a way for the people to come, a place for the people to come and learn more history about our culture, our community and this area and this region," mural project organizer Dana Roberts Beckham said.
Weeks said art can always bring a community together, which is needed now more than ever. And that can be seen by the amount of people stopping at the mural to take pictures or honking to show support.
"Here's a chance that we could connect the community. It's about connection and engagement," Weeks said.
Weeks and several organizations have organized the Ahmaud Arbery mural project. They're looking for donations to help with the paint supplies, and the rest goes to Arbery's family's legal fees.
So far, the organizer says $600 has been raised.
How to donate via mail at Genoa Martin Friend is Historic Selden Park at 2618 Starland Street, Brunswick, GA 31520 or through CASHAPP: $NUARC7.
Copyright 2020 WTOC. All rights reserved.