Savannah Gaelic Athletics Association restarting as the City begins to reopen
GAA hopes to compete against other associations in the southeast within next year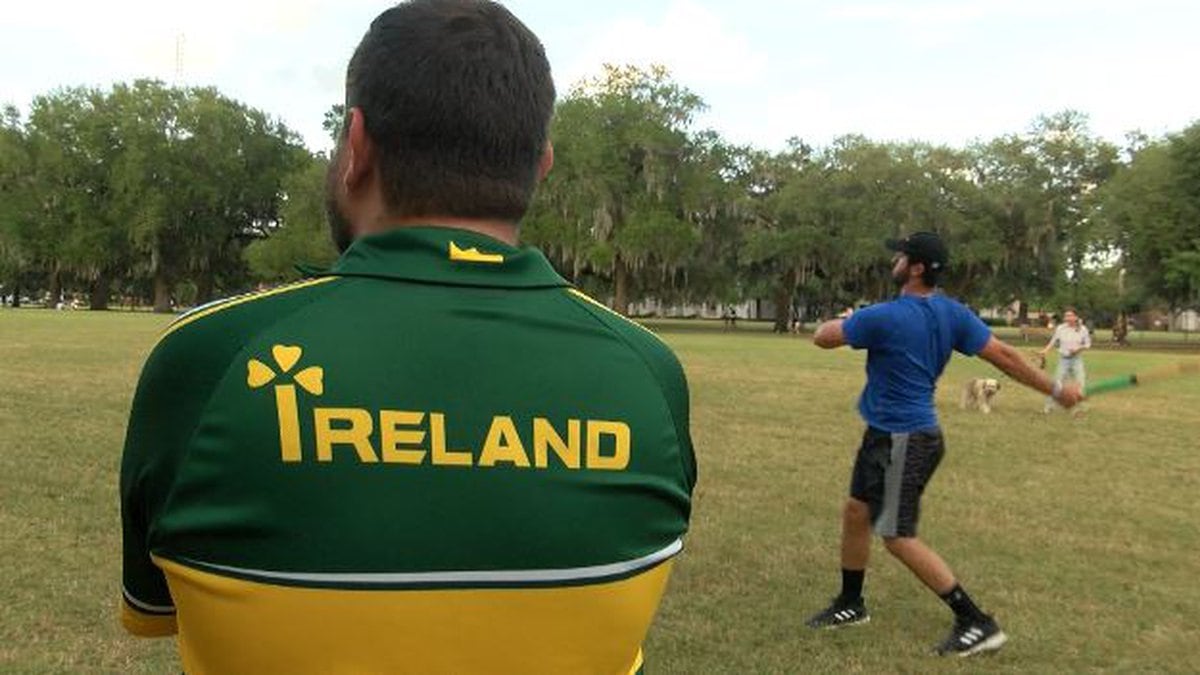 Updated: May. 14, 2020 at 11:13 PM EDT
SAVANNAH, Ga. (WTOC) - Caleb Harkleroad has a love for all things Ireland, including the country's national sport: hurling.
"To the person who has no idea about hurling, it would appear there are no rules, and it's just a bunch of Irish guys with sticks beating each other up," he jokes.
Turns out, there are rules. And Harkleroad and a group of Irish sport enthusiasts are hoping to teach them to Savannah.
"It's like a mix of lacrosse, baseball, and field hockey," explains Daragh Blennerhassett. "Over the bar is one point. In the goal is three points. 15 players on a team, and it just looks like controlled chaos."
Harkleroad and Blennerhassett are two of the founders of the Savannah Gaelic Athletic Association, established earlier this year. Their goal: eventually compete with other associations around the southeast in the games they love.
"We're a limited company. We have insurance. We have a local that we meet up in," laughs Blennerhassett. "And we have half a team. Well not half, but we're getting there."
But the plan is to get more, though the COVID-19 pandemic tried to put a damper of the group
"We actually said at our last meeting, 'Jeez it would take an act of God to stop this momentum," Harkleroad remembers. "Sure enough, that's what happened."
But Thursday night at Forysth Park, the small but passionate group were able to get back to it. They grabbed their hurls (hurling stick) and their sliotars (hurling balls), and got to hurling.
It wasn't just for them, but to attract the interest of any potential new members social distancing style.
"Right now, we don't want to be putting up boards asking folks to come talk to us," Blennerhassett admits. "So we'll just build it up from a distance."
Former college baseball player Jimmy Hand was one of those getting his first taste of hurling.
"I'm always up to try something new," he says. "It's a little bit like baseball. You swing it like baseball, but the sweet spot's all different though."
He wasn't the only one hurling for the first time.
Thursday night's hit-around wasn't just the return from coronavirus for this group. There was a special guest joining in on the fun: Savannah mayor Van Johnson.
It took him a minute, but the Mayor figured it out.
"It looked a lot easier. Being a baseball fan, I thought I could handle it," Mayor Johnson laughed. "It's hard."
Harkleroad hopes Mayor Johnson isn't the last in Savannah to discover these Irish sports. He has a set goal in mind: to be competing by this time next year.
"Just to have a team of 12 to 15 guys or girls walk off a pitch after a game whether you win or lose would just be the greatest feeling in the world," he says.
Copyright 2020 WTOC. All rights reserved.