Tybee Island prepares for busy Memorial Day weekend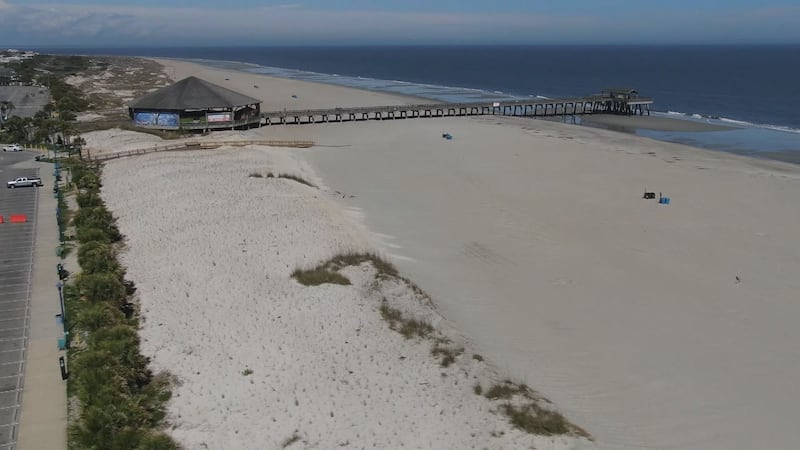 Updated: May. 22, 2020 at 7:27 AM EDT
TYBEE ISLAND, Ga. (WTOC) - Tybee Island will likely see a lot of traffic over the Memorial Day weekend.
Last week, the island reported seeing more than 30,000 cars crossing over the Lazaretto Creek Bridge, and city leaders say those numbers could go up this weekend.
"Expect the unexpected. If the weather is nice, we do expect high numbers, but we are preparing," said Tybee Island Mayor Shirley Sessions.
City crews, law enforcement agencies, and business owners are gearing up for the possible Memorial Day crowds. If you're not planning to stay at one of the hotels or rental properties on the island, the best advice is to get there early.
Mayor Sessions says last weekend, the city's parking lots filled up in just a few short hours. They actually found a lot of people were parking illegally, or on private properties, so they're making sure they have enough parking enforcement this weekend. So, those who do not park in an appropriate spot can expect to get a ticket.
When it comes to Tybee's tourism for the upcoming weekend, the mayor says it's looking pretty good.
According to the Tourism Leadership Council, hotel occupancy for the Greater Savannah area, which includes Tybee, is at around 60 percent, proving the visitors are coming.
The mayor says businesses have been preparing for the crowds.
"Some have even added their own security to make sure their policies of social distancing are being enforced," Mayor Sessions said.
North Beach Bar and Grill is used to having large crowds, but with the CDC guidelines and limitations, the owner says they had to prepare even more for the holiday weekend.
Kathryn Williams is one of the owners of the restaurant. She says what they've had to do to prepare to have customers again has been very expensive. One of the precautions they've taken is to ensure people aren't entering the restaurant until their table is ready. However, people haven't always been complying.
For this weekend and for the first time ever, the restaurant will have a security guard to ensure everyone's safety.
"We are fully staffed for the holiday. We have all our masks and our sanitizing solution, and we also are going to have security so that we can control the crowd. It's not because people are being ugly, it's just that they're not listening," Williams said.
Although most restrictions have been lifted for beachgoers, several law enforcement agencies will be out making sure that people are not crowding together, groups are no more than ten people, and people are staying six feet away from others.
Tybee City Manager Shawn Gillen said the city will have their full police staff on hand. They'll also be getting help from Georgia State Patrol and the Motor Vehicle Division. The DNR and code enforcement officers will focus on enforcement on the beach.
As of Friday, lifeguards are also officially on patrol. This weekend the city says they're hoping to avoid some of the issues they faced last weekend. Such as people parking illegally and breaking beach rules.
"We just had a large number of police calls. I'm hoping that stays down. We just hope people behave on the beach. In general people on the beach were behaving as far as not getting in fights and things like that, but there were still a lot of violations from people bringing dogs on the beach and we had a ton of glass on the beach," Gillen said.
The parking staff will also have additional members who will monitor all of the lots and meters. People are advised to head down even earlier this weekend as traffic is expected to be heavy.
Copyright 2020 WTOC. All rights reserved.