McLaws Monument in Savannah's Forsyth Park vandalized overnight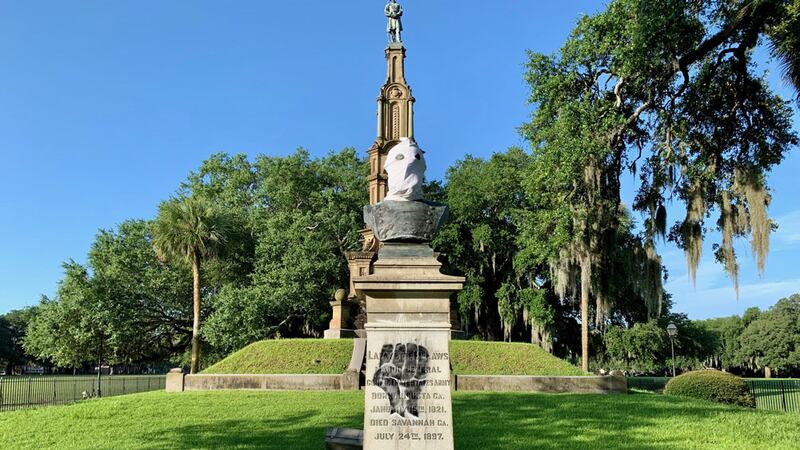 Updated: Jun. 11, 2020 at 5:16 PM EDT
SAVANNAH, Ga. (WTOC) - The monument to Lafayette McLaws, which stands in front of the Confederate Memorial in Forsyth Park, was vandalized overnight.
A white hood was placed on top of the bust, and a black fist spray-painted on the text of the monument.
Lafayette McLaws was a major general in the Confederate Army during the Civil War, and died in Savannah on July 24th, 1897, according to the monument.
In Georgia, lawmakers passed a law in 2019 to protect all state statues and monuments. It makes it illegal to deface, abuse, or remove monuments on state-owned property. This law includes the protection of Confederate monuments as well.
On Tuesday, Mayor Van Johnson addressed defacing monuments during his weekly update.
"We would just remind people that if you're disgruntled, that's one thing, if you're angry, that's something else, if you're anxious, that's fine, but it is against the law to deface public property so I am asking people to show you're disgust in more appropriate ways. But again, it's illegal," said Mayor Johnson.
The City of Savannah issued the following statement Thursday in response.
"Anytime a monument is vandalized, the city's Greenscapes team handles clean up of the monument. Regarding the questions relating to the city's ability to move or remove monuments, state law preempts our authority to take any action in this regard."
According to the monument, Lafayette McLaws was a major general in the Confederate Army during the Civil War and later died in Savannah. Some people we spoke to said they're not surprised by the vandalism and they think confederate monuments should be removed. Others say it's a part of history.
"I think there's a time for a new type of monument. Especially in areas where this is something that has kind of marked the city the beginning," said resident Lisa Rundstorm.
"The vandals obviously are operating from some sort of hate and misinformation. They apparently hate America and our history. They don't want to be shown publicly, they want it to be destroyed and I don't think that's the right thing to do," said Don Newman with Sons of Confederate Veterans.
"I certainly understand the frustration of people during this particular time in our history, but I understand also that this is a public monument that should not be defaced," said Mayor Johnson.
"Whoever did it, it's very unnecessary and it shouldn't have happened," said resident Eric Johnson.
Some people say they agree with those who believe confederate monuments or flags should be taken down.
"Because of the racist stuff that's going on I feel as if it'd be best if they take it down and remove it," said Eric Johnson.
"I think that these symbols are harmful. For us to pretend that they aren't is a grave miscalculation as to the damage that they do," said Rundstorm.
While others say these are symbols of history.
"They apparently hate America and our history," said Newman.
Don Newman is part of the Sons of Confederate Veterans organization. He says these monuments show what many ancestors fought for.
"Your fathers and our fathers and why should we not honor our history. You can't rewrite it," said Newman.
The mayor says the city hasn't talked with the state in regards to confederate monuments.
"I certainly encourage our residents to contact state representatives, a state senator and the government, the governor himself to express their feelings," said Mayor Johnson.
"I think it's time for a new type of monument," said Rundstorm.
The mayor says these monuments do symbolize history.
He says he's focusing even more now on the present and how Savannah can be a place people can live without racism, bias and prejudice.
He also reminds people that defacing any public property is against the law.
Copyright 2020 WTOC. All rights reserved.