Bluffton Town Council extends mask mandate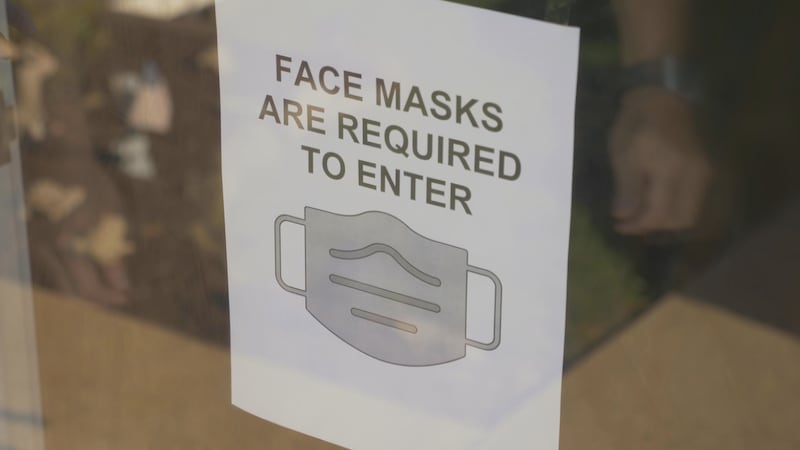 Updated: Aug. 27, 2020 at 5:13 PM EDT
BLUFFTON, S.C. (WTOC) - UPDATE: The Bluffton Town Council has extended the mandatory mask order to Nov. 1.
But, if cases significantly decrease, council can always rescind the ordinance earlier.
PREVIOUS STORY: Bluffton Town Council passed an ordinance Tuesday that makes masks mandatory in certain public settings.
This would also require employees at certain establishments to wear masks as well.
The order will take effect on Wednesday, July 1 at noon.
According to the ordinance, face coverings are required:
All persons entering any building open to the public in the Town must wear a face covering while inside the building.

All restaurants, retail establishments of every description, salons, grocery stores, and pharmacies in the limits of the Town shall require their employees to wear a Face Covering at all times that the employees are in any area where the general public is allowed. This requirement also applies to all persons providing or utilizing over-the-road public or commercial transportation, including tours; and all businesses or employees while interacting with people in outdoor spaces, including, but not limited to, curbside pickup, delivery, and service calls. All such businesses must provide face coverings or materials for the making of such face coverings for their employees. Such coverings or materials may be made available staff-wide or individually upon employee request so long as the result is the organization-wide use of face coverings. Nothing shall prevent an employee from fashioning his or her own cloth face mask. If a worker or customer refuses to wear a cloth face covering for other than medical reasons, a business may decline entry or service to that individual.

The following individuals are exempt from this Ordinance: any person under the age of eight, or who is unable to safely wear a Face Covering due to age or an underlying health condition, or who is unable to remove the Face Covering without the assistance of others; and any person traveling in a personal vehicle, or when a person is alone or is in the presence of only household members in an enclosed space, and people who are actively drinking or eating. This Ordinance does not relieve business establishments and restaurants from other social distancing requirements imposed by the Governor's Executive Orders.
A fine of up to $50 could be issued to those not complying. It can be enforced by code enforcement or local police. But while other towns are still trying to figure out how to handle it, Bluffton has come up with a plan. For the next few days, they will focus on education. They want people to know why it is important to wear masks.
After that, should an officer find it necessary, they will get warnings or even write out a fine. However, they say that is not the goal.
"We are in the same boat as the sheriff's office. This is certainly not top priority to us, however, if we do see some thing or someone calls us or reports to us and we will certainly respond out. It is a civil fine, it's a $50 fine, it's not a criminal fine for the violation. But again, we go back to the education component. Whether it's our code enforcement officers or our own that comes out to the car we are going to educate them before we do anything else," Bluffton Police Department Capt. Joe Babkiewicz said.
Watch the full meeting below:
The mayor said despite three towns passing an ordinance, not all popular areas are included.
"It's 60 percent plus, 70 percent of this county does not fall under town jurisdiction," Mayor Sulka said.
Large parts of Beaufort County are unincorporated
"These big box stores do not fall under Hilton Head nor Bluffton town jurisdictions. We have no control or authority over that," Mayor Sulka said.
Read the full agenda and amended ordinance below:
Stores usually considered to be a part of Bluffton, like Target and Walmart, are not actually in the city limits.
"That's what we look to the county on Wednesday to see what the will pass and then they'll have jurisdiction." The Bluffton mayor says if the county takes action too everyone will have some sort of coverage which she hopes will reduce numbers. "If this is one more step along with hand hygiene and social distancing, I talk to the doctors and messes and first responders and people are all on board with this."
There will be discussion on Wednesday for a countywide mask ordinance by the Beaufort County Council.
Info from Florida Atlanta University:
"Researchers from Florida Atlantic University's College of Engineering and Computer Science conducted an experiment using flow visualization to demonstrate how far a cough travels and how long it lingers in the air. Flow visualization is a method that enables flow patterns, such as a stream of particles from a cough, to become visible in fluids like air and water since they are transparent. Various techniques using flow visualization make these patterns visible to the naked eye.
In a laboratory setting, the researchers were able to visually demonstrate a mechanically emulated cough/sneeze jet from an orifice representing the mouth and the associated particle-laden airflow using a mannequin and other props.
MORE INFO HERE >>> https://www.fau.edu/newsdesk/articles/mechanical-cough-coronavirus.php"
Copyright 2020 WTOC. All rights reserved.