Police called on local historian while filming on Tybee Island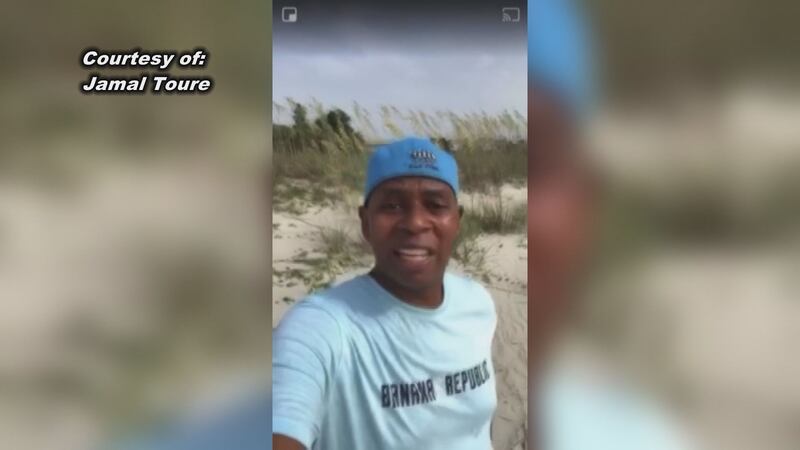 Updated: Jun. 29, 2020 at 5:37 PM EDT
TYBEE ISLAND, Ga. (WTOC) - On Saturday evening, Savannah State University professor Jamal Toure was making a social media video about Tybee Island. He wanted to hear the community's experiences.
"The full story must be told about Tybee. You cannot tell one side of the story."
These experiences, he says, are how people describe what it's like going to the beach, visiting businesses and staying on the island.
"I'm going to do the video and I'll go ahead and post it, so people can now begin talking about their Tybee experiences. What is life on Tybee, the great things on Tybee, the good things, the okay things and the not so good things."
But what Toure didn't realize, while making the video, is that he would actually have his very first not-so-good experience.
"Are you on Facetime or something"
"I'm doing a video."
"A video?"
"Yes."
"Are you doing any cussing or something like that?"
Bewildered, Toure told the officer with the Tybee Island Police Department she could even take a look to see he wasn't doing anything wrong.
"Because I was taping I could then indicate, 'hey I have a video that will show you that there's been no profanity."
Toure says a woman, sitting on the beach, lied to police saying these things.
Toure says he felt she tried to make something out of nothing and it could've caused him trouble.
"I know I have free speech, so even if I was using profanity on my telephone, talking to someone, what right does anyone have to come up to me."
Toure has talked with Mayor Shirley Sessions about what happened. Sessions says she was confused when she first saw the video.
"I didn't hear anything at all that would make me think that it was in any way inappropriate," said Mayor Sessions.
"We have a right to be here. No longer the life when Tybee or Savannah beach was segregated. We will enjoy, we will regal with regards to going any place in Chatham County."
In the video, Toure shows the beach and you can see not a lot of people were there. Toure says he was the only African American in the area this all took place.
"We have experienced some things that others will not have to experience."
"I hope that we can use this as a learning experience on how we, Tybee, can project a better image."
Toure says he's glad he kept recording the encounter. He says in instances like these people need to look at all parties involved.
"We sometimes look solely at the law enforcement. I'm like, 'no. I look at the person who initiated this right here.'"
Toure says diversity needs to be included in everything that we do.
"Intolerance will not be tolerated in Chatham County."
Mayor Sessions says she's asked the city manager to look more deeply into this case. Sessions says she apologizes that someone had to have this experience.
Copyright 2020 WTOC. All rights reserved.