First day of mask mandate in City of Savannah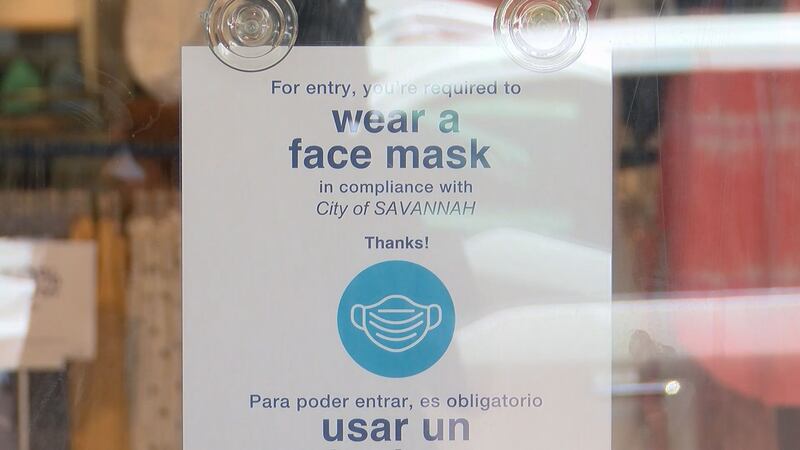 Updated: Jul. 1, 2020 at 5:54 PM EDT
SAVANNAH, Ga. (WTOC) - Day one of the mandatory mask order Savannah Mayor Van Johnson put in place is in full effect.
The Savannah Police Department has been out enforcing and handing out masks to people who are seen not wearing one.
It's a totally different scene here on Broughton street than just a few weeks ago with most people now walking around wearing a mask, following the mandatory mask order. Some businesses say they feel more comfortable with people coming into their business with a mask on.
"I feel so much comfort in knowing that people are required by law to wear them, just because it is a team effort in my opinion," The Impeccable Pig store manager, Madelyn Radwan said.
If you walk down Broughton Street, it's hard to spot people not wearing a mask and if they aren't physically wearing it, they still have it handy.
"We're not wearing masks because we're in the open air, but once we go in stores or any locations, we put it on and I feel that it is important to wear a mask; yeah I agree with his decision," said Raja Valenzuela, who is visiting from Hinesville.
The police department is also not hard to spot throughout downtown making sure people are following the order, even passing out masks for those who don't have one.
"About 5,000 masks we were able to pick up yesterday, those were distributed last night and this morning to the precincts. So, the officers are out there now, I believe, handing out the masks already and then I believe we have another supply of masks either tomorrow or Friday," Savannah Police Chief Roy Minter said.
Many say they agree with the order and hope people follow the rules.
"I do believe that masks work, you know, and I've seen a lot of people during this pandemic sneezing in their hands and in the store touching stuff or coughing without covering their mouth or anything."
As for businesses, they say for the most part people are complying.
"I do know that since it is really hot people have been wearing their mask underneath their nose just because of how humid it is, but when they come into the stores people have been really good about wearing them."
The city says anyone who fails to comply shall be guilty of a civil infraction and could pay a fine of no more than $500.
Copyright 2020 WTOC. All rights reserved.