Bananas shut out Bacon in socially distanced opener
Five-run first inning leads to 8-0 season opening win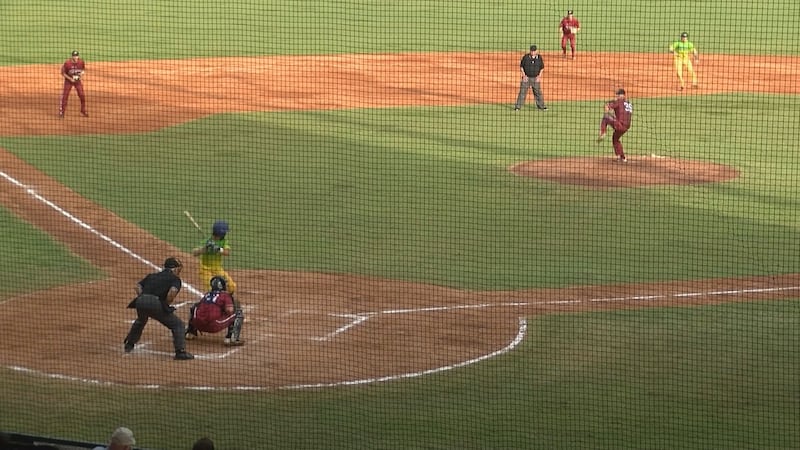 Updated: Jul. 1, 2020 at 11:25 PM EDT
SAVANNAH, Ga. (WTOC) - Wednesday night's season opener for the Savannah Bananas was different, just like everyone knew it would be.
The usually packed Grayson Stadium was now capped at 50% capacity. Fans weren't allowed in the ballpark without masks and were expected to follow Savannah Mayor Van Johnson's mask mandate.
But as different as it was, it was still baseball. And it was an opening night win for the Bananas over arch rival Macon.
Savannah exploded for five runs in the first inning, giving the pitching staff plenty of wiggle room. The staff rewarded the team with 14 strikeouts and just four hits allowed by the five pitchers who took the mound Wednesday night.
"Our staff tonight, I mean at the risk of making a bold statement, I would say it was flawless," says Alex Degen, who came in the 8th to close out the game. "With the exception of that triple in the last inning on my part, it was an awesome showing from our pitching staff."
Ryan Kennedy got the start for Savannah, striking out three and allowing a hit in two innings. Jack Gowen got the win for one inning of shutout relief, while Holton McGowan struck out five in two innings of work,
Dan Oberst went two for four and drove in a pair of RBI while fan favorite Bill Leroy went 2-3 with an RBI and a walk.
After three months off from competitive baseball due to the pandemic, head coach Tyler Gillum was glad to see his team prepared for their first tangle with competitive pitching and hitting.
"It's always good to get the first one under your belt and relax a little bit and just kind of see it all. Anytime you do something for the first time there's always a lot of things to learn. The first night's always crazy, especially in 'Bananaland' where it's just controlled chaos every night, Gillum says. "It was an unbelievable night all the way around. You name it, I'm so proud of these guys. This is awesome."
It'll be the same two teams Thursday night, this time in Macon. The Bananas looking to go 2-0 on the season and against their in state rival.
FANS REACT TO NEW REGULATIONS AT BALLPARK
This was a night baseball fans and sports fans in Savannah have been waiting for, but it was different. There's no doubt about that.
Only 50 percent capacity was allowed at the ball park and masks were required per Mayor Johnson's mandate.
But even with a half-full crowd, the team still put out the elements that have made the Bananas beloved in this city.
We spoke with a few people in the crowd for the game, who said it was definitely an odd experience being at a socially distanced, mask-mandated baseball game.
But several added they were just happy to be back at the ballpark, watching a game. Even in a different manner.
"You can definitely see the difference. But it's still the game and we're glad to be here," says Bananas fan Vicke Halperin. 'It's just so wonderful to be out of the house. Absolutely love it."
"It's ok," admits Ryan Tinnerman. "I mean, if it gives us a chance to get to the ballpark, take our temperature, wear a mask, keep our distance, then I'm for it either way."
So this first game is in the record books. A little later than normal, but completed. And the Bananas hope to keep up the trend of Wednesday night's win going on through the summer.
Copyright 2020 WTOC. All rights reserved.