Tybee Island expecting big crowds for Independence Day weekend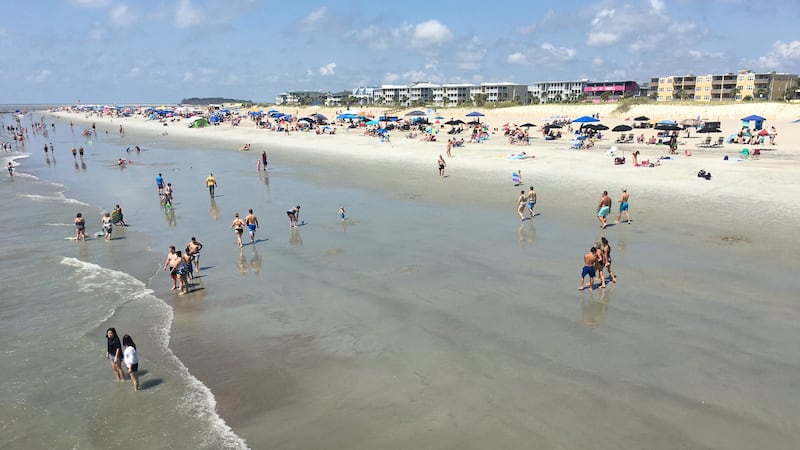 Updated: Jul. 3, 2020 at 12:49 PM EDT
TYBEE ISLAND, Ga. (WTOC) - Tybee Island is expecting big crowds over the Fourth of July weekend.
The city says around 14,000 vehicles could pass over the Lazaretto Creek Bridge within the next 48-hours, despite no official celebration.
Tybee Island City Manager Shawn Gillen says around 60,000 people could be on the island this weekend celebrating Independence Day. He says all Tybee police officers will be working on Saturday and everyone on the island will be ready.
Governor Brian Kemp's office is also sending several GSP troopers to the area to help with traffic enforcement.
The city has also added several lifeguard stands near the middle of the beach, which usually attracts bigger crowds.
Code enforcement officers will be out making sure that people are abiding by the beach rules, like no glass, no dogs, and no smoking between certain sections of the beach, which is a new rule this year.
The city will not have its annual fireworks show Saturday night, but the city manager says that's not only because of COVID-19 concerns.
"If we are the only show in town, that number increases. It has less to do with the virus and more about that many people trying to get off the island at one time. It becomes a public safety issue. Police cars, fire trucks, and ambulances can't move around the city when it's gridlocked like that," said Shawn Gillen, Tybee City Manager.
The city of Savannah canceled its fireworks show as well.
Beachgoers are reminded that no fireworks are allowed on the beach or on public property. And if you have a rental, make sure you ask about its fireworks policy.
For more on Tybee Island Beach Rules and Regulations, click here.
Tybee Vacation Rentals say they are all booked up for the holiday weekend. But some businesses still have room.
As of Friday morning, the Royal Palms Motel still had several spaces available, but they may not be for long.
"We are anticipating a sellout this weekend. We actually do have a few rooms left, but it's always amazing to see the people who come to Tybee for the day and decide to stay a night so we're happy to provide that for them," Royal Palms Motel co-owner Corey Jones said.
This is the first holiday weekend for the Royal Palms Motel since their renovation. Jones said he's excited to show off the new rooms.
"We've only had our rates up for one week. We had a soft opening last weekend and sold out of all the rooms we had available," Jones said.
In order to control the amount of people coming onto the motel's property, the staff is requiring guests to stay at least two nights; that way the motel doesn't have one group coming in on Friday and then a new group on Saturday.
"Just trying to be mindful. Every hour, we are going around to wipe down the common areas, like the gates to the pool and that type of thing."
And just like businesses are taking the necessary precautions against COVID-19, city leaders are asking beachgoers to do the same by wearing a face mask and staying 6 feet apart from others
Copyright 2020 WTOC. All rights reserved.