Defendants in Ahmaud Arbery case plead not guilty to all charges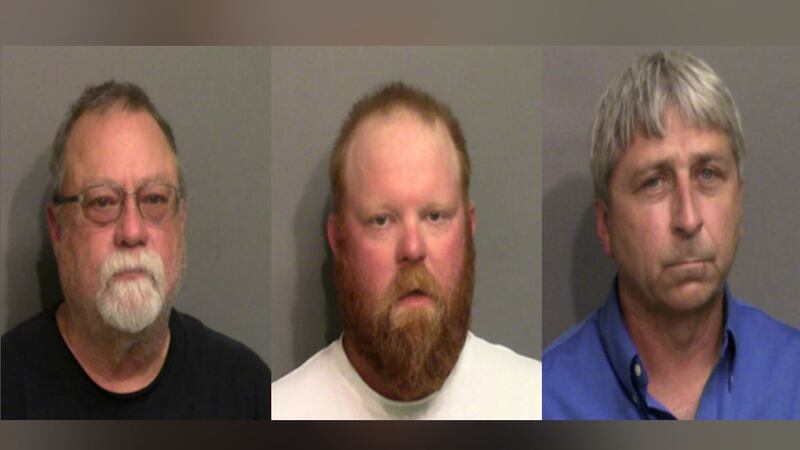 Updated: Jul. 17, 2020 at 6:36 PM EDT
BRUNSWICK, Ga. (WTOC) - Travis McMichael, Gregory McMichael and William "Roddie" Bryan pleaded not guilty to all charges in connection to the death of Ahmaud Arbery.
The McMichaels appeared via video from the jail's courtroom with masks on. They removed those masks when answering the judge's questions. Both men's attorneys also appeared by video.
The two suspects waived their formal reading of the indictment. Again, pleading not guilty to the nine counts each of them face.
Bryan, this is the man who recorded Arbery's death, also pleaded not guilty to all nine charges.
Bryan's attorney, Kevin Gough, appeared in court for arraignment making several objections. One, that his client shouldn't have to wear a mask during the hearing. The judge said Bryan could take his mask off, as he wasn't within six feet of anyone.
Lastly, Gough objected to political statements being made in court referencing a George Floyd mask that Arbery's family attorney was wearing. That was overruled by the judge.
Attorney Lee Merit reacted to Gough's objection.
"I'm sure he would like to move this case to a different time and place, maybe when America was great in his mind. George Floyd is an individual who suffered from police brutality. He's not a party to this case, wearing his name on my face, on my face mask, is no way a political statement. It's a distraction from the really serious nature of his defendant's...er his client's actions which was the murder of Ahmaud Arbery," Merit said.
Gough also filed a motion to grant Bryant bond, which was denied by the judge.
Merit says they are pleased with the court's decision.
Attorneys for the suspects also filed a motion to strike what they called the illegal appointment of Cobb County Judicial Circuit District Attorney Joyette Holmes by Georgia Attorney General Chris Carr.
Gough said the process of her appointment didn't follow statute, asking for DA Tom Durden to be reassigned to the case. Durden recused himself in a written letter to Attorney General Chris Carr, saying he had a conflict and didn't feel like he had the resources to handle the case.
That's when the attorney general appointed Holmes' office to take the case.
The prosecution called it an attack on the attorney general. The judge ended up denying the defense's motion.
Holmes said she's happy the court is keeping her office on the case.
"The attorney general's office made a decision to make an appointment when Tom Durden made a decision that his office could not be able to do it for conflict and disqualified his office. To question that district attorney and the character he showed, in making that decision, was inappropriate and without any bounds within the law," Holmes said.
Now due to the Georgia Supreme Court's emergency order, trials are on hold. The judge says he is complying with this, but will notify the state and defense when a date is set.
Copyright 2020 WTOC. All rights reserved.