Isaias slightly weaker, watching track trend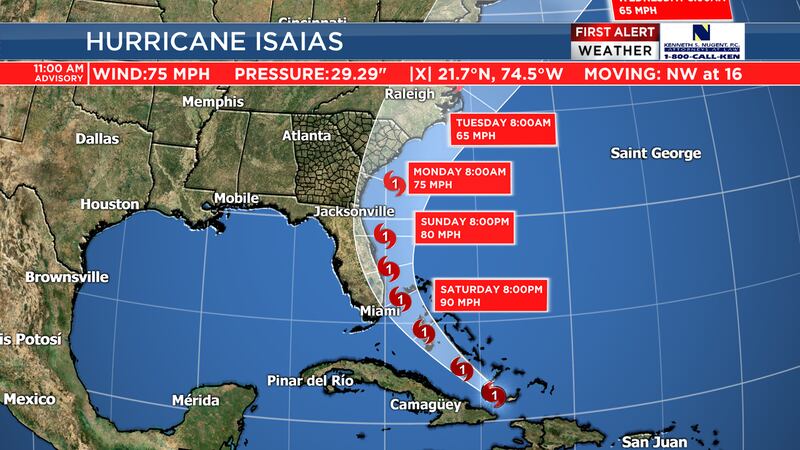 Updated: Jul. 31, 2020 at 12:33 PM EDT
SAVANNAH, Ga. (WTOC) - Isaias was upgraded to a Category 1 Hurricane late Thursday night. Some weakening has taken place so far today and the system is now producing sustained winds of 75 MPH just north and east of its center.
Isaias is battling wind shears and some dry air through the Bahamas today. A stall in strengthening, possibly some evening weakening, is expected. Conditions improve Saturday and Sunday and some re-strengthening is possible.
The most likely scenario has Isaias passing by our area offshore

The storm will make its closest pass to our area Sunday evening into Monday morning

Rough seas, windy beach conditions, and dangerous rip currents are certain this weekend and Monday
Squalls of rain and gusty winds are possible Sunday into Monday; especially along the coast

Tropical Storm Isaias' exact path is still a bit uncertain; a difference of even 50-60 miles can make a difference
Forecast confidence continues to improve and a more exact forecast track will evolve over Friday.
At this time, all you need to do is review your plan and check your supply kit, as we suggest you do with any system in the southwestern Atlantic. It's possible that you may need to cancel outdoor plans Sunday and Monday across coastal areas as breezy rain showers attempt to build in.
There is a high risk of rip currents and rough surf this weekend. Beaches may post double-red flags, keeping people from entering the water. Offshore boating is also discouraged.
Further forecast updates are certain as we get a better handle on Isaias' exact structure and track.
The WTOC Weather Team will keep you updated on TV, at wtoc.com, and in the WTOC Weather App.
RELATED:
Copyright 2020 WTOC. All rights reserved.