Tracking Isaias: Local impacts decreasing as Isaias moves away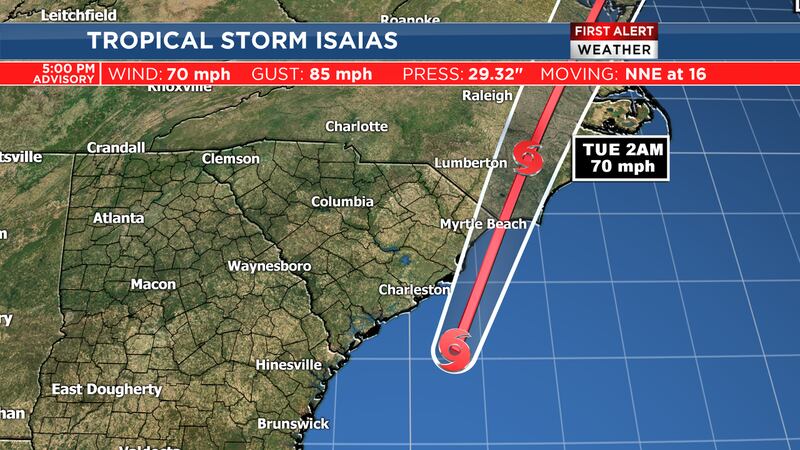 Updated: Aug. 3, 2020 at 5:30 PM EDT
SAVANNAH, Ga. (WTOC) - At the 5 p.m. advisory Monday, Isaias remained a Tropical Storm.
Local impacts are expected to continue to decrease as the storm moves northeast.
Join WTOC Dave Turley for an update on Tropical Storm Isaias as it passes by the Georgia coast. Watch below:
Cutter Martin is giving an update on Tropical Storm Isaias. Watch below.
11 AM Advisory: Isaias is still a tropical storm with 70mph winds. Scattered showers and storms with gustiest winds are at the coast. Isaias is forecast to accelerate to the NNE today and pull away from our area this evening.
Locally, weather conditions are forecast to go downhill through the morning with the stormiest weather forecast between mid-morning and mid-afternoon along the coastline and I-95 corridor.
There will be a sharp gradient in impacts today - most significant at the beach with no significant impacts at all across our inland communities.
This was Tybee Beach just after 9 a.m. Monday morning.
The forecast quickly improves from southwest to northeast late this afternoon and evening. Typical summer-time weather returns tomorrow.
Copyright 2020 WTOC. All rights reserved.