Good News: Memorial Health's new technology to treat lung cancer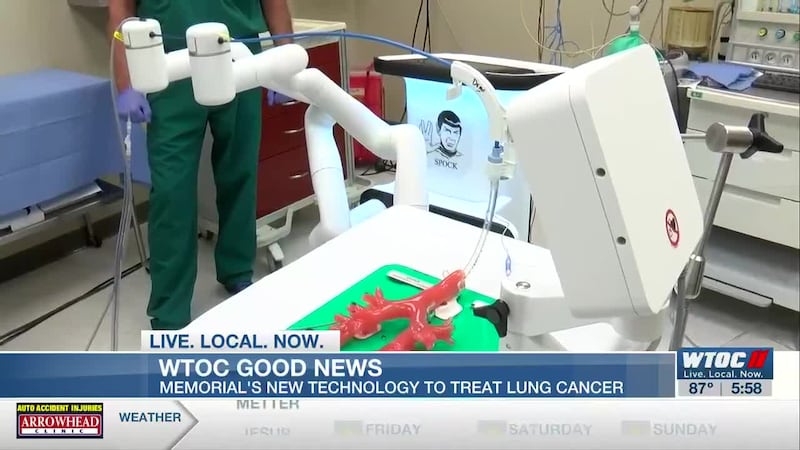 Published: Aug. 13, 2020 at 7:24 PM EDT
SAVANNAH, Ga. (WTOC) - After just a month, Memorial Health is seeing results that effect lifetimes from the hospitals newest technology.
"It helps us diagnose patients earlier. And if we can diagnose lung cancer earlier, that's when we can actually decrease mortality."
Memorial has introduced the first Robotic Broncoscopy System in the state of Georgia. A device that is helping them identify, diagnose and treat lung cancer faster than before.
"This robotic equipment is able to give us precision, control and visualization of peripheral legions and it uses robotic arms and a pulley system, and the machine is able to give us angulation of 180 degrees," Memorial Health Interventional Pulmonologist Dr. Jason McClune said.
The name Memorial has given its new machine might simplify that explanation.
"This machine goes where no man had gone before, so Spock was a perfect name."
And Spock has moved Memorial effectiveness in treating lung cancer light years ahead of where it used to be.
"Lung cancer is the Number 1 killing cancer of men and women, more than breast, and colon and prostate. And that's because usually, lung cancer is found in the late stages. Anything we have at our disposal to help us get that diagnosis early helps to change that mortality ... we're getting diagnostic yield of over 97 percent and with that, we have been able to send patients to our multi-disciplinary clinic where they are able to see an interventional pulmonologist, a board certified thoracic surgeon, a board certified medical and radiation oncologist and get a treatment plan underway."
The machine has streamlined treatment by making it possible to biopsy legions at the same time doctors scan for them.
"Now we don't have to wait. And that's such an important tool in our repertoire to be able to get to these legions earlier and getting these patients biopsied and to treatment within two or three weeks is something that's unheard of in the past."
Copyright 2020 WTOC. All rights reserved.