First day of early voting not until Tuesday in Effingham County
Many voters were surprised Monday to find their polling location closed for Columbus Day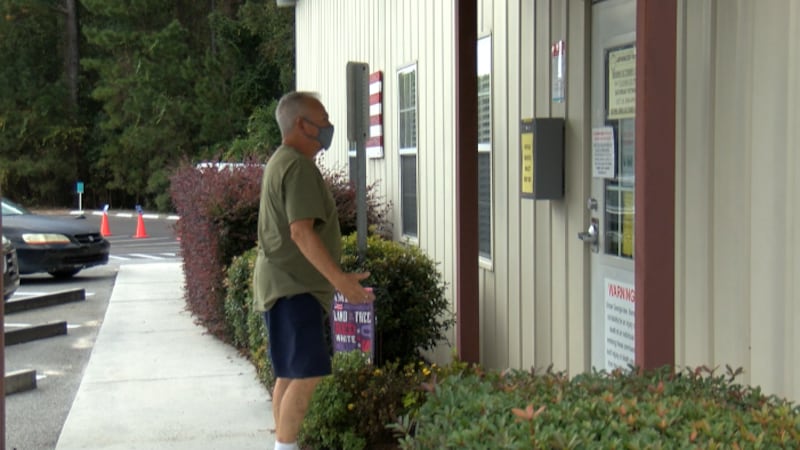 Updated: Oct. 12, 2020 at 5:08 PM EDT
EFFINGHAM COUNTY, Ga. (WTOC) - While Chatham County dealt with long lines for early voting Monday, it was quite a different scene in Effingham County.
Even though plenty of people showed up, unfortunately they were unable to cast their vote.
"Early voting was supposed to start today, October 12," said Guyton resident Tony Grimes.
The key words there, "supposed to."
But when person after person arrived at the Effingham County Board of Elections Office to find the door locked, their reaction was about the same.
"We're not having a vote today?"
That includes Effingham County resident Allan Harn.
"I was expecting to be able to vote and unfortunately it doesn't look like it's open today."
The reason? Monday was Columbus Day.
According to the Secretary of State's Office it is within the counties legal right to observe the holiday, but that didn't make it easier for Grimes.
"It's very frustrating because I took the day off to come vote."
Adding to his frustration, "I see in Chatham County where they're having lines forming for them to go and vote. So, they're voting right now, and we aren't able to."
Grimes of course was far from the only one who left the board of election office Monday with questions. Questions he feels could have and should have been answered before today.
"It's a bad situation. If they weren't going to start early voting today, they should have put it out there that they were going to start on the 13th instead of the 12th."
Despite being turned away today, Grimes says he'll be back and so will Allan Harn, and he encourages others to do the same.
"I wouldn't waste my time with it today, however, I would definitely come back tomorrow and if they're open do what you should do and vote for the candidate you feel is the best for you."
WTOC did reach out to the Effingham County Board of Elections but still have not heard back.
They will be open for early voting Tuesday starting at 8:30 a.m. running until 5 p.m.
The last day of early voting in Effingham County will be Oct. 30.
Copyright 2020 WTOC. All rights reserved.