Dr. Jill Biden makes campaign stop in Savannah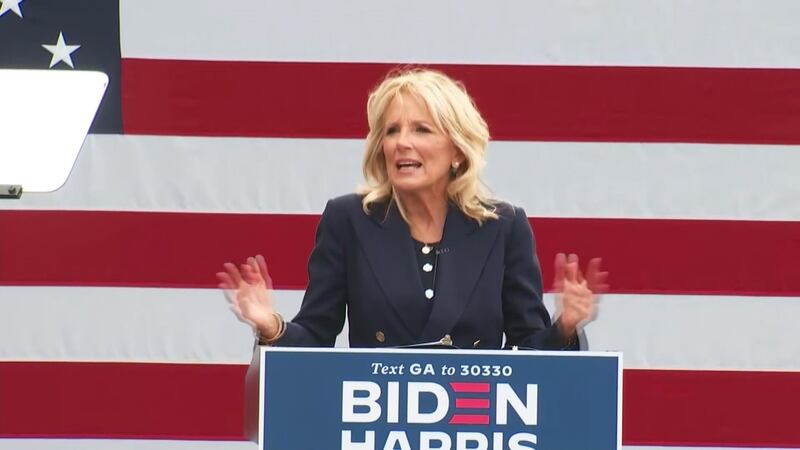 Updated: Oct. 26, 2020 at 11:04 PM EDT
SAVANNAH, Ga. (WTOC) - Dr. Jill Biden made a stop in Savannah on Monday.
The wife of Democratic Presidential candidate Joe Biden held an event to encourage voters to cast their ballots during the last week of early voting in the Peach State. She also visited Macon on Monday ahead of the Nov. 3 election.
Over 2.9 million ballots have been cast in Georgia. And Dr. Jill Biden says if her husband is going to take the White House. He needs the Peach State.
Republican, Libertarian and Democratic candidates have traveled to Georgia to campaign for the general election.
Monday night, Jill Biden, wife of Presidential Candidiate Joe Biden, took the stage at Savannah State University to share about what a Biden-Harris White House would look like about how important it is to vote, especially now that early voting ends this week.
"Make a plan today. Don't wait. And then get involved. I know you're busy. I know you're stretched so thin but this election is too important not to do every single thing we can," Biden said.
Supporters were there with signs, Biden-Harris masks, and some even dressed up for the rally. The supporters we spoke with said they're excited to be there and discussed how important it is to vote in this election.
Several of our local leaders also took the stage, including Mayor Van Johnson.
"He won in Georgia last time. But this is not 2016. This is 2020. We see better. We're going to do better in Georgia," Johnson said.
Georgia voters have turned out in record numbers this year compared to the last general election. Biden says the peach state could determine what our future looks like.
"One could make the difference between winning and losing precinct. One precinct could win a state. And one state. This state, Georgia could decide our future for generations to come," Biden said.
One supporter we spoke with is a longshoremen and an essential worker. She says expressing our civic duty by voting is essential.
"It's so important for us to get out and do our civil duty and vote. It's so important as union women to support. It's important that we show our voice and also be represented in Washington D.C.," Linda Lea Walker said.
This rally is a last push to encourage people to hit the polls between now and Election Day.
One supporter is a teacher who says she supports Dr. Biden and her eagerness to work with educational leaders.
"I think he's the bridge that we need right now to bridge the country back together. I'm particular supportive of Dr. Biden because she works with teachers and understands the importance of teachers in our country," Melany Bowen said.
In the midst of the rally, several dozen people gathered behind the gates to show their support for the Bidens and President Donald Trump.
At one point, the groups were separated.
We reached out to Savannah State Police and were told the department had no comment. We also contacted Savannah Police who were assisting campus police. SPD says it had no reported incidents.
Copyright 2020 WTOC. All rights reserved.