WWII veteran shares experience of being a bomber pilot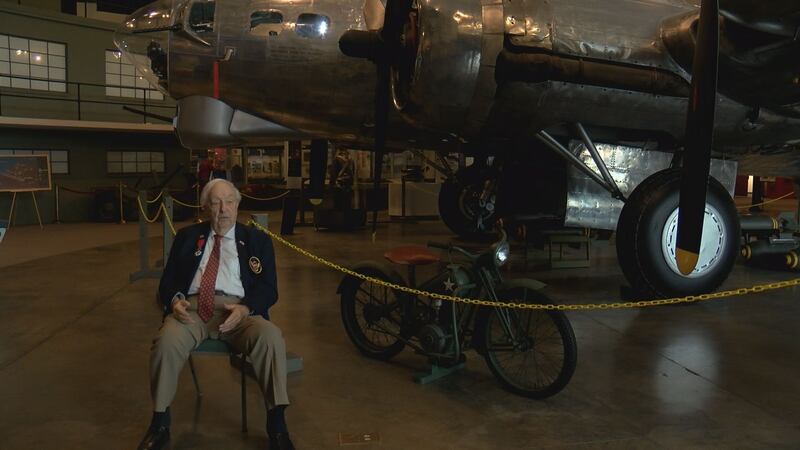 Updated: Nov. 12, 2020 at 4:21 PM EST
SAVANNAH, Ga. (WTOC) - World War II ended 75 years ago. But for one local veteran, the memories are still fresh in his mind.
When you meet former WWII Pilot Paul Grassey, you learn quickly he's got plenty of stories.
"And he could have been playing shortstop for the Yankees, but he wanted to be in a war," Grassey said.
And most of them are about others.
"Walts Hayes, Jake Daughterty, Pop Dolan, one of my friends, his name was Lieutenant Frank," Grassey said.
Because admittedly.
"I've always liked to talk about other people," he said.
But if you push him long enough, he'll relent.
"I guess I have to tell you one about myself," he said.
When World War II broke out, Grassey knew exactly what he wanted to do.
"I wanted to be an Army Air Corps pilot," Grassey said.
And that's exactly what he did. Becoming a B-24 pilot. Who like many his age was ready for action.
"You know at 21 you have a tendency to think nothing is going to happen to you," Grassey said.
But that feeling of invincibility would quickly fade on his first trip across the Atlantic.
"Scared, really scared."
For Grassey things went wrong at the worst possible time.
"I get to the point of no return," Grassey said.
Seven hours from land in any direction.
"My flight engineer came up to me and he said we got a problem."
The problem? They couldn't transfer fuel to their main tank.
So, Grassey called out on the radio hoping for help, luckily it came.
"I call that the night God winked at me," Grassey said.
A wink, or a voice on the other end of the radio helping them fix the problem likely saving their lives, a moment Grassey never took for granted.
"A pilot had a tremendous responsibility. When you took off you said, 'I got to get these guys back," he said.
Something he was able to do that night and on 13 other missions.
Fighting the elements.
"The weather was brutal."
The enemy.
"Shells are flying all over the sky."
And tragedy.
"We lost a hundred bombers that day."
Grassey survived. "I was fortunate enough to hang in."
And more importantly so did the country he loves. "We did a good job fighting a war we had to win."
Perhaps that's why Grassey prefers to tell stories about others, because the way he sees it, it was never about him.
"It's really about some great, great people who weren't afraid to stand up for their country."
You may remember earlier this year WTOC was there as Grassey was award the French Medal of Honor for his service and bravery during World War II.
Copyright 2020 WTOC. All rights reserved.