Victory Drive honors WWI fallen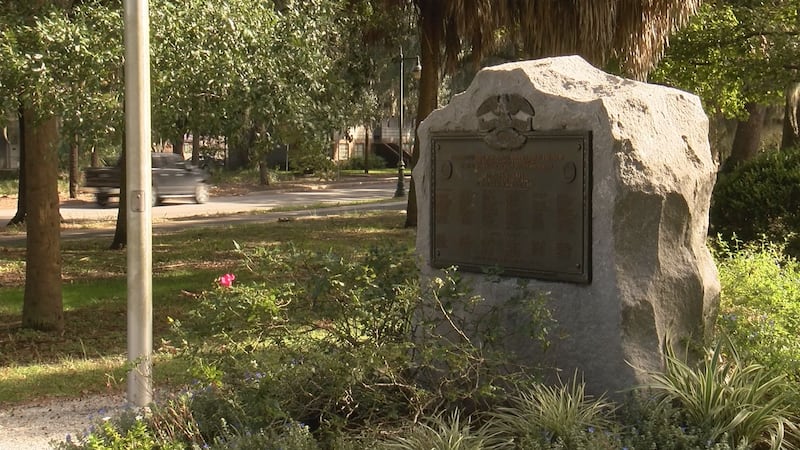 Updated: Nov. 13, 2020 at 6:42 PM EST
SAVANNAH, Ga. (WTOC) - Originally called Armistice Day, people in Chatham County found a unique way of honoring their citizens who died in the war.
Savannah has a wide variety of monuments honoring those that fought in various wars. Most are made of metal and steel, but the fallen of World War 1 have a different monument - the Palm Trees on Victory Drive.
"Absolutely, it's all about the right trees in the right place. Continuing to honor their memory even as Victory Drive changes and evolves," said Nick Palumbo, who led the restoration drive in 2014.
Palumbo was part of a preservation effort back in 2014. There is a traditional monument as well, with the names of those from Chatham County who died in "The War to End All Wars."
The granite monument was dedicated on April 26, 1929. It once stood in the median of Victory Drive, at Waters Avenue, but was moved to Daffin Park because of road expansion back in 2012.
The monument still stands, and when a tree is removed, or if one dies, the city replaces it, trying to be true to the number who died.
"The least we can do is honor their memory and continue planting back where it once existed. It is Savannah's World War Memorial, it's one of a kind, it's uniquely Savannah, and it's only ours as long as we maintain it and keep it that special place that we know it to be," Palumbo said.
Originally, the section of called "Victory Drive" began at the portion of what was Estill Avenue where the horse fountain stands near Bull Street, and it stretched down to Bee Road. Eventually it grew, first from Ogeechee Road to Thunderbolt.
Now the palm drive stretches all the way out to Tybee Island. Some say it's the longest palm drive in the country, and many of those palms are a tribute to those who gave the ultimate sacrifice.
"It's trying to remember the war memorial that it is, honoring their memory. They made that sacrifice going in to the unknown, going overseas into the trenches. It's our duty, even one hundred years later, past the centennial of World War I, try to remember their sacrifice, because they did it for us, they did it for freedom, they did it for country," Palumbo said.
Copyright 2020 WTOC. All rights reserved.