Richmond Hill boy starts coffee, donut stand to buy toys for kids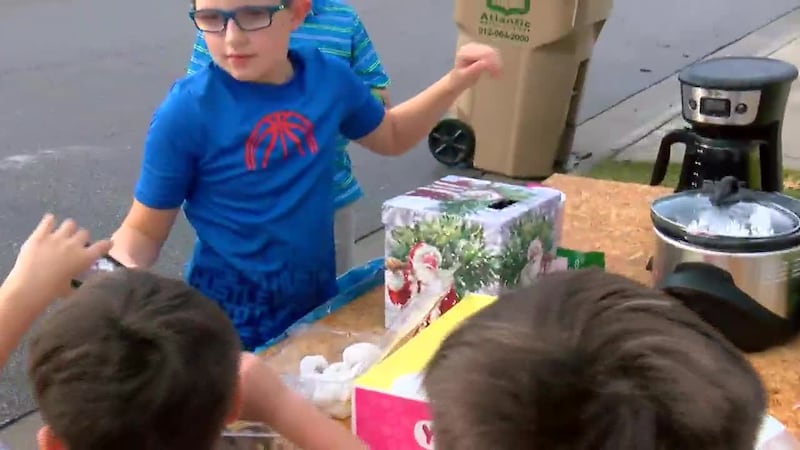 Updated: Nov. 27, 2020 at 5:10 PM EST
RICHMOND HILL, Ga. (WTOC) - An 8-year-old boy in Richmond Hill decided to start his own business in his front yard to help raise money for toys for the fire department's toy drive.
If you've driven down Cantle Drive in Richmond Hill in the past few days, you may have noticed Ashton Stratton and his coffee and donut shop - Wakey Wakey Coffee.
"I discovered that coffee could wake you up," Ashton said.
The third grader managed to raise $1,000 in two days from people coming by to grab a cup-of-joe, a donut, or to simply just donate. How did it all start?
His mom Rebecca said it started off as him wanting to raise money to buy Christmas gifts for his family and turned into helping other kids who may be less fortunate this Christmas.
With the money Ashton raised, he plans to buy toys to drop off at the Richmond Hill Fire Department's toy drive.
"It feels good, because it's the time of year for giving and not taking," Ashton said.
"It warms my heart. It actually makes me want to cry that he is being so giving and generous and wants to help other kids and make sure they smile this Christmas too," his mom said.
The 8-year-old even got a visit from the fire department.
"It was an ordinary day and something not so ordinary happened, well not every day. The fire department came, two fire trucks, the chief, the chief's wife, and the chief's kids," Ashton said. "I was happy and excited."
Ashton and his mom say they plan to make Wakey Wakey Coffee an annual thing to raise money every year for kids around Christmas time.
Copyright 2020 WTOC. All rights reserved.