Second dose of COVID-19 vaccine distributed in the Lowcountry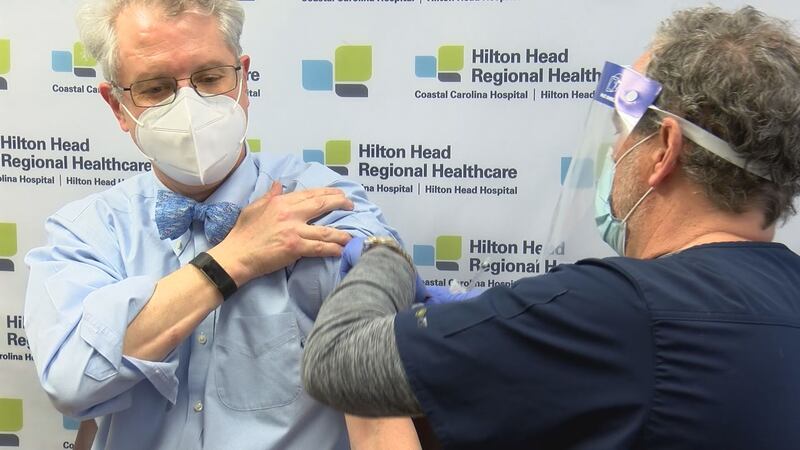 Updated: Jan. 7, 2021 at 4:25 PM EST
BEAUFORT COUNTY, S.C. (WTOC) - The second round of vaccines are being completed in the Lowcountry.
About three weeks ago, several doctors got their first vaccination for COVID-19. Today, those same doctors got their second dosage and say now they can approach their patients with confidence.
"I had no real side effects except for some soreness in my arm," ER Physician Amy Ramey said.
"Because this is a really good vaccine people who get the vaccine don't get sick," Family Physician James Gigante said.
Doctors at Hilton Head Regional say they are feeling good after getting their COVID-19 vaccine.
"The CDC has been very on top of things, checking in once a day for the first week to see if I had any side effects and once a week since then."
As medical professionals, they were some of the first to get vaccinated. Now they want to expand.
"Now, we need to exponentially tap into that by getting that medical community involved in vaccinating everybody else."
Doctors say the more people that get vaccinated, the better.
"The game here is to prevent people from getting ill. And this vaccine is incredibly effective in preventing illness. You can still get COVID, but you don't get ill."
They say the numbers prove this is a safe vaccine. Very few people have had any negative effects.
"We are talking in the original study seven in 240,00. If you are afraid of those kinds of numbers, you are not getting in your car."
But millions of people need to get the vaccine nationwide before we reach herd immunity.
"I think relief for the community as a whole, as soon as we can get as many people vaccinated as we can all take a sigh of relief and say maybe this is going to come to an end soon."
And the doctors say any side effects they might feel in the day or two after the vaccination is worth it to be vaccinated for COVID-19.
Copyright 2021 WTOC. All rights reserved.