Wayne Co. man returns home after two month battle with COVID
Rob Fennel was hospitalized in early January & finally released COVID free Friday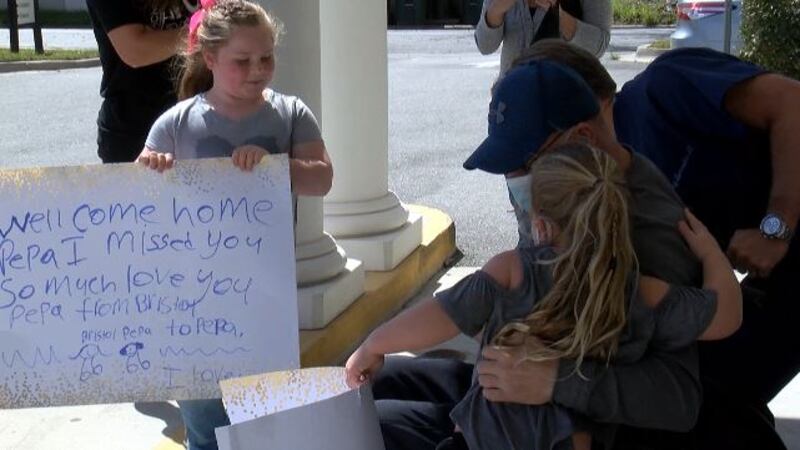 Updated: Mar. 19, 2021 at 6:01 PM EDT
SAVANNAH, Ga. (WTOC) - A Wayne County man is now home after spending two months in the hospital and over half of that time on a ventilator battling COVID-19.
A day his family has been waiting on for months.
"We said from day one when he was at Wayne, we were going to be right there picking you up at the front doors driving you home," said Mario Rodriguez.
But it was a long journey to this moment.
Fennel was hospitalized with COVID on Jan. 15 and later air lifted to Savannah on Jan. 19.
"It's been a long journey and the best part is I don't remember half of it," said Fennel.
What he does remember, all too well, is the moment he was put on a ventilator.
"Whenever I text my wife to tell her I was going on the vent I thought it was over. You know, I didn't think I'd come out of the vent."
But he did, "out of six people in the room I was the only one to make it."
If you ask his daughter, Brianna Mitcham, there was never another choice.
"We didn't say if or when. We said, 'this is going to happen. He's going to come home.' It wasn't an option."
Of course, Rob didn't do it alone.
"This man saved my life," Fennel said of Landmark Hospital Director Dr. Georg Laemmerhirt.
"I cannot take that credit by myself. There are too many people involved," Dr. Laemmerhirt humbly responded.
It was a team that got Fennel to this point and it's a team that will help him go the rest of the way.
"I'm going to take care of him and drink Mountain Dew with him," said Rob's granddaughter.
Copyright 2021 WTOC. All rights reserved.