Savannah's restaurant industry took a hit in 2020
Updated: Mar. 24, 2021 at 7:27 PM EDT
SAVANNAH, Ga. (WTOC) - Restaurants are still recovering in Savannah from what was one of the industry's most difficult years on record.
One year ago, Savannah Mayor Van Johnson instituted a mandatory shelter-in-place for the city. Limiting all restaurants to only take-out or delivery.
A year later, preliminary numbers show a 20 percent drop in the number of Savannah restaurants. Industry workers are optimistic, but it has been a tough year.
"It was almost like a hurricane hit the city."
"We are doing the best we can."
The Savannah restaurant industry took a big hit in 2020 and it's still being felt. But there are stories of perseverance.
Paula Letcher, owner of Bar-Food in the Habersham Village, went against the grain by opening her new bar and restaurant in the middle of a pandemic.
"And I'm like, "really? in the middle of a pandemic, we are going to throw $100,000 into a new place,'" Letcher said.
Letcher said it was her business partner - Johnny Baker - who helped make their dream a reality.
"He was my rock, I'll tell you. I miss him so much every day," Letcher said.
Baker was diagnosed with COVID-19 as they prepared to open the restaurant. Two weeks later he was put on a ventilator.
Baker died on Oct. 12.
Letcher said she never considered delaying their grand opening.
"I said Johnny Baker would kill me! He would never want that to happen," Letcher said.
But even as we climb out of this pandemic, for many, business is still slow.
"It has been struggling ever since COVID," Abe's On Lincoln owner Brian Huskey said.
Huskey said their already small venue has been hurt by COVID restrictions. Huskey says the most frustrating part is trying to enforce CDC guidelines.
"We're constantly on-guard, fighting people on not wanting to wear a mask even though it says on the front door, "masks are required,'" Huskey said. "It's hard to show that Southern Hospitality all the time. And, we get defensive, because these people are threatening our livelihood and our lives."
Both owners say they feel lucky to still be open. Not everyone was so fortunate.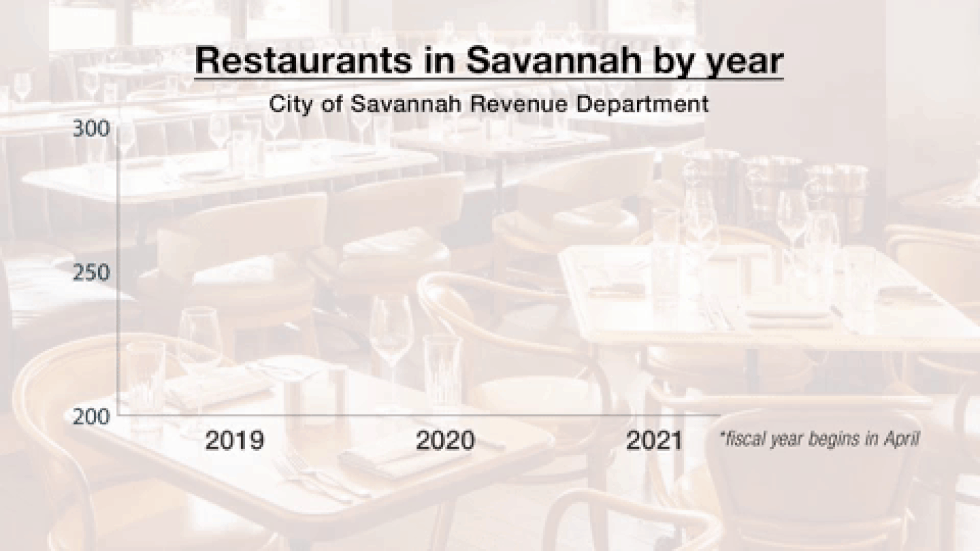 Data requested from the Savannah Revenue Department shows a drop in city restaurants.
In 2019, 285 restaurants were issued business tax certificates. It's an annual application for new and existing restaurants finalized every April.
In 2020, just weeks into the pandemic, the number dropped to 280.
As of this week, that number has dropped to 224.
As it stands, that is a loss of 56 restaurants with the April deadline looming.
"It's been devastating," Visit Savannah President Joe Marinelli said.
Marinelli says COVID truly was a test, of resiliency.
"The whole notion of carry-out has helped many restaurants survive," he said. "You know, the restaurants that have done it well and taken it seriously are the ones that are getting the word-of-mouth, and the buzz in the community. and the ones who aren't doing it well are also feeling the repercussions of that."
Visit Savannah emphasized that the industry really is bouncing-back strong this spring in Savannah.
Copyright 2021 WTOC. All rights reserved.