Wildfire contained after burning approximately 100 acres in Bulloch Co.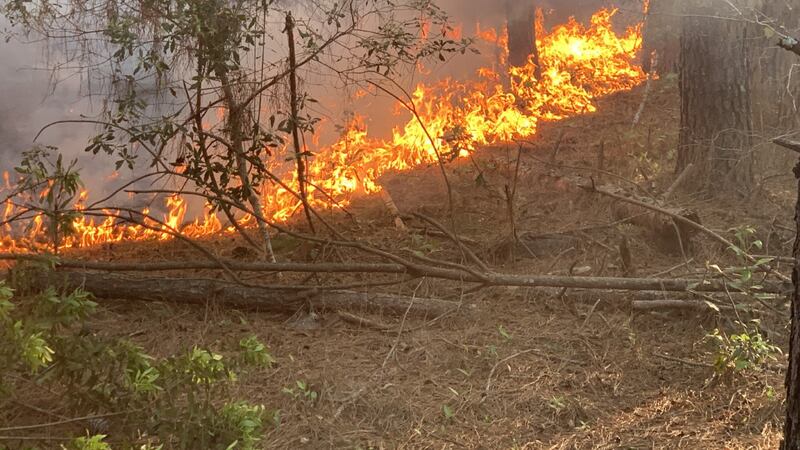 Updated: Apr. 21, 2021 at 7:32 PM EDT
BULLOCH COUNTY, Ga. (WTOC) - Crews have a wildfire contained in the area of Lawrence Church Road in Bulloch County, according to the fire chief.
Bulloch County Fire Chief Chris Ivey says the fire has burned approximately 100 acres on Wednesday afternoon. He thinks crews have now got it contained. No homes have been burned at this time.
The Georgia Forestry Commission has been cutting breaks to isolate the fire.
Thursday you can still see small patches of fire burning through inches of leaves and straw that build up under the canopy of trees. These fire breaks are all that separates the smoldering spots from people's homes.
The flames crept along but swelled with each wind. Ray Bacon and others watched it burn last night as crews tried to contain the fire last night. It burned through 110 acres along Lawrence Church Road. Firefighters say strong winds combined with severely dry conditions combine to turn the smallest smolder or spark into a fire. Bacon says he's seen it move firsthand.
"Trying to wet everything down, and the fire jumped the road. At that point it was 100 feet from me," said homeowner Ray Bacon.
Forestry Crews spent the day plowing fire breaks in hopes they can cut off the fire from any more fuel.
With a storm forecast for Saturday, he says the showers won't come a moment too soon.
Copyright 2021 WTOC. All rights reserved.