COVID-19 vaccine clinic at Savannah Civic Center shifts to 1 day a week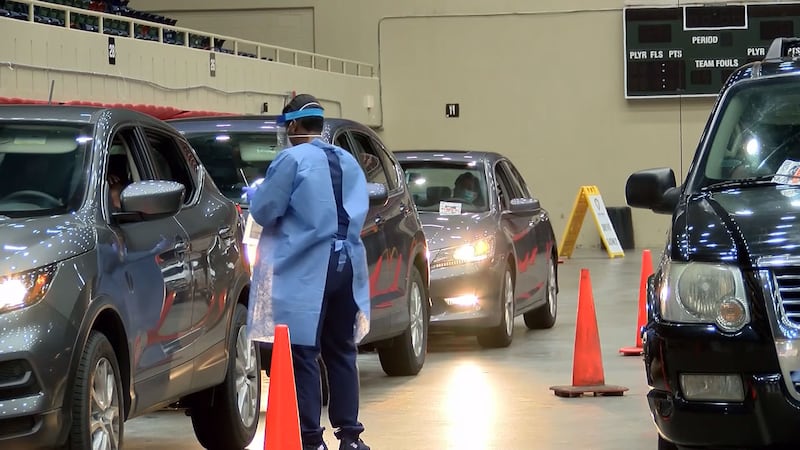 Updated: Apr. 22, 2021 at 5:13 PM EDT
SAVANNAH, Ga. (WTOC) - It's been nearly a month since vaccine eligibility has opened up here in the peach state.
Despite everyone 16 and older being able to get a shot, only 33 percent of the state has gotten one dose. A look here in Chatham County that number is just 24 percent.
Clinics in the area are seeing decreased demand and it's impacting operations. They say like this entire year, the vaccine distribution has been unpredictable.
Hospice Savannah's CEO Dr. Benton tells me they are not seeing many people through these doors.
"The only thing we've been able to rely on is absolute inconsistency and never knowing what to expect," said Dr. Kathleen Benton, President of Hospice Savannah.
Hospice Savannah has been vaccinating the public since January and has seen it all, from the long lines and high demand to just a few people an hour… At their clinic today they had more volunteers than people getting vaccinated in a single hour. That's why starting next week they will only offer the clinic one day a week.
"We're going to move to the Thursday, just to make sure that we consider the resources. I think particularly with volunteers they are fed by doing for the community and when they see the community don't have the need, um, it's hard for them to sustain."
The clinic was created at the Civic Center to break down barriers whether technology or transportation. Leaders say they can do up to 1200 vaccinations but have never exceeded 400 in a day. Their chairs sit empty and that can be disheartening.
"I'm discouraged in general because of the fear across the nation. I'm discouraged that folks are more afraid of the vaccine than they are of what COVID has done to our lives over the last year. I'm discouraged because we don't give vaccines as a service line we give hospice and grief support and we've changed that for the community and I wish it was different."
Despite a low turnout, leaders say they have avoided vaccine waste by opening just one vial at a time and hitting the streets if they have extra. They say because the vaccines have expiration dates they share supply to make sure shipments are used in time. Their hope is as things shift people will recognize the need for vaccination.
"We like many, many other people want to go back to life the way it used to be, maybe be able to take our masks down and I hope that more will consider getting these vaccines and I hope that we continue to see a community that collaborates and is here for one another."
Vaccinations are not the only thing seeing a decrease in demand but so too is COVID-testing here at the civic center.
It's steadily decreased since January, but public health leaders tell us they will continue offering it to the public.
It will be drive-through but on vaccine clinic days.
Copyright 2021 WTOC. All rights reserved.