Pooler woman carjacked during Lyft ride
Hannah Pinkerton was carjacked by three teens Monday evening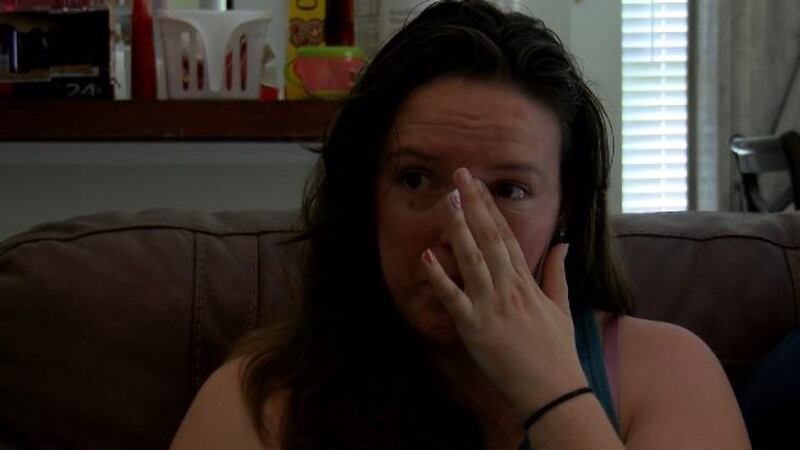 Updated: May. 19, 2021 at 7:54 PM EDT
POOLER, Ga. (WTOC) - It was the start of what Hannah Pinkerton expected to be a typical evening driving for Lyft on Monday.
"I had a full tank of gas. Thought I was going to drive for a couple hours," said Pinkerton.
Then right around 7:30 p.m. she got a request for a ride from Parkside at the Highlands Apartments in Savannah.
"I picked up three teenage boys," said Pinkerton.
From there she began taking the boys, one white and two Black, towards Pooler.
"They were just quiet. That was the only thing that seemed kind of unusual," Pinkerton recalls.
But as they stopped at the intersection of Benton Boulevard and Towne Center Boulevard, all of a sudden the boy sitting behind Hannah, "grabbed me like this, grabbed my neck and choked me and held on tight and grabbed me. I'm just thinking, 'Oh my God, what is happening? Is he going to kill me?'"
The boys told Hannah they wanted her car. Not knowing if they were armed, Hannah agreed.
"Open my door and just run out of there as fast as I can," said Pinkerton.
Leaving her phone and purse behind, the boys then sped away. Luckily witnesses saw what happened and called 911, which is when Hannah's husband Joshua got a call from police.
"Just going through my head was really like anger. Why would someone put their hands on my wife?" he said.
Joshua was able to use an app to find Hannah's phone, but the car wouldn't be found until a short time later.
"The wheels off, and it's off its axle. It's totally smashed up, it's totaled," he said.
It cost them a car and part of their income.
"Do you feel comfortable with her driving?"
"I don't. Right now, I don't," responds Joshua.
Leaving Hannah feeling lucky to be alive, but fearful that it could happen again.
"It's just really emotional. I don't want this to happen to anyone else too. And I want these guys caught," said Pinkerton.
Both Hannah and Joshua believe she may have been targeted due to the type of car she drove. If you have any information about the three boys involved in the carjacking, you're asked to call Pooler Police right away.
If you'd like to help the Pinkerton family click here.
According to a spokesperson for Lyft they have permanently removed the account used to book the ride and they also issued the following statement:
We've reached out to the driver to offer our support and are working with law enforcement to help keep drivers safe. We're also exploring ways to expand the use of certain safety features and alerts to help prevent these kinds of incidents moving forward.
Copyright 2021 WTOC. All rights reserved.