President Street detour scheduled for this weekend as repair work begins on railroad crossing
Published: Jan. 18, 2022 at 10:05 AM EST
|
Updated: Jan. 19, 2022 at 4:33 AM EST
SAVANNAH, Ga. (WTOC) - A detour will be in place over the weekend along President Street as construction is done on the railroad crossing.
According to a news release from Chatham County, upgrades and repair work has been scheduled for the railroad crossing across President Street adjacent to the Truman Parkway between Jan. 21-25. The railroad crossing improvement project is a joint venture between the City of Savannah, Chatham County and the rail line operator, WATCO.
"This project will not only fix that asphalt deterioration, but also fix the slopes that have led to it constantly declining, being a problem for the past decade," Assistant City Manager Joe Shearouse said.
The rail line is actually the boundary between the City and County, so each entity is handling the cost for their respective sides leading up to the crossing. And WATCO is making sure the two sides meet in the middle.
"It'll be a smoother ride for all vehicles crossing on both the east bound and west bound lanes. And most importantly, this will fix the problem into the distant future," Shearouse said.
Sherouse says this is more than just patching up the damaged asphalt, instead fixing the slopes leading up to the crossing, which he adds are the root of the problem.
"There's a lot of factors that led to the challenges of that rail crossing...increased usages, bad soil, and frankly lack of maintenance. But we're glad that we got all three entities working together to fix the solution for the long term," he said.
"This project has been a long time coming, and we've been so grateful to have great partners with the City and the County to just work through it. And we're proud to be a part of the Savannah community, and we are excited for everybody to have a couple less bumps in the road going forward," said Ailsa Von Dobeneck, with WATCO.
President Street will be closed at the crossing beginning at 7 p.m. on Friday, Jan. 21, and will remain closed until the work is complete.
WATCO anticipates completing the work and re-opening the road on Tuesday, Jan. 25 by 5 a.m.
The detour plan is below: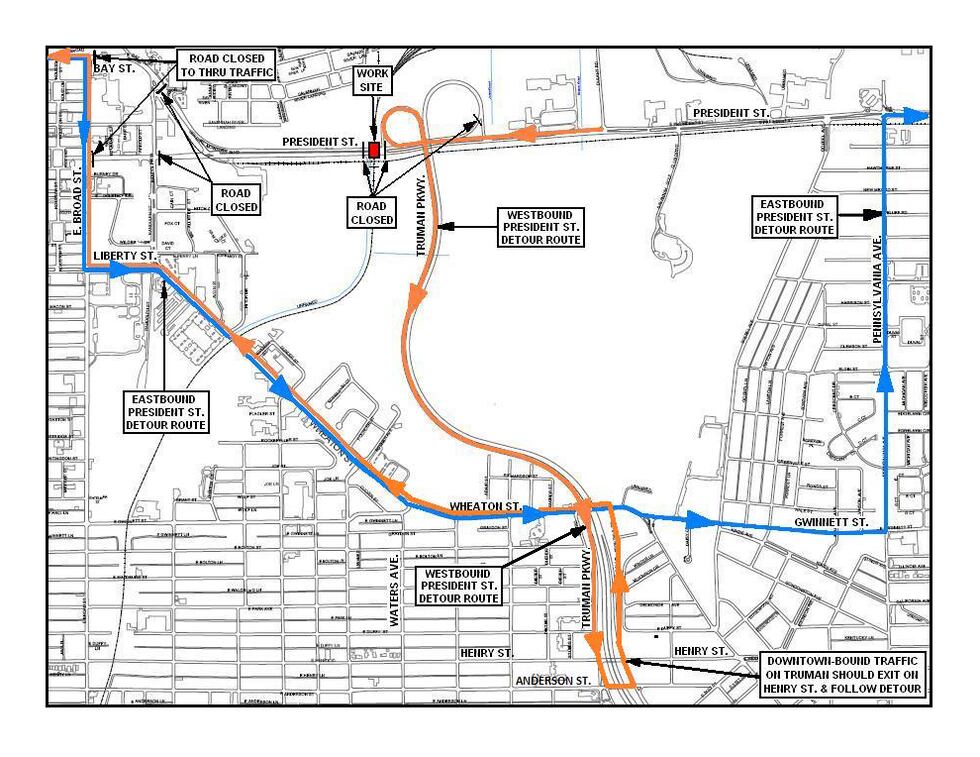 Copyright 2022 WTOC. All rights reserved.