Rep. Russell Fry gets to work on Capitol Hill after delayed start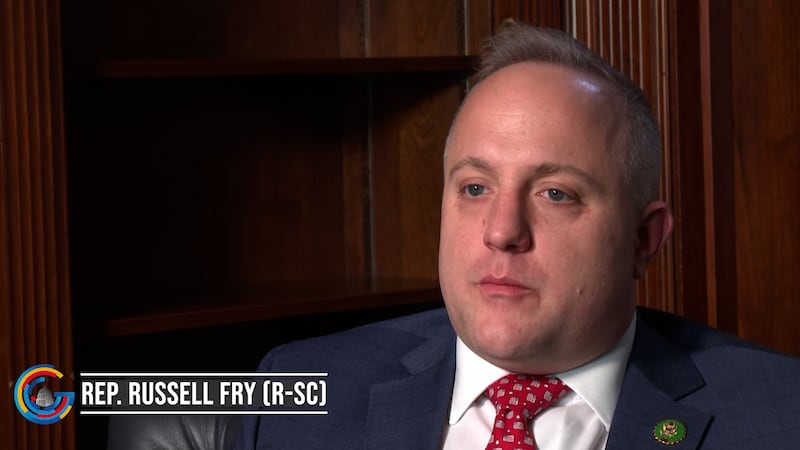 Published: Jan. 10, 2023 at 5:26 PM EST
WASHINGTON (Gray DC) - This week marks the first full week of work for the House of Representatives after last week's drama-filled vote for the Speaker of the House. Rep. Russell Fry (R-SC) is one of those getting to work in his new post.
Fry enters Congress in the majority party as Republicans take control from the Democrats. He has an elevated role in his first year, elected as freshman class president.
"Why I ran was to make sure we're equipped to do our jobs as quickly as possible," said Fry.
The newly sworn-in lawmaker looks to bring his expertise from the South Carolina State House to the People's House. His tenure on Capitol Hill started off in historic fashion after it took 15 ballots for Republicans to elect Kevin McCarthy as Speaker of the House. Some Republicans called it a healthy democratic debate. But tensions boiled over, dysfunction was evident, and the consequences of a slim majority became clear.
"Fights on the floor are going to happen. I think disagreements on policy are going to happen. That should be…we should encourage that level of debate," said Fry.
With the top gavel in McCarthy's hands, conservatives received concessions in a House rules package set to severely cut spending and make it easier to remove McCarthy from his job. Fry says he supports the governing rules voted on by him and his colleagues.
"It makes it a deliberative body once again. It empowers average, everyday members like me to have a voice," said Fry.
With Congress off to a rocky start, Fry says there may be places where bipartisanship can prevail despite signs division and animosity will reign supreme.
Republicans say they will investigate the president and his family, and a resolution introduced Monday aims to impeach the Homeland Security Secretary.
Fry suggests both sides could come together on things like border security, or his top priority, the opioid crisis. He says that will be the subject of his first piece of legislation when he gets the chance to craft it.
"I want to make sure it's something that can pass, that has a good shot, that we can get good support for," said Fry.
Fry doesn't know his committee assignments yet, but he tells us he's hoping to land on the Judiciary Committee.
Copyright 2023 Gray DC. All rights reserved.