Masters' 1st round leaves 3 in lead, but today could be new game
Published: Apr. 6, 2023 at 8:35 PM EDT
AUGUSTA, Ga. (WRDW/WAGT) - Jon Rahm overcame a four-putt double bogey on the opening hole to finish at 7-under 65 and tied for the first round lead with Viktor Hovland and LIV golfer Brooks Koepka at the Masters.
Cameron Young and Jason Day are two shots back after posting 67s. Defending champion Scottie Scheffler is three shots back after shooting 68.
There was some question about whether Rahm, a three-time winner on the PGA Tour, would be able to regain his momentum after a rough March that included back-to-back rounds of 76 at the Arnold Palmer Invitation, withdrawing from the Players Championship because of a stomach illness and an early exit at the WGC-Dell Match Play event.
But the world's No. 3-ranked player appears back on his game after making an eagle and seven birdies.
Five-time Masters champion Tiger Woods shot 74.
Wearing a colorful golf shirt that blended well with the azaleas at Augusta National, Hovland shot a bogey-free 65 to claim a share of the early first-round lead.
Hovland, the ninth-ranked player in the world, bested Woods by nine shots behind an eagle at No. 2 and seven birdies. Woods shot 74 after bogeying the 18th hole.
Hovland has won seven career tournaments, but never a major.
He finished tied for 27th at last year's Masters and had never broke 70 in his previous 12 rounds at Augusta National.
"He showed the kind of player he is," said Shay Knight, Hovland's caddie. "Shooting 7 under around this place is pretty impressive."
Perhaps it's no coincidence that Hovland played so well when Woods was involved.
MORE FROM NEWS 12:
When Woods won the Masters in 2019, Hovland was the low amateur. And Hovland also twice won at the Hero World Challenge, a tournament in the Bahamas hosted by Woods.
Early on in the round, it was Hovland's bright shirt rather than his impressive play that caught the attention of golf fans on social media.
"I had nothing to do with it I just wear what they tell me to wear," Hovland said with a hearty laugh, referring to his sponsor, the J. Lindeberg Brand. "I mean, it's definitely a little bit out there, but I think I'd rather take these than the pink pants I wore last year. So we're making progress."
So too is his game.
Now he wants to continue that momentum moving forward when he plays with Woods and Xander Schauffele again on Friday.
"To shoot a 65 bogey-free out here, some things have to go your way," Hovland said. "It's not like you can just step up and have that handed to you. So I definitely had some things go my way today but also hit a lot of great shots."
After they were finished with their round Thursday, the three players tied for the lead all gave brief interviews.
Koepka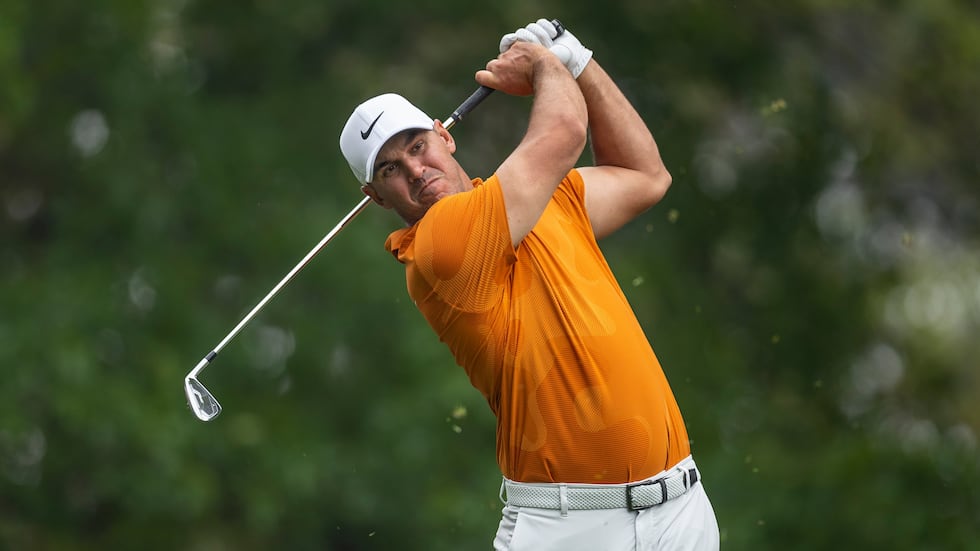 Asked what gave him the momentum, Koepka said: "Honestly, I think it was just the start. Got off to a good start. Anytime you're 2-under through 3, it's a good start. So felt good. Kind of just piggybacked off that momentum and very happy the way I played. Drove the ball really nicely. Left it in some good spots. Even missed quite a few putts. I think I missed a short one on 6, 8, 9, 10, so they were all kind of inside ten feet. But could have been really low but I'll take it, 7′s pretty good."
He doesn't think he has any particular advantage moving forward.
"I don't think my score really gives me much of an advantage," he said. "I think maybe my tee time with the weather coming up, I think I might be able to squeak out a few more holes than everybody else before it starts dumping. I would say that's probably the biggest advantage I've got going for me right now."
Is he worried about the rain that's in the forecast?
"I don't think anything of it," he said. "I really don't. I just take it – I know it's so cliché, but I just take it one shot at a time."
Rahm
Rahm is confident going into the second round Friday.
"I've played really well this year, right? Maybe not the last few tournaments, but I'm feeling confident, obviously. Hopefully I can keep it going," he said. "I know it's the first day and there's a long way to go and a lot of great players have had a great front nine. I'm looking down so I can -- it's a little fancy here, I can see my score, I can see everything."
He admitted there's a long way to go.
"I'm mostly super happy with what I've done today," he said.
"I'm really happy I started the way I did and gave myself a solid start to the week."
Hovland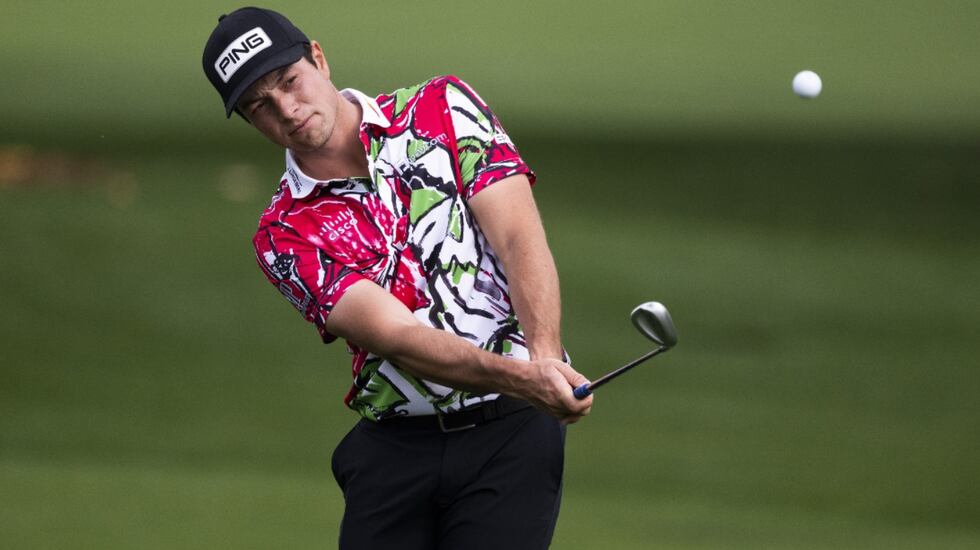 Hovland had five birdies and an eagle, finishing with a 7-under par 65 on Thursday.
"Got off to a nice start, obviously making eagle on No. 2 and just kept hitting great shots on the front nine and made some putts, and before I knew it, somehow I was 6-under through 11, and yeah, just kind of coast in to 65. So that was awesome," he said in a quick interview session.
He agrees that such a good start could help if there's bad weather, as expected, in the next few days.
"Obviously we don't know how bad it's going to get, but I tend to think that it's easier to make up some ground on the easier days," he said. "So if you start with a really low round and it gets very difficult, it's kind of easier to protect the score a little bit compared to if you're five, six, seven shots back, it's really difficult to make up that much ground if this place is playing very difficult. So obviously getting off to a nice start is key this week."
Copyright 2023 WRDW/WAGT. All rights reserved.