Bananas hosting international opponent at Grayson Stadium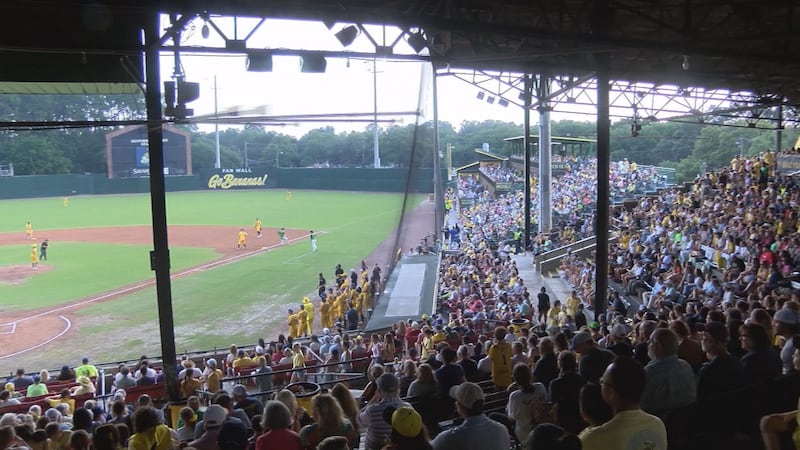 Published: Jun. 9, 2023 at 4:43 PM EDT
SAVANNAH, Ga. (WTOC) - Since February, the Savannah Bananas have been introducing Banana Ball to fans all around the country. The team is back at Grayson Stadium in Savannah this weekend.
The Bananas have reached the halfway point of their World Tour and return home this weekend to play in front of the Grayson faithful for a six game stretch. The team has introduced Banana Ball to 13 different cities so far this summer but explain why playing back in Savannah just means more.
"It's where we started, and we wouldn't be where we are without them. Being able to reset, get back home, do laundry, and play in front of the people who believed in us first is always a breath of fresh air. It's really nice to be out here and it's where we put on our best shows," Bananas pitcher Kyle Luigs said.
"Here in Savannah, we are able to really get back to the roots of what makes us, us. It has that feeling of what a real Bananas game is in my opinion. The crowd is always great, and they want to be able to experience the games with us and give us that reception when we come back from the road," Bananas infielder and catcher, Eric Jones said.
"When we first got here, we only sold a handful of tickets in our first few months. This is our home. We wanted to resurrect this stadium that was abandoned. To be able to play here in front of the home crowd is always special," Bananas owner, Jesse Cole said.
The Bananas have a unique opponent this weekend, welcoming the Aussie Drop Bears from Australia as their first ever International Challenger.
The Drop Bears are made up of professional and collegiate players almost entirely from Australia, with a few Americans who have been pro. They are coached by Chris Oxspring, who has spent time playing in Major League Baseball, Japan, Korea, and his home country of Australia.
The team held a tryout and complied a roster that traveled over 10,000 miles just to play Banana Ball at Historic Grayson Stadium.
Copyright 2023 WTOC. All rights reserved.