Permission to Prescribe: Physicians allege insurance intermediaries, red tape are driving decisions about care, with patients paying the price
Benefit managers insist they are lowering costs and improving outcomes, but critics say these 'middlemen' have too much control
Published: Jun. 12, 2023 at 3:14 PM EDT
(InvestigateTV) — In many industries, consumers are mostly unaware of the facilitators, go-betweens or brokers playing a role in what they buy — these "middlemen" by any other name often operating in relative obscurity.
The pharmaceutical industry is a different story.
Pharmacy benefit managers, or PBMs, have been around for more than half a century, and the biggest players in the market are owned by or even share names with major health care brands.
In recent years, however, criticisms of these intermediaries have increased, from viral social media videos to hearings in the United States Senate.
Much of the ire is directed at the construction of formulary lists that detail which brand-name or generic medications an insurance plan will cover because the competition for favorable positions on these lists has been accused of driving up drug prices.
"If you go to these different insurance companies, they all have what they call their preferred list and they don't match up," said Mike Phillips, a chronic-illness patient from Louisiana. "It's who they feel they're getting preferable or preferential treatment from. Those are the ones that are on their list."
In addition to preferring one brand over another, formularies also detail "utilization management" policies employed by PBMs — cost control measures designed to reduce unnecessary healthcare spending, but that patients, doctors and pharmacists allege have given the companies too much control over the often life-sustaining medications people need.
These measures include requiring prior-authorization before a prescription can be filled, step-therapy where patients must try a preferred brand or type of medication before covering something else, limiting how much of a medication can be filled or in what dose, and requiring patients get their medications from mail-order pharmacies or certain chain stores.
For example: A doctor may want to prescribe Humalog insulin for a diabetes patient, but the patient's plan says Humalog will only be covered if the patient tries Novolog first and the doctor confirms it doesn't work for them. The doctor then prescribes the covered Novolog, but instead of the patient picking up their medication once a month at their local pharmacy, the plan requires 90-days'-worth be delivered by a mail order pharmacy they own.
"They have basically taken over what patients can take by setting up the formulary, when they can take [that medication] by setting up the step therapy and utilization management, where they can get them and how much they'll pay for them," said New Orleans Rheumatologist Dr. Madelaine Feldman.
Feldman, a past-president of the Coalition of State Rheumatology Organizations and outspoken critic of PBMs, said the measures used by the company have a direct effect on her practice.
"When a patient comes in and we go through the diagnostic procedure and then we go through what are the drugs that are used in this, my very first question is, 'What is your insurance company?'" she said. "It's not, 'What are you allergic to,' or all of those kinds of things that you think the doctor and the patients should talk about in terms of trying to figure out a treatment plan."
Just a handful of PBMs control the prescription benefits of the vast majority of those who are commercially insured, but which of those companies is in charge can make a significant difference — even though all of them and industry groups claim decisions are made using clinical guidelines in the interest of cost savings and improved health outcomes for patients.
InvestigateTV looked at national standard formularies for the "big three" PBMs — CVS Caremark, Express Scripts and Optum Rx — and compared coverage of both brand-name and generic versions of 12 types of commonly-prescribed medications, finding differences not only in brand-vs.-generic preferences, but in how measures like step-therapy and prior authorization are used.
Additionally, InvestigateTV reviewed hundreds of complaints and comments received by the Federal Trade Commission about PBMs as the agency and lawmakers push for accountability.
Across the country, doctors reported patients effectively being forced off medications that worked for them in favor of drugs that do not, and patients described having to choose between lengthy appeals processes, going without medication or paying large sums out of pocket.
"People have said, 'Yes, they're practicing medicine without a license.' Well, their answer to that is, 'Doctor, you can prescribe whatever you want. We're not telling you what to prescribe, we're telling you what we'll pay for,''' Feldman said.
That sentiment was indeed expressed by JC Scott, the president and CEO of the Pharmaceutical Care Management Association (PCMA), the trade and lobbying group for the PBM industry.
"The patient is always able to take the medication that the doctor wants them to take," Scott said during an interview with InvestigateTV. "We're talking about what's covered by the insurance plan and how quickly the insurance plan may be able to respond to a doctor's request for an exception."
But national research shows the lack of or limited coverage can mean patients don't take their medications — leading to negative health outcomes.
Additionally, just as with utilization management policies for tests and procedures and despite efforts at the state and federal level, there are limited options for recourse if patients feel the policies bring them harm.
"It's not against the law," Feldman said. "As I like to call it: It's perfectly legal and perfectly wrong."
'They never gave me any medical justification'
Mike Phillips began to suspect something was wrong when, in his early forties, simple activities such as washing his car became a strain.
"You could do it, but later that night you just feel like you'd been beaten with a baseball bat," he said.
In 2016, Phillips was diagnosed with psoriatic arthritis, an inflammatory autoimmune disease that has no cure but the symptoms of which can be managed by various medications.
"What the medicine that they have does is try to control the body attacking itself," he said, "But you also learn that the medication is can be a very difficult thing."
Autoimmune diseases like psoriatic arthritis or rheumatoid arthritis occur when a person's over-active immune system "attacks" healthy tissue, causing damage to joints or uncomfortable skin conditions.
There are a variety of medications prescribed to help patients like Phillips, but by nature the treatments are finnicky.
"What you also learn is unlike a broken bone, there's no test where you can go take and the doctors say, 'Oh, you have this type of psoriatic arthritis and this medicine works,'" Phillips said. "It's a hit-or-miss, try-different-things-and-see-what-works-type situation."
Feldman, a colleague of Phillips' treating physician, said for patients like the Louisiana attorney and others she treats, it can take 18 months to a year to get their symptoms under control with a particular medication, because it takes a few months with each one to tell if it will work or not.
After a trial-and-error period of his own, Phillips was eventually prescribed Cimzia, which he said controlled his symptoms well, allowing him to wash his car or walk from the parking lot to his office pain free.
In 2020, he and his wife had to change insurance companies and he learned Cimzia would no longer be covered unless he and his doctor proved his symptoms were not controlled by two of the new plan's preferred drugs.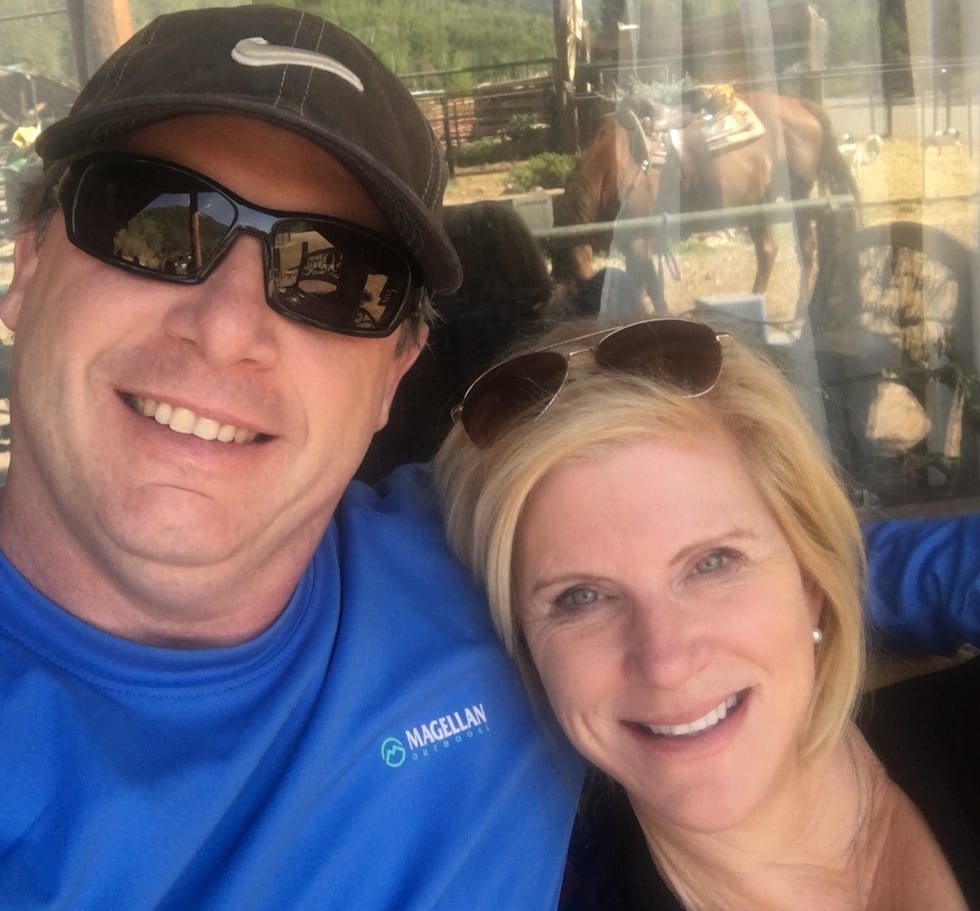 One of the options he had already taken, he and his doctor finding it to be ineffective. His doctor appealed to the insurance company to keep him on Cimzia, but the appeal was denied. Phillips said he was essentially forced to then switch, because the cost for the medication without insurance was prohibitive.
Phillips had to go through the step-therapy process even though he was already being prescribed the medication because his insurance coverage changed, but Feldman said she sees this happen even when someone maintains the same plan.
While some do major updates once or twice each year, in many cases PBMs can update their formularies whenever they see fit — adding prior-authorization, step-therapy or brand exclusions and resulting in what Feldman and others call "non-medical switching," where patients have to change to a generic or another brand for no reason other than insurance coverage changes.
"A patient will be stable on a medication and for a reason that has absolutely nothing to do with their disease, they get switched to another medicine," she said.
For Phillips, the forced change meant months of pain as he attempted one of the required step-therapy drugs — which didn't work — and then was moved to another medication that finally began easing his symptoms.
While he's feeling better now, he said it's frustrating he had to go through the ordeal at all.
"They never gave me any medical justification for the switch whatsoever," he said. "It's just simply they have a list and they say 'You have to take two of these medicines before we'll approve another medicine.' And there's no medical discussion. There's no back and forth with your doctor."
Lists
Like most aspects of insurance coverage, the exact details of prescription drug benefits — and any associated utilization management measures — can only be fully determined by looking at an individual plan's documents.
However, just as insurance companies publish general policy documents for tests and procedures, standard national-level formularies are available from major PBMs.
InvestigateTV accessed the relevant standard formularies or preferred drug lists and drug exclusion lists published online by CVS Caremark, Express Scripts and Optum Rx, as those companies hold around 80% of the market, according to research done on the industry.
Those lists were compared by looking at almost 100 individual prescription medications, both brand-name and generic, in 12 commonly-prescribed drug classes ranging from basic antibiotics and asthma medications to more complicated and expensive autoimmune disease treatments.
In some cases, the PBMs were in agreement: All three either "excluded" or listed as "not-preferred" the brand-name versions of common medications used to treat depression or anxiety — meaning they would likely not be covered — preferring instead the generics.
In other instances, however, brands were preferred by one PBM while being excluded by others: Synthroid, a brand-name medication used to treat hypothyroidism or thyroid cancer, was listed as "preferred" by CVS Caremark, but "excluded" by both Express Scripts and Optum Rx.
Optum Rx even differed on its preference within the same drug, excluding brand-name Adderall in favor of the generic for the ADHD stimulant medication in its immediate-release form, but then preferring the branded Adderall XR and excluding the generic medication in its extended-release form.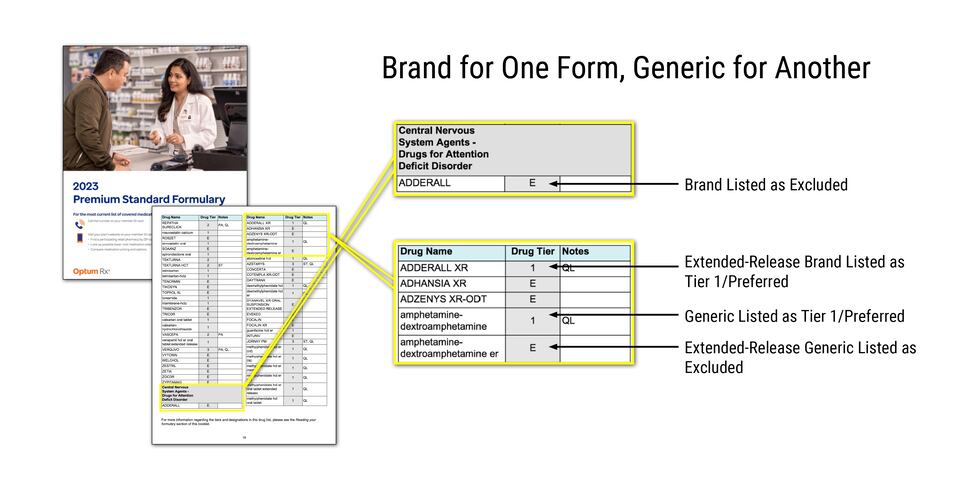 Review of the three major lists found examples of preferences within generics themselves — coverage of certain generic asthma inhalers depended on the specific manufacturer, and certain doses of a common diabetes medication were either excluded or required prior authorization.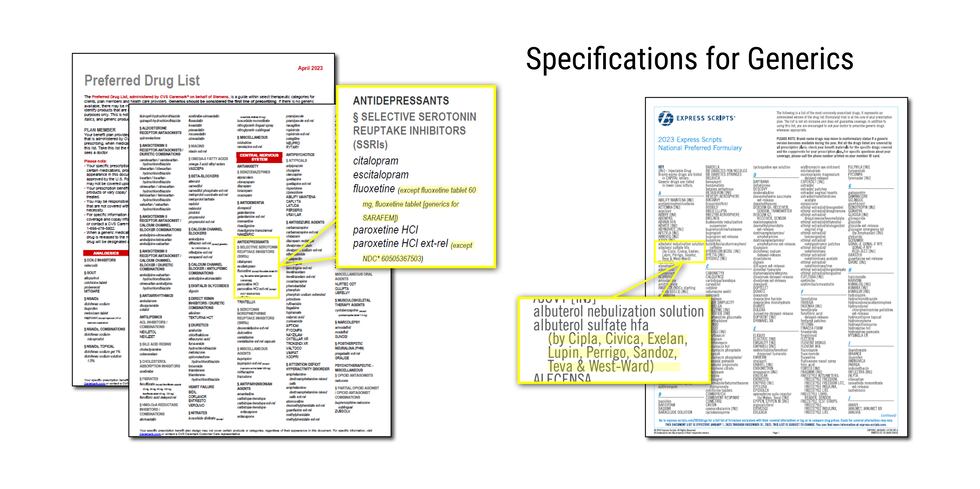 "[PBMs] are all, in those instances where there's a lot of equally effective options, trying to encourage the use of the lowest net cost option," Scott, with PCMA, said. "And so, for a particular plan it may be a generic, for a particular condition it may be a brand that's brought that that discount down below the cost of the generic."
Phillips, however, said as a patient he finds differences in formulary lists such as these to be indicators of what drives the decision making behind their creation, and the restrictions and requirements that come as a result.
"They don't match up," he said. "It's not as if science and testing has proven these are the four best medicines. It's who they feel they're getting preferable or preferential treatment from. Those are the ones that are on their list."
The lists reviewed by InvestigateTV also demonstrated examples of utilization management like step-therapy.
Express Scripts outlined specific "step-through" trial requirements for all brands of inflammatory disease medications outside its list of preferred brands, stating a coverage for non-preferred brands may be granted after trying at least one preferred drug.
Optum Rx noted it would cover a branded EpiPen, but only after a patient used a generic emergency epinephrine injector and the treatment was unsuccessful.
25-pages for a single patient
Switching of medications isn't the only utilization management measure affecting patients.
Like tests and procedures, some medications are subject to prior authorization requirements — meaning PBMs require doctors seek approval before they write a prescription, or the drug won't be covered.
Footnotes in the CVS Caremark list state that "prior-authorization for medical necessity" is required for non-preferred brands and generics, and specifically notes on its preferred drug list for patients currently taking those medications: "If you are currently using one of these drugs, ask your doctor to choose one of the generic or brand options listed under Preferred Option(s)," or have their doctor request authorization.
According to its formulary, Optum Rx requires prior authorization for all of the primary treatments for psoriatic arthritis, as defined by the Arthritis Foundation, that the list doesn't categorize as excluded.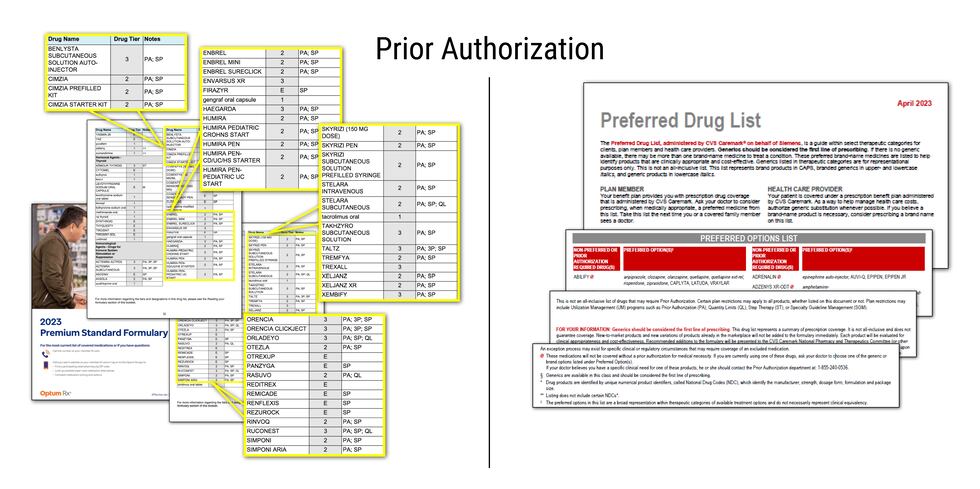 "Prior authorizations came about to avoid patients being either having procedures or medications that were, you know, were not indicated or that might harm the patient. Now, it's turned into delay, delay, deny tactics," said Feldman, the New Orleans rheumatologist.
A study by Massachusetts General Hospital and Harvard University's medical school looked at patients with autoimmune diseases who needed infused medications, which are often considered specialty drugs, but that doctors like Feldman consider to be "miracle drugs," because they treat some of the most severe symptoms.
Of the patients in the study, 71% had to go through a prior authorization process to receive their medications, which caused them to experience longer wait times between diagnosis and treatment.
In the end, nearly all the prior authorizations were approved, but many patients had to be prescribed additional steroid medications to get by during the waiting period, causing infections and other negative health consequences.
"The disease was out of control because they couldn't get access to [their medication] because it was still caught up in prior authorization," Feldman said.
It isn't just patients that feel the strain of medication-related prior authorizations.
In her office of three physicians, Feldman said it takes multiple full-time employees to handle prior authorizations.
She recalled an instance where one of those employees came to her with a prior authorization from a PBM that was 25 pages long.
"[25 pages] for one patient. And now, a lot of it's done electronically, but whether you're turning a page and checking or whether you're just doing it on a computer, it's still 25 pages," she said.
Value
The documents reviewed by InvestigateTV use terms such as "value" and "cost effectiveness" when describing the purpose of the formulary or preferred drug list.
Similar to how big-box retailers buy products wholesale or in bulk to sell lower prices, Scott with PCMA said PBMs accomplish that savings by negotiating with manufacturers and securing lower-cost medications in exchange for increased utilization.
"In those instances where there's robust competition in a particular therapeutic area … and they all work equally well, then the PBM can use some of those process steps to try and encourage the physician and the patient to look to the most affordable most effective option first, as part of that process," he said.
Scott also insisted processes like step therapy and prior authorization have other benefits as well — such as catching potential drug interactions or preventing over-prescribing of addictive pain killers.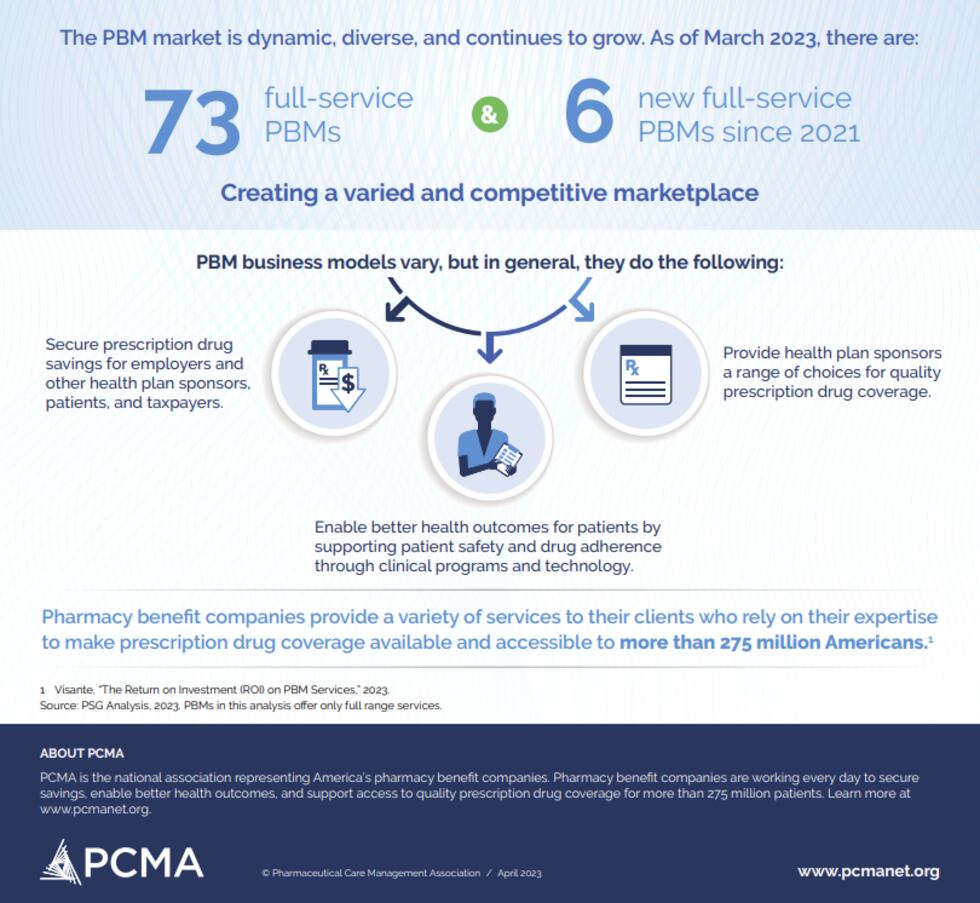 "Our goal is to empower physicians, leverage the information, the data, the clinical expertise that we can bring to bear to help make sure that the right decisions are being made on behalf of patients and that they're getting better health care outcomes," he said.
CVS Caremark declined to comment individually, allowing PCMA to speak on the company's behalf, and requests for comment to Express Scripts and Optum Rx received no response.
Phillips said he agrees with reducing costs, but that from his perspective, patients don't appear to be coming first.
"I understand these medicines are expensive and if all were equal and money could be saved, I'm all for that," he said. "But when all isn't equal and one clearly provides better treatment, and when you're dealing with things like I'm dealing with your autoimmune disorder and there's no medical justification behind it, switching for money just isn't a good reason to switch."
On the other end of the supply chain, pharmaceutical manufacturers agree.
"There is an important role for negotiation and a competitive healthcare marketplace," said Robby Zirkelbach, executive vice president of public affairs for Pharmaceutical Research and Manufacturers of America (PhRMA). "In fact, that negotiation has led to significant cost decreases, where the cost of medicines is actually growing less than the overall rate of inflation. The problem is when PBMs and insurance companies get in the way of patients being able to access the medicines that they need."
PhRMA, the trade and lobbying group for drug makers, argues PBMs have too much control over the prescription medication distribution system in the U.S.
"Our companies are doing everything they can to get the medicines that patients need to them," he said. "Unfortunately, we are not the ones that decide what medicines are covered, how much patients have to pay to access those medicines, or what hoops they have to jump through to be able to get the medicine their doctor says that they need. Those decisions are made by insurance companies and their pharmacy benefit managers."
Nation-wide complaints
PBMs, in turn, point responsibility back on manufacturers — arguing the expressed frustration is more about having constraints on the market than anything else.
"We're creating friction," he said. "The job of the pharmacy benefit company is to be the only check on the drug companies pricing power."
He said it shouldn't be surprising manufacturers would take issue with efforts to "drive down costs" for their customers.
"That creates friction in the market," he said. "It creates friction in the political arena."
That friction has manifested in increased attention on PBMs from multiple angles, both at the state and federal level.
In 2023 alone 12 laws limiting PBMs have been enacted at the state level, with dozens more introduced and under consideration.
However, while federal courts have said it doesn't apply in all circumstances, most of those laws are limited by ERISA, the federal statute that prevents states from legislating regulations for most commercial insurance — meaning the new laws only apply to a small percentage of plans.
At the federal level, though, lawmakers have more options, and two primary efforts related to PBMs are making their way through Congress: The Pharmacy Benefit Manager (PBM) Transparency Act, which would increase reporting requirements for PBMs, and the Safe Step Act, which would amend ERISA to limit PBMs' use of step therapy and similar utilization management processes.
The former would put PBMs more firmly under the purview of the Federal Trade Commission, which in 2022 launched its own look at the industry.
That effort included soliciting feedback from the public — resulting in more than 1,200 published comments, with a total of more than 24,000 individuals weighing in.
InvestigateTV reviewed the comments made available online by the FTC, and noted more than 200 from doctors, pharmacists and patients detailing how the processes used by PBMs are negatively affecting people, while hundreds more lamented other PBM policies such as requiring the use of mail-order pharmacies or charging exorbitant fees.
In response to the increased pressure, PBMs argue the stories like those detailed in the FTC comments — or even that of Mike Phillips — are outliers, and that the proposed changes will only drive up health care costs.
Instead, the industry insists the answer lies in focusing on improving technology so the processes happen more seamlessly.
"I think that, for the most part, millions and millions of patients the system works smoothly for," Scott, PCMA president and CEO, said. "But we have to be cognizant of, we have to be sympathetic and solve for, those exceptions. Which is why we continue to push this agenda of bringing [those processes] into the 21st century — making sure we're making use of digital tools so that those processes can move work more smoothly."
'It takes a toll'
For Dr. Feldman, the supposed benefits provided by PBMs and their utilization management measures still don't outweigh the price patients are paying — with their money or their quality of life.
"It takes a toll on the doctor-patient relationship, [and] certainly takes a toll not only on the patient physically, but monetarily," the Louisiana rheumatologist said.
Hundreds of doctors involved in a 2021 study reported utilization management practices cause their patients to need additional office visits and testing — resulting in additional copays, and a review of utilization management around antidepressants found higher rates of emergency hospitalization for mental health crises.
A patient survey done by pharmaceutical consulting firm Xcenda and broken-down in an article co-authored by Feldman found that more than a third of those surveyed said the "one main thing" that gives them the most satisfaction in their life had been "very" or "extremely" negatively affected by having to deal with step therapy.
"Maybe it's the ability to hold your grandchild, maybe it's the ability to walk your daughter down the aisle," Feldman said, getting choked up as she described the things patients said they struggled to hold onto because of policies set by insurance middlemen.
"And when you've got something like that — all for profit — there's a problem. There's a big problem."
Jamie Grey contributed to this report. Research assistance provided by Bailey Williams and Payton Romans.
Copyright 2023 Gray Media Group, Inc. All rights reserved.