President pitches three pillars of 'Bidenomics' in Chicago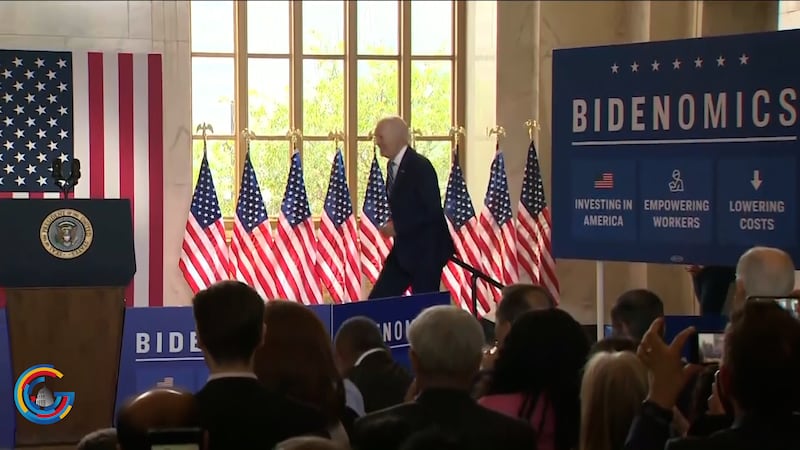 Published: Jun. 28, 2023 at 4:00 PM EDT
WASHINGTON (Gray DC) - President Joe Biden delivered an economic message in Chicago Wednesday as part of the administration's plan to show their economic vision is working.
They White House is calling it "Bidenomics", putting a name on what this administration insists is a historic economic recovery following the pandemic with low unemployment and millions of jobs added under President Biden's watch.
The president pitched his three-pillar plan before a friendly Chicago crowd: smart public investment, empowering and educating workers, and promoting competition. He argued trickle-down economics failed America. The president emphsasized bringing manufacturing jobs back to the U.S. and going green with our energy.
"You're not going to see anybody building a coal-fired power plant in America," said President Biden.
Joelle Gamble, deputy director of the National Economic Council acknowledged while inflation is on the decline, it remains a concern.
"I would say it's the president's top economic priority because he recognizes that the cost of living is really, really important to the American people," said Gamble.
Republicans are bashing the president's approach and a reliance on government spending. They are also lashing out at the president's move away from fossil fuels.
"It's so destructive. All electric. All electric everything," said former President Donald Trump.
Trump criticized the state of the economy at a campaign event in New Hampshire Tuesday. Trump also touted the tax cuts passed during his presidency, which included cuts for the wealthy the current president opposes.
"We're going to reduce the hell out of the debt and reduce your taxes further. You already got the biggest tax cut in history," said Trump.
Following the president's speech, he participated in a fundraiser for his 2024 campaign. He is scheduled to participate in another fundraiser Thursday in New York.
Copyright 2023 Gray DC. All rights reserved.